Josh Morris is a tournament bass angler and an ambassador for FLW. He is on the water two to three times per week. Some of his information comes from the good folks at Barren Outdoors.
Website:  www.joshmorrisfishing.com
Twitter:  @joshmorris53.
Email:  spotted@gmail.com.
Website:  Coming later in the year
He is sponsored on the tournament circuit by Barren Outdoors, Psycho Fishing Lures, G Loomis, Shimano and Freddie's Dugout. And a contributor to the Barren River Blog
Barren River Lake Kentucky KY Fishing Report:  26 Aug 2017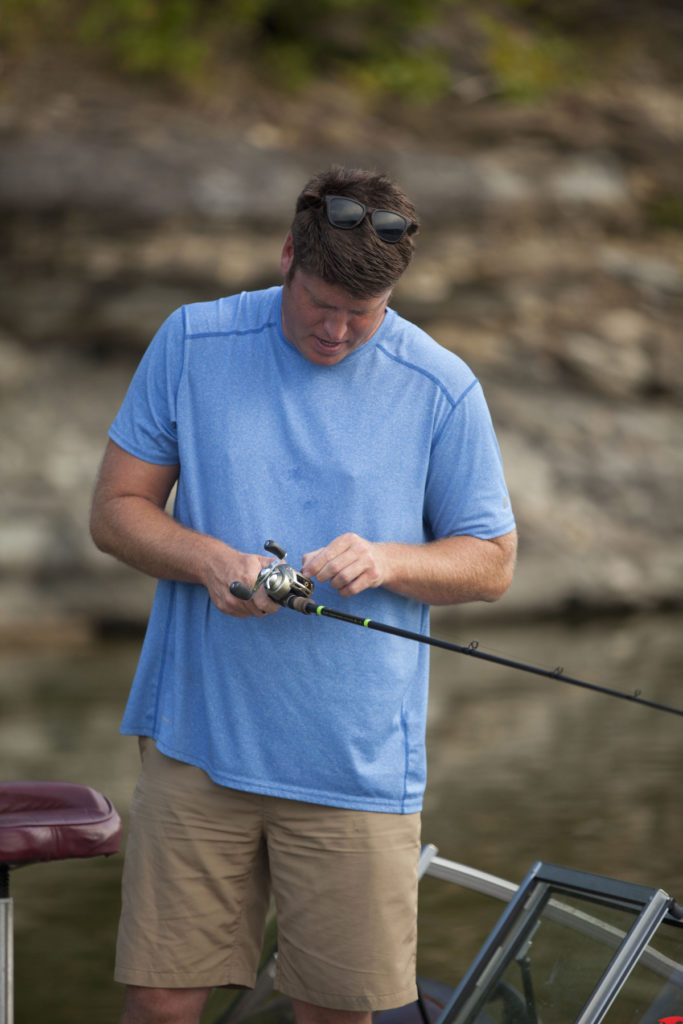 Hello my friends.  I hope all is well with each of you.  It has been another hard week of fishing in southern Kentucky.  Hopefully these cooler nights will make some changes take place on the water.  The only thing we can tell our selves is the fall feed is coming.
When the fishing gets like this, a dead zone if you will persistence along with faith that it will get better are our best tools.  I look at the dog days of summer as a puzzle that can be unlocked.  Someone can catch these "uncatchable" fish, why should it not be me or you?  One big reason is the velvet lined groove we get into.  My ol monster ten inch worm killed them in August last year so it should this year too right?  Not necessarily.  Fishing pressure is a killer.  The fish see so much of the same thing they learn not to eat it.  When was the last time any of you caught a fish that didn't have some hook holes already?
With those things in mind, I have really been working on my finesse game.  Drop shot I am comfortable with, NED rigs I am comfortable with, and of course the shaky head I love.  Here is where I fall a bit short.  Being still.  It is so hard me to let a bait soak.  Our natural tendency when we feel the urgency of getting a bite I think is to speed up.  I have to constantly tell my self SLOW DOWN.  Letting these baits set and letting the current move them slightly is where they will shine.  I think we can overwork a bait if we aren't careful.  remember natural is always a good thing and a reaction bite is not always going to be the case.  So the fish this time of year are screaming fir us to be still.
God also asks us to be still.  I personally have been in situations where I wanted to hear from Him, and He was silent.  I had prayed, read, fasted done all the things a person does when you seek God and his will.  With a few major exceptions.  I was not still.  I was not patient.  I wanted an answer right now, so much in fact that I could not slow down and listen.  No reply is an answer, and Gods answer was to slow down.  Be still and know that He is Lord.  God will teach us, and convict us.  We have to be able to slow down and let it soak in.
Photos by the very talented Leslie Kidd
Fishing report for Barren River Lake
Bass are scattered at best.  No good fish to speak of are being caught.  The night bite is not on either.  The fish are suspending and seem to be most active between first light and 9 am.  Without a doubt finesse is the ticket.  Be prepared I have talked to a lot of good fishermen this week all have said the same thing,  its dead.  One or two bites is what they are getting.
Crappie are starting to do better.  They are 15 to 18 ft deep on brush.  Live bait is the ticket.
Blue Gill are good on bluffs if all else fails go get you some crickets folks!
Catfish are on flats and long points, cut bait is preferred.
Hybrids can still be found around the islands.
16 Aug 2017
Hello folks I hope all is well with you, and the dog days of summer have not gotten you frustrated.  I spent today with Leslie, which is always a pleasure, in the Word, and on and off in Prayer.  After dinner I went to the pond to work on my finesse game.  I absolutely do not like finesse fishing. I love pitching a jig and breaking jaws.  My will always tends to gravitate to power fishing.  However our will isn't always what is best for us.  On or off the lake. Sometimes to produce the fruit that is best in our lives we have to get out of our comfort zone.  This is particularly hard for me.  To admit a change is necessary, a weakness or a fault is hard.  However loosing a tournament or not producing for Gods will is way more detramental to us. I caught fish tonight in a way that is not parrticurly fun for me, now catching fish is always fun.  The old fairy wand simply bores me, but I caught fish.  God is this way with us.  He has worked on me spiritually and professionally today.  Through seeking him he shown me his will and has gotten me past a huge road block that I had no idea was even a road block.   I talk all the time about fishing to your confidence and I still believe you should.  However don't let that stop you from trying a new technique and don't let it keep you from trusting it will produce as well or better.  We must always be adaptive. Willing to learn, and willing to fail while learning.  It starts for me by looking in the mirror.  Examine truly where are my weak points as a fisherman and a Christian. Then working to make them better.  It is a struggle I admit.  But if we are struggling that means we are reaching for something better, that we have not given up.  If at first you don't succeed you got to try and try again.  Failure is not defeat, it's a stepping stone towards growth.
Now let's talk about the fish.
Bass are still hard to pattern.  Finesse is the most effective style right now.  Drop shots and the bigger NED rigs are producing.  You can stop in at Barren Outdoors and Todd can put you on the right one.  Also don't forget the Skeleton Cup no entry fee tournament is September 30 this year.  You can get with me or Todd Logsdon for details.
Hybrids are still being caught around the islands.  Live bait is best.
Crappie are in brush about 12 feet deep. Bobby Garland jigs and live minnows are good.  Also under the lights at night is producing.
Catfish are good at night cut bait works well.  Or Liver.
I hope all of you are well.  I hope all of you catch some fish this weekend.
God Bless!
Nick Carey and family fishing barren River lake