Josh Morris is a tournament bass angler and an ambassador for FLW. He is on the water two to three times per week. Some of his information comes from the good folks at Barren Outdoors.
Website:  www.joshmorrisfishing.com
Twitter:  @joshmorris53.
Email:  spotted@gmail.com.
Website:  Coming later in the year
He is sponsored on the tournament circuit by Barren Outdoors, Psycho Fishing Lures, G Loomis, Shimano and Freddie's Dugout. And a contributor to the Barren River Blog
Barren River Lake Kentucky KY Fishing Report:  01 Jan 2018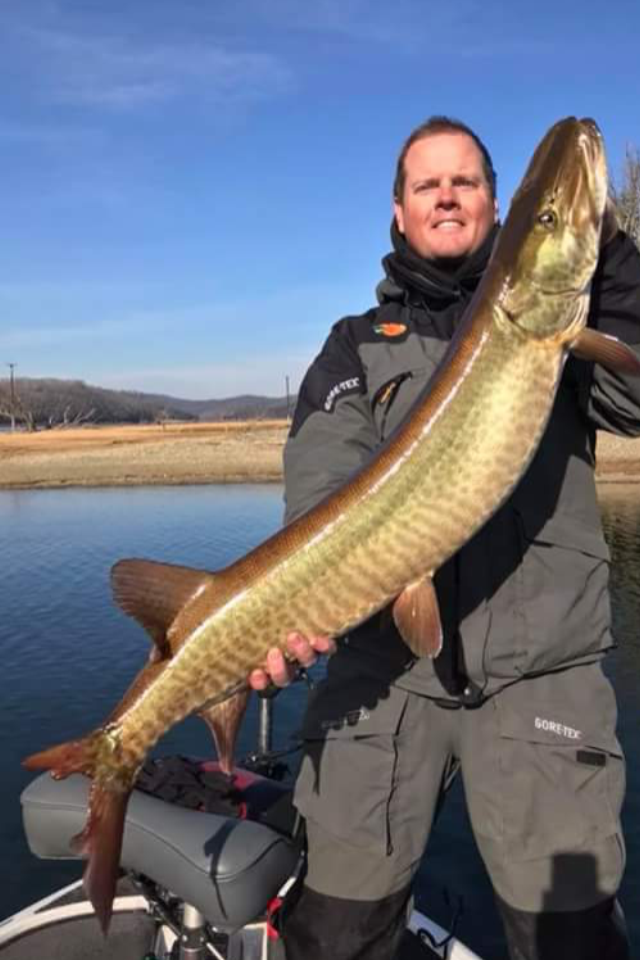 People are upset with this cold blast of air we are dealing with in South KY.  I for one am excited to see it.  It will bring the water temperatures down and heat up the bite on Lake Cumberland and Dale Hollow Lake.
A cold grey day is what I like to look for.  When the conditions and water temperature line up a person can boat some of the biggest fish of there life this time of year.  I personally look for wood cover or a slide, a lot of times the fish will really school up deep this time of year.  If you can get them fired up action can be fast and fierce.  Finding them and getting them eating at times can be frustrating. It pays to do your home work.
There are many different ways to be successful in cold water.  Live bait, NED rigs, Silver Buddy, crawling a jig, crank baits.  All will produce and all are fun.  My favorite for this time of year is the NED.  Those of you who have been reading my work have heard my NED success stories before.  For cold water it is a killer.  If its crappie you are after live minnows are almost impossible to beat this time of year.  Long lining shiners on Dale Hollow, or Cumberland with a split shot rig is a good option too.  The hot thing going now is the good old float and fly.  Both Lake Cumberland and Dale Hollow offer trophy fish and this method is deadly.
You can find fish on long points, on bluffs and around fallen trees or brush.  Old slides are always good provided the wood is still there.  That is where doing your homework comes into play.  Different situations will warrant a change in technique.  So I will have a silver buddy if I think a shad die off has happened. (hint cold weather brings this on)  I would think it has hit.  If you can find where chad have been holding rip that think off the bottom and hold on.  NED is good for this too, but I usually cast open my bail and let it free fall.  Always be watching your line.   The hits will be violent and fast from bass.  Crappie can be different. I have caught them on both these baits but they tend to be a bit softer in there strike.
So in Closing I hope when this weather turns warmer you all are ready to go get them.  I welcome any questions about techniques, or what I look for.  I also hope everyone makes a resolution to fish more with their families in the new year.
(Feature picture is Jason Bean with a huge Dale Hollow Musky)  Congratulations Jason,
He caught it on 6 lb test line on a spinning rod.
Good Luck and God bless!
11 Dec 2017
Fishing report for Barren River Lake
Its been cold this week.  That is good for us!  The crappie have been really eating.  Live bait in wood about 10 to 15 feet deep.
Channel Catfish have been caught in good numbers.  Mud points throw live shad in the channel and wait.
Bass have been doing pretty good on jigs, they are a but scattered, I like bluffs but some nice ones have been caught on flats and points lately.
My next trip will be Lake Cumberland I hope to have you a nice report there soon.
Good Luck and God Bless!
With the hustle and bustle of the Holiday season it sure is easy to get caught up and neglect key things in our lives.  As Christmas rapidly approaches and renewing sponsorships crank down at the end of the year.  Lets not even think about taxes! Work commitments, shopping and meals coming up often times the real reason for the season gets pushed to the back of our minds.
The traffic in good old Glasgow KY has sure increased since Thanksgiving.  What is usually a ten minute drive is now more like 30 minutes. I know I am Blessed by such an easy commute.  I can only imagine what some of you all have to deal with.  However to us Barren County folks it can be frustrating. I have not ventured into any of the local stores in weeks.  I will have to make the trip today, but it is begrudgingly that I do so.  The boost to the local economy is a welcome site, but I had just as soon set here on the mountain like the Grinch, and grumble.
Tis also the season to see if we can get our sponsors back on board for next season.  I am very Blessed in that aspect as well.  I have the best sponsors to work with.  These folks took a chance on me and now into my third year are still with me.  I am sure proud of my sponsors.  The folks at Barren Outdoors in Glasgow are jumping on board and helping me with Fishers of Men as well.  That is where I have been putting in the most work this fall, learning and trying to grow the reach of the West Ky division.  Also the great folks at A.F. Crow and sons funeral home are helping out this year.  We also have Mark Miller Marine on board as our local Bass Cat Boats dealer. We will be adding more folks to that list very soon.  I would like to thank them all for supporting me, and Fishers of Men National Tournament Trail.  If any of you are interested in a sponsorship or helping us out in any way, or fishing with us give me a call or an email.
With more traffic and the beginning of the year on top of us at the college we have seen more traffic.  This is a good thing but often can mean more hours at the office.  It is another Blessing to have a good job and be busy.  Although it can add to the stresses of day to day this time of year.  It also provides a means for us to go buy Christmas gifts, turkeys, hams,  and other Christmas delights.  While all this is in our minds, added somewhere in the back is income taxes.  Nothing can quiet strike fear into our hearts like the dreaded IRS.  Almost like the boogie man he leers in the dark corner of our imagination to strike in the late winter and early spring. He will come and it will cost us, Ha.  Maybe I should be writing a horror film.
With all these factors, and how we tend to grumble about such menial things this time of year.  We all truly know the reason for the season is Jesus.  The complaints, the grumbles, the excuses all come from the Devil.  I know it and if you look at it you will know it.  Why would satan not attack this time of year?  Millions of people are gathering in across the world to Celebrate Jesus, the one who will stand with us against the accuser.  He hits our finances, he hits our transportation, he hits our families,  he wants us to suffer and be Grinch-like.  It takes away from the Glory God is showing.  Think of all the Angel tree kids, the Salvation Army, Toys for Tots, soup kitchens, and countless other ways people help out this time of year.  All in the name of Jesus.  We need to proclaim it all in the name of Jesus, and when we get to feeling these frustrations turn to Prayer and Praise instead of anger and curse words.  I am as guilty as anyone.  I have a tendency to grumble about how commercialized and consumer driven Christmas has become.  I think Jesus would scoff at me for this.  The money I spend never was mine anyway.  Without Jesus providing I couldn't have it to complain about.  Without Jesus providing family and friends we complain about "dealing" with we would be alone.  Without Love where would we be?  Christmas time calls for a bit more Grace at times but slow down folks enjoy it.  Pour yourself out and fill back up with Jesus.  Yes it takes effort a times, I promise it will be worth it.  For Me to increase I must decrease, and make Jesus number 1. John 4:4 says 4 You are of God, little children, and have overcome them, because He who is in you is greater than he who is in the world.  My friend Jason Brooks has this tatted on his arm.  This verse has so much power in it for us.  It has become one of my favorites.  
In closing today, I hope each of you have a Blessed and Merry Christmas!  I Pray each of you are safe, warm and happy this Christmas.  I am very thankful for all of you who read, share and reach out.  God Bless you and Merry Christmas from my family to yours.