It's the hot part of the day, the morning church service was good, bellies were full, and all smart fishermen head out in the heat. Preparations are made to the boat and off we go to Bluff City. Amazingly the ramp was not crowded, it is just me and the kids, with of course the schnauzer, and the launch goes smooth.
I decide to show off to the kids my new and improved shad catching skills, and about a half an hour later, I finally catch some. Some things appear to work we me as soon as I get a little "confidence" in my abilities, humility is not far behind.
We have some really nice gizzards and I put the biggest one on first with the balloon. I am still letting line out and get amazed at the power of the shad as the balloon takes off and then goes under. After a few seconds of being mesmerized by the amazing power of the shad, I realize, there is a nice one after it. I tighten the line, set the hook, and missed him. Bad hook set, but things are looking good.
We get a boil up on one, but no takers, then all the sudden one doubles over a rod. A little difficulty removing from rod holder, and the hesitation allowed it to get away. We head up a little further and another hit, this time, the son is all over it and the mighty fish doesn't have a chance. The fight is on and my 4″ taller than me son pulls it in without difficulty, daughter does the netting, and the photos, I remove the hook and release.
We have been out about 2 hours and they are getting hot. I toss one out, the son is now navigating the boat and I get bit. I set the hook, holler for the bass fishing daughter to come on back and she begins the battle. Roles are reversed as son is netting, she is fighting, I am still going to be removing the hook, but this fish is as good as caught. Hook out, fish released, daughter takes photo again and they agree that we can leave.
We spent a total departed time of 3.5 hours counting driving loading and all, caught two stripers, missed a couple, and got to spend some good time with the kids and of course the pooch. The rockfish are hitting pretty good on the gizzards right now, but not sure about much else. Heard the bass fishing is tough right now. Anyway, if you get a chance, wet a line. Take a youngen and let them lay into one of these nice fish, they don't like the wait, but when they get bit, that all seems to be forgotten. This is the final July entry, but Lord willing, there will be quite a few in August. Hope you have a great August and God bless.
27 July 2012
This shouldn't be too awful long of a read, for the trip didn't last too very long. I found a few spare minutes in the day and had to decide, do I work around the house or go fishing, guess what I chose. I head up to the South Holston River and think I will head down this trail. I get out, get ready, and beg the walk. About 100 yards down the trail there is a down tree covering the path. I think I could try to go around this, or take the easy way to another spot, I left.
Went down the river and found a nice spot I had caught a few before. A slight sprinkle begins and continues off and on throughout the first hour. I see no activity on top water and begin the search for what they are hitting. I finally put on a Tellico Nymph and first cast, the first trout above nails it. I get the rascal in the net, take the pic, and release, feeling good.
I use the Tellico for a while longer with no more bites coming my way. Started thinking that was not a very smart fish or he ratted me out to his friends. I wade around a bit and begin casting toward the bank. I finally get desperate and put on the Green Weenie. I fish it for a bit and then I get hit, I missed this one but put it right back out there, another bite, that is the second pic.
I fish a bit longer and nothing else, still convinced that these fish are nothing but snitches and warning the others, I decide it is time to head to the house. I fished for a couple of hours and landed two, all and all it was a great day. With the weather being what it was, the river was not very crowded and it was a great peaceful afternoon. Lord willing, maybe I will be able to hit the lake pretty soon, good luck to you and good fishing.

22 July 2012
The morning started off with waking up and getting ready for church, as we got prepared, about 50% of the family woke up with an upset stomach. Well, I hung around then decided to fix them some lunch to make them better, stop laughing my cooking isn't that bad and I have an excuse if they get sick, they already are.
Anyway after the magnificent lunch, bellies began doing better, figured I was clear to head to the river. Both the youngens want to go with me, this is great news, so off we go. We hit a couple of spots and the first produced not very much. But when we saw a gentleman leave, we headed to a spot we wanted.
We get down there and the kids experience river fishing. For the first hour or so I was able to wet a line myself for about 5 minutes. I got to spend the rest of the time training the kiddos in the art of removing knots from fishing line and how to tie hooks.
This training phase continued throughout the evening, however during my time I was able to hook the fish above, daughter reeled it in for me. This was not a beast, but it was something. The kids got a couple of hits, corn seemed to be the bait of choice. The kids had a pretty good time and I had a real good time with the family. We didn't catch many however any time you can spend with the family, or 3/4 of the family on the river, is a fantastic day. Hope you have a great week and may God bless.
After church and lunch, we figured we would head to Bluff City. Checked with the family and I got a taker, wife is going, it is like reliving our honeymoon, we went fishing on our honeymoon. So we are off and running to Bluff City and just wanting to beat the storm.
We put in and head toward the river looking for shad, after a few cast I catch about 8 of the very big gizzard shad. We put a couple on the lines and continue to search for smaller shad as we fish. We get down a little closer when one of the big shad take off. Wife goes to set the hook and after a second, it is off. I see some shad, catch some perfect size gizzards. We put one on the line that just lost one and it is no time that wife gets another. She sets the hook then informs me the reel is broke, sure enough, the reel handle broke. Fish is still on the line so the fight begins. We have to hold the rod and turn the reel by hand. We land the fish, pretty nice one, and this makes one rod and one reel broken this year. Well, two reels if you count the one at the beach.
We land three stripers total, and one small mouth. We missed one, had one striper break the line, and I had hooked one more. This one was nice, it ran behind the boat, came to the top water fighting and the line released. When I got it in, the hook had bent. This may have been the nicest one of the day.
We had a great afternoon fishing, sorry its short, but as far as Boone Lake goes, the striper were hitting pretty well, and at least one smallmouth. Have a great day, good fishing, and God bless.
We got back yesterday from our vacation, went to a ballgame that evening, and we are wore out. Woke up fairly early to the rain and tried to talk myself out of going, but was unable, grabbed rain gear readied the boat, grabbed the schnauzer, and off I go to Bluff City.
I have figured out catching bait a little. Blind casting days are coming to an end, however, when it is raining, it is difficult to see them flip. I only throw the net about ten time, but it takes about 30 minutes, but I have plenty of bait. I begin trolling to the trusses while a balloon is trailing along with a flat line. While heading to the trusses I get one striper messing with my shad, he doesn't take it, but he messes for a few minutes.
At the truss I try the spot I normally catch a few, nothing. I go to the other and sure enough this smallmouth hits. This is a big fish and puts up a heck of a fight, my guess is close to 4 lbs, and you will have to trust my guess till I get the scales squared away. After releasing I find myself just through the trusses when the balloon goes under. I grab the rod, head to trolling motor and put on 4. The striper heads between trusses, but not the one where I am located, I say no, hit a 5 on the motor and thankfully the striper did not head through. Landed the striper, snapped the pic and time for more fishing.
I troll to the cold water, getting a couple more stripers messing with my bait, seeing the swirls, but not taking it. I am not sure what they are doing, but it is getting late morning so I head toward the bridge. When I get down to the camp ground area, my flat line get bit. This is another striper, about the same size as the other, guessing 10 lbs, and a good fight. Take pic, release fish, and head to the boat ramp.
It is good to be in the freshwater fishing again. We had a ball at the beach, caught a lot of little fish, but familiarity is always nice. I am considering building me a bait tank, due to the price of the ones on the market. If I give this a whirl, I will try to post this on here. The livewells are working pretty well, red noses are not too bad, but would like something to hold them for a while. I will let you know how all this turns out. Have a great weekend and God bless.
We leave for vacation tomorrow, hoping to post some saltwater pics soon, so I should not have gone fishing, I should not be writing this journal, and after tonight, probably be slow in responding. However, I am going to just make this quick.
Started around 6 this morning, leaving the house, and begin the search for shad. I think I have begun to figure them out, I drove around till I saw some activity and after finding the activity I got plenty of shad, one gizzard and a whole bunch of threadfin. I head to the mouth of the river, I hadn't checked the generating schedule, but the cold water was not quite where I was expecting it. I started off fishing in the cold water and on the first cast I get the trout above. It was a nice fish, but no match for my striper equipment.
I decide after no more bites to head to the railroad trusses. As I am going down to the trusses, one of my rods in the rod holder began bouncing hard. I go back, reel in and began a battle with another brown. This one was another nice fish, thinking why don't I do this with a fly rod, I am striper fishing. Letting the fish go I continue my journey.
I make it to the railroad trusses, and catch another brown. Just flipping to the pillar, I have had much success in the recent weeks, at least for me. It is getting close to me having to get ready for the picnic, I head to the ramp. I stop at the old railroad truss and pitch a few times. I land the smallmouth above. This rascal put up a pretty good fight and took a pretty good pic.
I fish a bit longer but nothing else. I head for picnic, for packing, and for general getting ready with some visiting going to take place. Hope everyone had a great fourth of July and good luck fishing this weekend. Have a great week and God bless.
01 July 2012
This day so far has been awesome. Today was the church picnic, had a great service, stirring message, went out and ate with a bit of fellowship, then headed to the house. Not sure what the day might bring except for warm weather, upper 90's. The daughter suggesting fishing and well, all it really takes is a mention of someone wanting to go and I am all for it. However, knowing the temperature I suggested that I go out and try to catch bait and call them if I have success. A covenant was made and off I go.
It was suggested to catch bait elsewhere and I thought anything beats throwing that net for an hour in this heat. I go up and see a few flip, so I stop the boat, throw once, nothing, but then head to where I saw a flip. Cast and catch about 15, text to come on down and throw about 4 more times. I catch one gizzard, the rest are threadfins and I had to throw back at least 30 due to having way too many. 5 to 6 cast and I am loaded, wow, what a day.
Gonna take the family about 15-20 min. to arrive, so why not flip a shad around the railroad trusses. First flip, about 4 feet from the boat, my shad is swimming for his life on top of the water while a brown beast chases. I give some slack, the line goes under the boat and I wait. I feel some tension and set the hook expecting a smallmouth. When the fish jumped out of the water, I saw that I had hooked the largest brown trout I have ever hooked. I get extremely excited, grab the net, stick it in the water, about 2 jumps later, I try to net, but the hook gets tangle on net. I lift, trout comes into boat and that big one you see above is it. I wanted him back in the water as soon as possible, so I didn't piddle too much with measuring and weighing, but he was over 20″ and much nicer than yesterday's.
I toss in another and shortly there after, the smallmouth above hit and the fight was on. No net required for this one, but it was a blast. I put on another shad, same area and bam, another bite. I set the hook, and pull in the smaller trout that you see above. This one had half the bait hanging out of his mouth, I let him keep it and tossed him back. Family should be close to arriving, but one small shad was conveniently easy to get to, so why not, I toss it out, start getting things organized for family and it bends hard. I set the hook, feel it for just 2 seconds and he is gone. It felt nice, but got off, text comes, family there, time to go pick them up. Best 15 minutes I have had fishing in a long time.
Pick up the family, showed off the pics, wife posted a few of them on facebook, and said where you want to go. Now we are not a family of rocket scientist, this may surprise my audience with the in depth analysis and magnificent use of the English language. Nonetheless, they suggested we go where I caught those fish, once again proving our genius nature. So here we go more pics.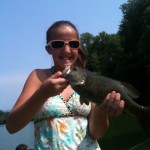 We fish the trusses and daughter misses one, then she has another chasing and it doesn't take. We find another spot and smallmouth above is smiling for the camera. Son is in the back, and he is relaxing and all the sudden a nice, didn't get a good look, saw brown saw big, smallmouth or trout, nails his bait. This is just about 5 yards from the boat hook set, but must have pulled it out, fish off. So a few minutes later we head up toward the river, more pics.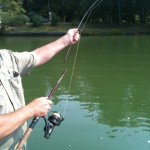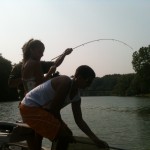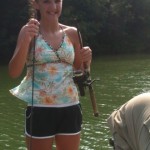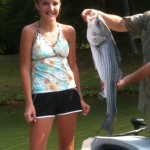 We head on up and so this does not turn into a thesis, We missed a few fish during this time and we had quite a few boils to the big gizzard shad on the balloon, but this will end with an explanation of the picture story above.
The youngens wanted to flip shad. Didn't think for daughter a bait caster would be wise. Also didn't think my GLoomis that I built years ago after finding a deal on a rod blank and happens to be the only sensitive rod I own, would be wise either. So I give her the All Star, this rod is a story itself. Years ago during my almost annual garage clean up, I was rolling out a spare tire when it fell right on the rod. The rod completely splintered, but did not brake in half. Being the tight wad that I am, which is more of necessity than anything else, I decided to wrap the rod. The wrapping was a success and this rod has landed fish in the past.
Not being certain of its strength it appeared to be the only choice for daughter to cast. We go to honey hole, which daughter asked why since we don't catch fish there is it called that? She found out on that cast. We hook this thing, at least 15 lbs, and she is having fun. She gets tired, hands me rod, and it brakes. My son grabs the tip as it enters the water, and we are trying to work out some details. We get into a mode of wife on camera, I have the upper end of the rod, daughter is reeling, and son is netting. We somehow manage to land this rascal and it was a great adventure. Had there been one less person, we may not have been able to pull this off, however, fishing is a family affair.
This has been a great week, love fishing with the family and so glad we caught something. We are heading to Florida this week, but we are going to have a vacation journal if we get to do some fishing. So check back with us regular, have a great fourth of July, be careful, and may God bless you.