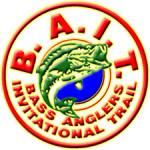 B.A.I.T. TN-II Div.
1420 McCarty Rd.
Knoxville, TN 37914
(865) 679-2233
O'Dell and O'Dell Win
B.A.I.T. TN-II on Watts Bar
Saturday July 12, 2014 was a nice sunny hot day for fishing. Eleven boats showed up to compete for B.A.I.T. TN-II's last tournament of the season. First place honors went to Roger and Hugh O'Dell with 5 fish weighing 23.16 lbs. They netted $430.00 for their efforts. Second place went to Troy and Denton Jones with 18.85 lbs. worth $200.00. Largemouth lunker went to Roger and Hugh O'Dell weighing 6.02 lbs. and was worth $100.00.
Thanks to all our sponsors – Tracker Marine and Bass Pro Shops, Bunch Marine, Mimic Lures and Jerry's Bait shop. Without all of them it would not be possible.
Congratulations to our Anglers of the Year – Roger and Hugh O'Dell!! They fished hard all year and come out on top in the points standings. Our Classic this year will be on Lake Neely Henry October 3rd – 4th, 2014. Check our website for more details www.baitinc.com. For more info contact Sunny DeFOE at 865-679-2233 or Tim Kimsey at 865-556-5085.