5-31-2014 BAIT TN-II Ft. Loudoun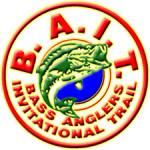 B.A.I.T. TN-I Div.
1420 McCarty Rd.
Knoxville, TN 37914
(865) 679-2233
O'Dell and O'Dell Win
B.A.I.T. TN-II on Ft. Loudoun
Saturday, May 31, 2014, was a beautiful day for fishing. 10 boats showed up to compete for B.A.I.T. TN-II's fifth tournament of the season. First place honors went to Hugh and Roger O'Dell. They had a five fish limit weighing 16.37 lbs. and took home $390.00. Second place went to John Swallows and Gilbert Geren with 13.23 lbs. worth $170.00. Lunker smallmouth went to Hugh and Roger O'Dell weighing 4.66 lbs. and was worth $100.00.
Thanks to all our sponsors – Tracker Marine and Bass Pro Shops, Bunch Marine, Mimic Lures and Jerry's Bait shop. Without all of them it would not be possible.
Our next tournament will be June 14, 2014 on Watts Bar launching from Rockwood (Dr. Tom Fuller park). I will be rescheduling the last tournament for July 12 due to conflict with the Gary Lindsey memorial tournament. We hope you will come out and join us! Our Classic this year will be on Lake Neely Henry October 3rd – 4th, 2014. Check our website for more details www.baitinc.com. For more info contact Sunny DeFOE at 865-679-2233 or Tim Kimsey at 865-556-5085.