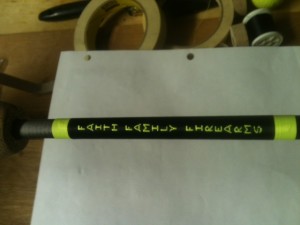 22 Feb 2014
No Fish but an Update
February is almost over and I think I will be skunked for the month. In the first part of Feb we had some sickness in the family, so I haven't gone out too much. However, I have had the opportunity to start working on building a fishing rod. So I thought I would post the pic of the weaved words on the rod. I am hoping to start building a few of these throughout the year.
As the rod building begins, the boat was also returned, great work Marty Stewart on the engine. I need to find some time to break in the engine and then stripers beware, maybe even a bass or two. Lord willing, sometime here soon more fishing pics and rods built and tested. Send us in your pics, post them on the facebook page, and take a kid fishing this year. May the spring bring you tight lines and bent rods.
The Month Begins
08 Feb 2014
February 1st rolls around and I head to Watauga River, you know, my honey hole. Well I am learning that one day of slaying the trout does not make this a honey hole. I know the fish are there, but only got two hits. I need to take the time to replenish my fly box, but there's a lot going on right now.
So I am writing this a week late for February has come in like a lion, one month early, hoping it goes out like a lamb. So I thought I would share some of the plans for the future. I will not get to fish for a while, there has been some sickness in the family and to be frank (not my real name) I don't want to be too far away.
So during this time I am planning on getting a few rods built and expand our reach on the website. The second one is a slow process and I could use some help. TNFishingReport would like to include reports from our bordering states. This is intended to help Tennesseans as they travel to fish out of state and to reach those folks that are visiting us. If you know of a fishing guide, bait shop, or marina/boat dock that would like to exchange reports for a page on our website, ask them to email me at: tfr@tnfishingreport.com.
On a great note, the boat is fixed, I need to enter the break in period for the motor, and as of now I am not planning on putting it up for sale. Lord willing the stripers will be in much trouble this year. If all testing comes back next week with good results, I may get back out on the water. However, fishing has taken a back seat for a while so if you don't mind, check us out on facebook and send us in your fishing pics. Hope everyone has a great February and God bless.