28 June 2013
Typically I like planning things out a little, thinking preparation is not a bad thing. Well Friday is here and vacation has begun. The boat is in the shop and I asked my son, do we wanna go camping. He just got hired on for work and had to find his work schedule. At about 2:30ish he says sure, let's go camping. No boat to go to an island, I suggest Backbone Rock, Beaverdam Creek runs along this and I have yet to catch a fish in the water yet. Also I have an agenda to stop by the Virginia Creeper fly shop so that I can show them the great decals that are offered by www.localwaters.us. This sounds like a plug and I guess kinda is one, but the decals are great and I am trying to help him reach a few shops in East TN.
Anyway, we load up quickly, stop by the Food City for water, campground has port-a-johns, but that is it. We then head up toward Damascus. We stop by the Virginia Creeper Fly Shop and ask what to use, they suggest stone flies and another fly I forgot the name of, sorry. I demonstrate the decal by placing it on his glass, then removing, placing again, then removing, then tell them I will give them a call. We are now on our way.
I miss the turn in downtown Damascus so we get to explore about 10 extra miles that I had not seen before. I stop, ask directions, and back track, we arrive at approximately 5:00pm. We quickly raise the tent, realize all we brought were noodles which I haven't like since I got out of the Marine Corps, so we really need to catch some fish.
We get in the water and within 5 minutes my son gets one, as he is preparing the stringer, fish releases itself, the thought of hunger creeps into my mind. We continue to fish and all in all we catch 4 trout. We miss quite a few more and were able to keep 2 of them. The other two saw the stringer or camera and decided they did not want any part of this.
We clean the fish and get back to the campsite. After going through the apparently moist 10 matches that we had, my son went and asked to borrow some. We finally get a fire going, we have one pot, and aluminum foil, and a lemon. We cook noodles in pot then cut the top out of an empty water bottle, use the cutoff portion to scoop out noodles into the bottle. This was sons idea, I thought it to be brilliant. Finally after it was dark and we used out phones for light, lack of planning prevents you from bringing many things, we see the fish are done. Shockingly, they were delicious.
We settle in for the night, thinking a hike and another day of fishing is in order, then midnight came. I tend to get migraines and this one was a doozy. By the morning when the rain woke up my son, I was unable to see well and extremely sick. He broke down camp alone and drove me back to the house. Let me say I was extremely impressed and apologized for not being able to take him hiking.
Anyway, if you get a chance, Beaverdam Creek is a beautiful place and now that I have found a productive bait, a good place to fish. July is coming, vacation is here, hopefully boat is done tomorrow and I will let you know how the striper fishing is, have a great 4th of July week.
21 & 23 June
I am combining two trips due to the lack of production. The first was Friday to Bluff City. The generators were humming and I have never done too well during this time, however, I thought I could get up in the river and try to catch a few trout. The daughter and I loaded up, caught some bait down near the cold line then headed to the river. My boat is a pretty deep v, don't know if it is an official deep v, but it's pretty deep. We made it past the first island and went till I didn't want to risk it. I tossed out the anchor and this barely slowed us down. I began thinking that I needed a grappling hook and after fighting for a bit, I just gave up and we drifted on down the river. We fished all the cold water we could stand, gave a gentleman some shad, he was 78 and had trouble locating them.
We met a friend of ours there and fished a while longer, some of the time was spent at rainbow bridge. The daughter and I had gotten there around 2:00 and got home around 9:00. We had a fun trip cutting up and just being out on the water, but I have not figured out the cold water fishing at all. Not only did we get skunked, we never even got a bite. Good times with family and friends, but I may give up on Bluff City if they are generating.
23 June 2013
The trolling motor I am using is a borrowed one and two of the speeds are out. I gave Marty a call after church and he said he could work on it this week. When the motor is fixed I am taking it back to my friend so I will be without for some time. My thinking is that I will just drift and anchor down to fish until the funds catch up with the wants. So with that being known and realizing bass fishing will be out for a while, I decided to give it one last go and went behind the airport to launch. I ran to Candy Creek and caught some bait, I am figuring there is no sense in not dragging a shad behind the boat. I headed straight to the Misty Waters area to fish to get out of boat traffic.
The day was scorching hot and I figured I might be the only person bass fishing in this heat. I put on a watermelon copper crawl tube and began to fish. I get a hit and miss it, I just chalked that up to rust. I head down a little further and boom a nice one gets on the line. I fight the fish, it jumps, rod tip down, hook released from jaw. Man that was excited for all three seconds it was on the line. I take a look at my hook and notice it is broke to the barb and dull. I change hook and continue fishing. I hear the drag go a little on my flat line and go back to check. The shad was dead, teeth marks all over it, but nothing. I am figuring it just wasn't meant to get one in the boat.
The fishing continues with a few more bites along the way, they felt like bluegill but I never got a hook set so I am sticking with that thought. At least this way I don't blame my lack of fishing skills, it just small ones nipping at the tail. Then just before a point I get bit, hook set and fish on. This one must have been watching cause he jumped like the other did, but he must not have seen me put on another hook. This fish was wrangled into the boat, all 13" or so, pic taken, and fish released. Will try to post pic later when I get home, I can't do it easily from here.
Total fishing time was about 3 hours in the blazing heat. This weekend totaled 9 or so hours of fishing with one fish, this wouldn't win me any tournaments, however that is not the reason I go. The time on the water is great and a catch is just a bonus. Lord willing we should get a little more time next week with the holiday coming. Hope to have some good pics, if not, I am sure to have a good time.
16 June 2013 click the pics for a better view
Father's Day, continueing I have Created a Monster
Back to the thought of I have created a monster. Almost every day for the past week or so, someone has asked me to take them fishing. Certainly I am happy to accommodate the request, however, the chores are lining up. Anyway, it is Father's Day and they ask what I would like to do. My son's friend is going to the lake and wants him to go, I tell them to have a good time. The wife and daughter aren't saying anything they would really like to do so I figure to go to the river for a spell, thinking the lake would be crowded (which is funny, knowing the river would be crowded). The daughter mentions she would not mind going back to Bluff City. So we load up the boat and she crutches down to the truck.
We head up past the swinging bridge and can only find the big gizzard shad. This is good as far as the theory of big bait equals big fish, but I like flipping the smaller ones at the bank. We throw out a balloon line and a flat line. I get on the phone to call my mom and while I am on the phone, my line takes off and we have one, I call the girl to hobble up to the front in case we have to chase it down and she pulls in the bigger of the bunch above. I had to place the phone on hold for the duration and I am sure it sounded like chaos on the other end. When I got back on the line I did hear laughter.
We release the fish, finish the phone conversation, and continue to troll around a spell. I mention that I may need to get on the phone to see if that helps the bite, we both chuckle and shortly thereafter, I get another run. Same scenario as the daughter pulls in the second biggest fish, this one about 10-12 pounds if I remember correctly. We fish a bit more and see quite a few boil ups at our bait. We have one striper that we watch for 10 seconds stay in hot pursuit of one of our baits, but he is just messing with him. We continue fishing and get another run. I tell daughter it's smaller but come on up. She says "Happy Father's Day dad, you can have this one". I laughed and thought that was a kind gesture, I think she knew it was only about 8 pounds or so, but kind anyway. We had a great time as always getting out and about on the water. The family spoiled me with a lunch after church and a new pair of fishing britches, they dry quickly. What an honor it is to be a dad, one I cherish greatly and take very serious. I hope everyone had as good of a weekend as I did.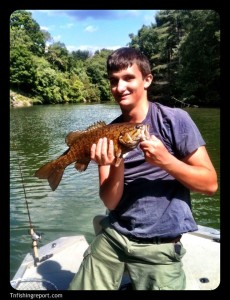 14 June 2013
I have created a monster!!!
Friday I have a short day at work and usually I will get my stuff done or go fishing. Last year the kids did not want anything to do with it. This is a different year and I am thrilled that the kids want to go.
So about 1:00 my son and I head out to Bluff City, knowing good and well that the stripers are calling our name. We head up toward the river, one cast with net and we get all the gizzard shad that we will need for a while. We fish around a bit and all the sudden, when my hands are full, we get a run. I set the hook, holler for the new driver in the family to come up and help, he grabs the pole, fights for 10 seconds and it gets off. No brake, the hook just came out. It was early and I figured we would get a few more hits.
We fish around and we get some hits, well maybe that is stated wrong. Our shad get hit by the striper killing the shad, yet they will not take it. This happens a few times they are just hitting the bait, the bait dies, and we replace bait. After a few of these we head up to the cold line. Here we find a lot of small (~3″ ) shad, throw the cast net, catch more than we need and Dalt begins flipping to the bank. I think he missed a couple, but then he landed this nice smallmouth in the pic above. Our time together was drawing near and at about 5:00, the daughter arrives and he leaves. He is tired, she is ready to roll and wife brought the much needed gatorade.
We head up and fish until about dark, we try at the river, the water begins to come down. I discover that I lose speeds 3 and 4 on the trolling motor, which is bad because this is a loaner, next on my agenda is fixing this trolling motor and finding a decently priced used one, and donations are excepted here if anyone has a trolling motor they would like to give away, preferably a working one. Anyway, we fish till about dark and we get nothing, not even a bite, I figure she is burned out, but well, the Father's Day edition is going to be above in a few minutes.
09 June 2013
Yesterday was a good day on the water. We only boated two fish, but my son and I had a lot of bites prior to daughter arriving (only a coincidence). She was able to boat one after arriving and we only had a few more bites. The fishing time was limited, but we had a ball. This time it was Sunday, we went to church, come home and made some hot dogs, and me and the daughter headed to the Bluff City, the son wanted to hang out at the house. It is around 2:00 pm, usually it is not very crowded at the mouth of the river at that time of day. We launch and although I saw a few shad flipping near the ramp area, we headed up toward the swinging bridge. As we get in that area we see the large gizzard shad everywhere. I immediately think, we have an awful lot of competition, the stripers have a buffet before them. I throw the net and we get about 6 of the big ones. I put one on the line, throw back about three because the cooler I use to hold them just won't keep them alive.
We then head to the cold water line. My intentions are to find some of the small ones since that is what we used yesterday. Sure enough there is an enormous school. I cast the net and thought this must be similar to the thought of the disciples when they listen to Jesus and cast their nets on the other side of the boat. The cast net must have weighed 30+ pounds with 3" shad. We kept more than we needed and threw the rest back. Both live wells have bait, the cooler has bait, and I put out one big and one small on the balloon lines. Now it's time to fish a bit.
Somewhere in our series of events, I get confused at times, I blame the heat, but it is probably just my memory, we get to see a gentleman catch a nice striper. It was probably around 15 lbs, they said they thought 12 but it was pretty nice. We talked with them a bit and continued fishing. Sorry to interject this random paragraph, but honestly can't remember when we were able to see them catch that nice fish.
Anyway, we are pulling the balloons and I am flipping the bank. I get a bite on the small shad, let it take the fish and set the hook. This is the big trout that you see above. The reason the picture is of the fish in the net is when I was getting out the hook, the big shad got hammered by a striper. The daughter jumps to the back (literally because she is in a cast) and grabs a rod, she reels and reels, and I tell her it is the pole that is bent over with line screaming out. We both laugh, the balloons had crossed and it was a little deceiving. She gets the rod and the fight begins strong. She is doing a great job but the fish gets off. The line does not break, the fish was never turned, it just got off the line. We fish this area a bit more and then decide to try to catch some more big shad, we had given a couple away.
We got down, make a throw with the net, we catch a few and keep only the ones we will use. I bait up her line and toss it 5-10 feet from the boat and before I can get her the rod a big one grabs it and goes. I hand her the rod, get on the trolling motor, look and it is still screaming off line. Move trolling motor to highest setting, I'm givin her all she's got, and tell daughter let me see that rod. The fish had already ran out most of the line to where I could see the reel under the line, I am thinking 10 more yards and it is gone. This is our saltwater rod (you know the $25 combos you can get) and I get to front of the boat, start chasing and getting some line back on the reel. She jumps to the front, sits in seat and takes over the reeling. The fish is apparently wore out and she is able to wrestle this one into the boat. We once again forgot to get batteries but this one was by far the biggest we had ever boated. I would guess 30+ pounds and did not think the picture did it justice. She had said she wanted to hold one for a picture, but this one was a little big for her.
We release the fish and continue on flipping and trolling. The day ended with one boated striper, 2 or three very nice brown trout, two largemouth, and a smallmouth. We missed more fish and just had a great time on the water. I don't know if the big ones are all up there yet, but I do know one was. I have no idea how long the bait is going to stay there like that, but as of now, catching bait is not very difficult. One gentleman said the striper fishing on the lake is really good right now, but at the mouth of the river the boat traffic is not that bad. If you get a chance, send us in some TN fish pics and hope you enjoy the few we show.
08 June 2013
08 June 2013
Saturday was a busy day, ACT's in the morning, basketball in the early afternoon and then it was time to go fishing. My son and I took off to Bluff City, our first trip there this year. We got in and it was pretty crowded, free fishing day in Tennessee. We decided to go past the train trusses to catch bait. We make a few cast with the net and I see the shad tearing it up near the bank, almost at the swinging bridge. We get there and make one cast, boom, enough bait for the day. These were about 3″ or so and I am thinking we are going to be doing some flipping.
We get set up and begin to pitch a few, the trout are out and about. You can see the one that I caught, well I missed about 5 of these things. When striper fishing, you don't have a lot of worries about the striper taking the shad. They are serious about getting those things, but the trout, apparently they are not as viscous when going after shad. I learned you need to let them take it.
We fish about 45 minutes missing about 6 total fish and boating one, then we head to the ramp to pick up the daughter. We get a little past the swinging bridge and cast out lines. The daughter threw hers out and within seconds she gets bit by the striper. Her first of the year and it was nice. She almost handed me the rod, apparently sitting on the boat floor with a cast is not as comfortable as I thought. But she battle through the inconvenience and brought in the fish. Guessing, it went about 20 lbs or so.
We fish a bit longer with the son missing a few trout for the day, me missing quite a few fish and the daughter getting the one. The shad were all over the place below the cold water line. Catching shad right now is not a problem. If you get a chance, it may be time to wet a line in Bluff City.