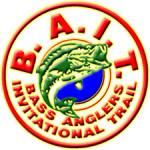 B.A.I.T. TN-I Div.
1420 McCarty Rd.
Knoxville, TN 37914
(865) 679-2233
Miracle and Wolfenbarger Win
B.A.I.T. TN-I on Cherokee
Sunday, March 18, 2014, was a nice early summer day for fishing. The fish bit really well and 25 teams showed up to compete for B.A.I.T. TN-I's last tournament of the season. First place honors went to Steve miracle and Mike Wolfenbarger with a limit of fish weighing 16.10 lbs. They netted $1,000.00 for their efforts. Second place went to Gordon Monroe and Kevin Barber with 14.56 lbs. worth $520.00. Third place was a tie between Richard McMaster and Bobby Chambers and Bill Humbard and Donnie Holder. They each had 13.64 lbs. and each received $295.00.
Largemouth lunker went to Steve Miracle and Mike Wolfenbarger weighing 4.83 lbs. and was worth $120.00. Smallmouth lunker went to Gordon Monroe and Kevin Barber weighing 3.96 lbs. and was worth $120.00. Congratulations to our Anglers of the Year Gordon Monroe and Kevin Barber. They received $500.00 for winning the points in the TN-I Division.
We averaged 22 boats per tournament this season and that means that the top 11 in points are qualified for the 2014 Classic. If you have any questions on whether or not you have qualified please call and we will get you qualified. You can also mix and match as long as you fish 7 tournaments you will be qualified. The 2014 Classic XV will be held October 3rd – 4th, 2014 on Lake Neely Henry launching from Gadsden City Ramp. Please look at our website, www.baitinc.com, for more information. Those who have qualified will receive a confirmation letter prior to the Classic. If you do not receive one please let us know.
Thanks to all who fished this year and thanks to all our sponsors. We couldn't have done it without you all. Congratulations to all and thanks for fishing "America's Best Team Trail". Remember, there will be $500.00 for the highest finishing team from TN-I at the Classic thanks to Ray Varner Ford!
Thanks to Bass Pro Shops, Tracker Marine, Bojangles, Jefferson County Chamber of Commerce and all of our other sponsors and for all they do. God Bless and remember to take a kid fishing!For more info call Sunny or Bud DeFOE at: 865-679-2233 (Sunny's cell) or 865-679-0419 (Bud's cell).