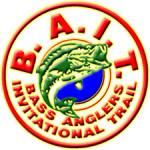 B.A.I.T. TN-I  Div.
1420 McCarty Rd.
Knoxville, TN 37914
(865) 679-2233
Chambers and McMaster Win
B.A.I.T. TN-I on Douglas
            Saturday, April 7, 2013 turned out to be a beautiful day for fishing and the fish were really biting. There was 112 fish caught weighing a total of 360.64 lbs. 38 boats showed up to compete and enjoy the weather. First place honors went to the team of Richard McMaster and Bobby Chambers. They weighed in a nice limit of fish weighing 23.87 lbs. and netted $930.00 for their efforts. Second place went to Charlie McConnell and Bobby Ferguson with 22.77 lbs. worth $530.00. Third place went to Rodney Craddock and Chad Waddell with 21.57 lbs. worth $330.00. Fourth place went to Tim Smiley and Steve Gibson with 21.05 lbs. worth $280.00. Fifth place went to Tommy Bryant and David Mullins with 20.01 lbs. worth $230.00. Sixth place went to Lee Monday and Mark Mauldin with 19.90 lbs. worth $170.00. Seventh place went to Don and Nancy McCurdy with 19.86 lbs. worth $120.00.
There was no Smallmouth caught so the lunkers were split 60 / 40. First largemouth lunker went to the team of Randy Carroll and Mike Hobby weighing 6.73 lbs. and was worth $220.00. Second largemouth lunker went to the team of Rodney Craddock and Chad Waddell weighing 6.39 lbs. and was worth $150.00. The Watson's Marine Contingency Money went to the team of Chad Waddell and Rodney Craddock for being the highest finishing Triton boat.
B.A.I.T. and Jefferson County Chamber of Commerce have teamed up for our 2013 Classic!! We will be fishing Douglas Lake October 11-12, 2013 and we will be launching from The Pointe Marina. Check our website www.baitinc.com for more information.  Also like us on Facebook and post your stories and pictures – www.facebook.com/bassanglersinvitationaltrail
Congratulations to all and thanks for fishing "America's Best Team Trail". Our next tournament will be April 21, 2013 on Cherokee launching from the Dam. Pre-registration will be from 2 p.m. – 6 p.m. Saturday (04/20/2013) at Bucks n Bass.
Thanks to all of our sponsors and for all they do. God Bless and remember to take a kid fishing! For more info call Sunny or Bud DeFOE at: 865-679-2233 (Sunny's cell) or 865-679-0419 (Bud's cell).