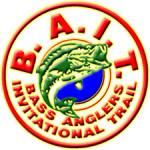 B.A.I.T. TN-I Div.
1420 McCarty Rd.
Knoxville, TN 37914
(865) 679-2233
Monroe and Barber Win
B.A.I.T. TN-I on Cherokee
            Twenty boats showed up to compete Sunday December 8, 2013 for B.A.I.T. TN-I's third tournament of the season. The weather was cloudy and rainy but the fish bit well. First place honors went to Gordon Monroe and Kevin Barber with a nice limit of fish weighing 17.19 lbs. They netted $700.00 for their efforts. Second place went to Bill Humbard with 16.27 lbs. worth $330.00. Third palce went to Don and Nancy McCurdy with 16.24 lbs. worth $160.00.
Lunker largemouth went to Bill Humbard weighing, 4.79 lbs. and was worth $90.00. Smallmouth lunker went to Tim Smiley and Gary Pilkenton weighing 4.12 lbs. and was worth $90.00.
B.A.I.T. and Bojangles along with Jefferson County Chamber of Commerce have teamed up to provide a little more money for payout over the season. We paid out $300.00 over our regular payout. Thank you very much!! Classic XV will be October 3-4, 2014 on Lake Neely Henry in Gadsden, AL. We will be launching from the city ramp. Check our website www.baitinc.com for more information. Also like us on Facebook and post your stories and pictures – www.facebook.com/bassanglersinvitationaltrail
Congratulations to all and thanks for fishing "America's Best Team Trail". Our next tournament will be March 9, 2014 on Cherokee launching from the Dam. Remember, there will be $500.00 for the highest finishing team from TN-I at the Classic thanks to Ray Varner Ford! Pre-registration will be Saturday March 8, from 2-6 p.m. at Buck's N Bass.
Thanks to Bass Pro Shops, Tracker Marine, Bojangles, Ruby Tuesday and all of our other sponsors and for all they do. Remember we will be set up at The Fishing Show Jan. 16-19 at the Jacob's Bldg. in Knoxville. Come by and see us! We will have more schedules at the show. We hope everyone has a Merry Christmas and a Happy New Year! Please remember that Jesus is the reason for the season. God Bless and remember to take a kid fishing! For more info call Sunny or Bud DeFOE at: 865-679-2233 (Sunny's cell) or 865-679-0419 (Bud's cell).