B.A.I.T. TN-II on Watts Bar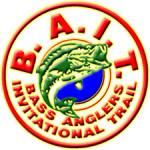 B.A.I.T. TN-II  Div.
1420 McCarty Rd.
Knoxville, TN 37914
(865) 679-2233
Swallows and Geren Win
B.A.I.T. TN-II on Watts Bar
            Thirteen boats showed up Saturday June 22, 2013 to compete in B.A.I.T. TN-II's fifth tournament of the season. The weather was nice and the fish bit well too. John Swallows and Gilbert Geren took home first place honors with a nice limit of fish weighing 15.94 lbs. They netted $510.00 for their efforts. Second place went to Jack Dunaway and Randy Harris with a limit of fish weighing 15.53 lbs. worth $260.00. Largemouth Lunker went to the team of Larry Rolen and Travis Williams weighing 4.66 lbs. Smallmouth lunker went to the team of Roger and Hugh O'Dell weighing 3.83 lbs. Both lunkers were worth $60.00 each.
The Angler of the Year race is heating up! Remember the A.O.Y. gets two Dixie Custom Rods!!
Thanks to all our sponsors – Tracker Marine and Bass Pro Shops, Bunch Marine, Mimic Lures, Jerry's Bait shop, and Dixie Custom Rods. Without all of them it would not be possible. No one won the Bunch Marine Contingency money, but maybe they will next time. Remember – If you win and you are fishing out of a Bunch Marine Boat and meet all requirements you could win $500 in store credit.
Our next tournament will be September 7, 2013 on Ft. Loudoun launching from the canal. We hope you will come out and join us! Our Classic this year will be on Douglas Lake October 11th – 12th, 2013. Check our website for more details www.baitinc.com. For more info contact Sunny DeFOE at 865-679-2233
or Tim Kimsey at 865-556-5085
.
Here is a pic of the sponsors: