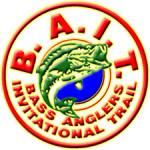 B.A.I.T. TN-I  Div.
1420 McCarty Rd.
Knoxville, TN 37914
(865) 679-2233
Wolfenbarger and Miracle Win
B.A.I.T. TN-I on Cherokee
            Sunday, May 19th, 2013 was a nice spring day on Cherokee Lake. The weather was nice and the fish bit well. There was a total of 134 fish caught for a total weight of 330.05 lbs. First place honors went to the team of Mike Wolfenbarger and Steve Miracle with a nice limit of fish weighing 17.05 lbs. They netted $940.00 for their efforts. Second place went to the team of Jamie Goodin and Allen Smith with 15.80 lbs. worth $540.00. Third Place went to the team of Clifford Bunch and Paul Napier with 15.33 lbs. worth $340.00. Fourth place went to the team of Jackie Nicely and Steve Bean with 15.14 lbs. worth $290.00. Fifth place went to the team of Tim Smiley and Steve Gibson with 14.75 lbs. worth $240.00. Sixth place went to Denny Turner and Scott Huddleston with 13.86 lbs. worth $180.00. Seventh place went to Bill Humbard and Trevor Nash with 13.60 lbs. worth $130.00.
Largemouth lunker went to the team of Matt Wahl and Bill Huskey weighing 4.34 lbs. and was worth $190.00. Smallmouth lunker went to the team of Mike Wolfenbarger and Steve Miracle weighing 3.37 lbs. and was worth $190.00. The Watson's Marine Contingency Money went to the team of Mike Wolfenbarger and Steve Miracle for being the highest finishing Triton boat.
B.A.I.T. and Jefferson County Chamber of Commerce have teamed up for our 2013 Classic!! We will be fishing Douglas Lake October 11-12, 2013 and we will be launching from The Pointe Marina. Check our website www.baitinc.com for more information. We have also teamed up for a benefit tournament for Goodwill Jun 8th on Douglas! For more information check out www.gwiktn.org or call 865-588-8567 . Also like us on Facebook and post your stories and pictures – www.facebook.com/bassanglersinvitationaltrail
Congratulations to all and thanks for fishing "America's Best Team Trail". Our next tournament will be June 9, 2013 on Douglas launching from Shady Grove. I will be paying the Angler of the Year award at the next tournament. The points are close and anything could happen!! There will be no Pre-registration for this tournament due to other tournament obligations. If you want to stop at Buck's N Bass and leave your money and entry form you may and I will pick it up.
Thanks to Bass Pro Shops and Tracker Marine and all of our other sponsors and for all they do. God Bless and remember to take a kid fishing! For more info call Sunny or Bud DeFOE at: 865-679-2233 (Sunny's cell) or 865-679-0419 (Bud's cell).