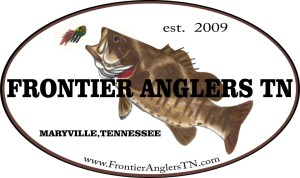 Check out Frontier Anglers TN.  We are located in the foothills of the Great Smoky Mountains National Park in Maryville, TN.  East Tennessee is an angler's paradise, and for good reason. The Great Smoky Mountains National Park has over 700 miles of fishable water, not to mention the number of tailwaters around us, all of which hold rainbow, brown, and brook trout, smallmouth bass and carp. The Smokies also have great opportunities  for hiking and backpacking, with wonderful scenic views and wildlife. We provide guided fly fishing trips in the Great Smoky Mountains National Park under the terms of a Commercial Use Authorization issued by the National Park Service.
Website: FrontierAnglersTN
Phone: 865-719-0227
Facebook: Frontier Anglers
Fishing Report:  17 April 2017
by Josh Pfeiffer on April 17th, 2017 | FA News
Here we are on Easter Sunday already, how the fishing season is flying by. We've been busy fishing up in the Smokies, on the Clinch and Holston Rivers and chasing those river smallies all over. The good news is that the fishing is great everywhere and there are some very healthy fish roaming around. The cherry on top is that the weather is fantastic with temperatures in the 70's and 80's with low chances of precipitation. How could it get any better.
Smallmouth have been eating well over the last month or so bulking up on calories in preparation for the spawn and now the time has come for them to shine. These boys…..and girls look like fat footballs with linebacker shoulders and a bad attitude looking to hurt anything that comes by. We have been fishing a variety of streamers and crawdad patterns for the most part with the occasional popper when the moods strikes us but they aren't very picky. TVA has also been giving us great schedules to work around on the tailwaters with minimum flows making it easy to plan trips. Along with the tailwaters we have the option to float the lowland freestone rivers as well which have also been fishing well. Some smallmouth are on the beds right now and others are not far behind so we're covering a lot of water trying to target fish that aren't on beds so we don't bother their routine.
The tailwaters are fishing very well right now for trout as they should with good flows and plenty of bugs moving about. The Sulfurs on the clinch have been sparse but they will come off in numbers soon enough, until then midges and caddis are the main course . Midges and small nymphs have been producing well (surprise, surprise) on long leaders and long casts with a good drift. We've been seeing great caddis hatches just about every time we've been on the Holston and fish are getting heavy as a result. There are short windows of dry fly fishing during the day with explosive strikes on dries and plenty of action on nymphs when the hatches die off. The low flows and stable weather have been great for the upper Holston.
The fish in the Smokies are looking up as you would imagine they would in April with lots of bugs flying around all day. There are huge March browns, brown stoneflies, yellow sallies and even some early sulfurs and don't forget about all the fun you can have fishing terrestrials. Water levels are perfect with some Spring showers here and there to keep the water where it needs to be so if you like fishing the mountains, now is the time to be there with your favorite rod and plenty of dries. If you don't have your own gear than give us a call and we can supply you with everything.
We've been busy in March and April and that's how we like it. There aren't any days left in April and May only has a few days left open, but we do have a handful of professional guides that work with us that may be able to help out if needed. June, July and August are filling up for peak smallmouth season so if you interested in fishing with us then give us a shout and let us show you a good time on the water, especially if you want to chase one of the best fish in freshwater.
Fishing hasn't been the only thing keeping us busy however. We have a new addition to our Family and his name is Luke. The Lord has blessed us so much and we're very happy to be able to share it with everyone. Thank you for reading the fishing report and stay connected for more recent fishing reports. Have a blessed day.
22 March 2017
by Josh Pfeiffer on March 22nd, 2017 | FA News
It's unusual to get a saturday off in this business, especially during fishing season and summer break, but we seemed to make the best of it. Ashley and I don't get to fish together much, so it was nice to have a care free saturday to float for, you guessed it, SMALLMOUTH. The weather was great, the water temp and flow were perfect and the fish were fired up.
We caught most of our fish on streamers and missed quite a few on topwater. Clousers always work well in a variety of colors, but don't forget about crawdads. It seems that most of the smallmouth we catch have claws in the throats. Ashley was getting in some rowing and I was explaining what run to take, when I looked at my fly and noticed a nice fish mouthing it, but I missed him. It was a great day and it was really nice to see Ashley landing some nice smallmouth, like the one in the photo.
Every bit of water around us is fishing great, the National Park is incredible in the morning and evening and floating for trout and smallmouth on our tailwaters  has been really good. Don't let the heat shy you away from fishing, we just work around it and alter our days. Call or email us for one of these trips and don't let the summer pass you by. I hope that you have a blessed day and catch a few fish, but be careful in the heat.