CAPTAIN JIM'S LAKE CUMBERLAND AND CUMBERLAND RIVER STRIPER FISHING REPORT

Provided by Captain Jim Durham
Owner StriperFun Guide Service, Dale Hollow Fishing Charters, Superbaittanks.com
Captain Jim Marine Electronics & Captain Jim Lures
Staff Writer for fishin.com
DATE OF REPORT: November 12th, 2015
• Latest water temperature: 61.2 ° F surface (Main Lake): November 10th, 2015
• Latest water temperature: 62.4 ° F surface (Indian Creek): November 10th, 2015
• Latest water temperature: 57.6 ° F surface (Cumberland River): November 11th, 2015
• Latest water temperature: 49.1 ° F surface (Obey River in Celina): November 11th, 2015
Currently, the lake level is right at 701.69 feet above sea level. The lake is now about 23 feet below the tree line which is 725.00′ above sea level. Peak discharge of water through the power generation turbines is very slow today with "4,410 feet per second" discharge running as I write this report.
THIS IS MY 196th EDITION OF MY CUMBERLAND LAKE/RIVER STRIPER FISHING REPORT!
Greetings to my readers! I hope that the world finds you and your family doing well!
About StriperFun and Captain Jim
I personally charter out of a 2015 new 24 foot center console Alweld Escort Bay boat. Powered by a 2015 Mercury 150 four (4) stroke outboard (I love my Mercury!). She is quiet to sneak up on big fish and fast to cover a lot of water!
With 24 mile radar, full Humminbird electronics, Minn Kota trolling motor and Cannon downriggers, this rig is the ultimate guide boat! She has "tons" of for moving around and fighting big fish and also has comfortable seating for the trip. The boat is covered to keep our clients dry during inclement and a heater is provided when it is cold. The boat is also outfitted with ultra fast Cannon Digi Troll 5 down riggers.
My crews and I are all United States Coast Guard Merchant Marine officers and are federally and state licensed, insured and are well trained in CPR & First Aid, with no less than 20 years experience per man! We have worked to be one of the best known guide services in the region and we will work hard to deliver "big trophy fish". You can count on the fact that your group will be treated with the utmost professional care and safety.
SUPPORT THE VETERANS
As a former United States Air Force Airman – military veteran and as a current U.S. Merchant Marine Captain and U.S. Coast Guard Auxiliary Patrol Coxswain (Captain), I understand the great importance that our brave service men and women play in our society. Their service is why you speak English, can vote and can enjoy the freedom that you do!
We also cannot forget the duty and service provided by our Policemen, Fish and Wildlife Officers and Firemen.
STRIPERFUN OFFERS A 10% DISCOUNT on all charters to currently active Policemen, Fish and Wildlife Officers and Firemen as well as to all active military AND retired military veterans (with proper verification ID provided by the person booking the trip).
This is our way of saying "THANKS" to these important men and women for your service.
God is amazing in his creation! I am blessed to spend another day pursuing my passion of putting clients on big fish on our magnificent lakes of Cumberland and Dale Hollow and the Cumberland River! I give it all to God!
LAKE CUMBERLAND
The Lake Cumberland fishing has really turned on with Stripers both back in the creek, as well as on the main lake. This is the time of year to look for a "vortex" of swirling birds actually diving into the water to help you find fish. What this means is that the fish are eating the bait from below, driving the bait fish to the surface right into the feeding birds!
There is a lot of truth to the old adage; "Find the bait fish and you find the Stripers"!
One of my favorite tricks this time of year is to position the boat perfectly "still" (possible only with a Minn Kota I Pilot!) and then drop a Captain Jim Striper Dominator hair jig right into a big ball of bait. If your fish finder is of high quality (like my Humminbird 1199), you can actually see the jig going up and down. The secret then is to be sure to let the lure drop "below" the bait ball "bail open" to let it "flutter down" at least 6 to 10 feet (below the bait ball). Keep your thumb lightly on the line to feel for strikes, as many times the big predators will then eat the lure hard as it drops because the fluttering hair jig looks like a wounded minnow in a death spiral! If they do not hit it, then "rip" it back up into the bait ball and "bounce it" for a few seconds in place then repeat the process.
This hot little technique can turn on the fish! Additionally, using the same technique to "drop shot" live bait also works (making a slow day into a frenzied bite)!
You can catch fish using multiple methods at this time:
• We are pulling planer boards with live bait using weightless or1/2 oz weighted lines at 20 feet deep and also 1 oz weights on the boards at 30, 45 and 60 feet, Carolina rigged.
• We are occasionally catching surface feeding fish in the mid mornings, catching multiple nice keepers throwing Captain Jim Special "Little Friends" and "Dominator" hair jigs.
• Down lines with live bait are also getting "viciously" ripped down as we move through these big aggressive schools of Stripers, use 4 oz weights on the down lines at 30 and 50 feet. We are also catching nice smallmouth, large mouth and the occasional Walleye or Bass that are congregating with the Striper schools to tear into the huge schools of bait fish!

Seeing the big predator Stripers take the live bait on boards or balloons is like watching a prehistoric moment! It is "KABAM" and the rod gets "ripped" down in 1/10th of a second!! Sheer adrenaline and pure excitement! Yee Hii !!! Bam! Bam! Kapow! "Zing" – your rods will be bent with the reels singing!
I demonstrate these techniques on my "STRIPER FISH LIKE A PRO" Trilogy series. Click onto my photo above to go to the StriperFun website for more information on how to order this informative "how to" DVD Trilogy series.
Please see below a couple of photos of StriperFun "Lake" customers:
Dave Tavel Group, guided by Captain Larry
Mark Haas Group, guided by Captain Larry
THE CUMBERLAND RIVER STRIPER FISHING REMAINS "RED HOT"!
COME GET IN ON THE FALL "MONSTER" HUNT FOR WORLD CLASS STRIPERS!
What can I tell you! Kabam!! Kapow and Wham as the stout Striper rods are getting viciously "slammed down" by goliath Stripers engulfing Trout and running like freight trains!
The Cumberland River fishing in Tennessee (just south of Lake Cumberland 30 minutes) remains strong. We caught several Stripers the last few weeks with the smallest fish we caught "again" being 36 inches (3 feet) long, with several over 40 inches including a 46 inch 43 pound brute!  The rest of the big fish were released to grow and be caught another day (they can be caught and released and survive well in the cold Cumberland River water!).
When a big river Striper comes after a Trout, the Trout will be tail dancing all over the surface trying to get a way. Sometimes the "dance" will last half a minute (as you watch the big predator circling the prey!) until the Striper finally gets the Trout then its "Kabam"!! The rod gets yanked down and the reel is screaming like an irate Duke Basketball fan (I just love that expression – sorry if I wear it out!).
Click this video to watch a Captain Jim Cumberland River adventure and see the Trout dance and the monsters hit! https://www.youtube.com/watch?v=XKVyQboyFQc&feature=youtu.be
See the massive 48 inch – 43 pound monster Striper caught by Gary Chirpas! I was not sure were going to get this one in!! She was caught and released to grow to a 50 to 60 pounder!
Below is a photo of Torry Howe with a huge 30 pound plus "river" Striper caught a few days ago.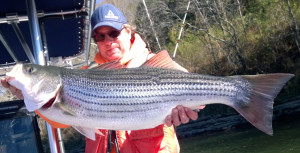 This next photo is Torry's brother Ritchie who also caught a big 30 pound plus fish!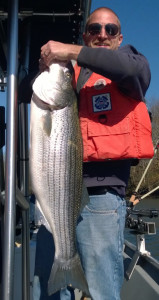 You can watch the videos of them catching their fish (as well as many other customers catching their big Stripers!) right on the StriperFun web page at: https://www.facebook.com/StriperFunFishingGuideService/
While you are on our facebook page, please "like" the page!
I also had the pleasure of taking David Holtz and his 13 year old daughter Olivia. It was a cold and wet blustery day, but this little girl hung in there and caught her first big Striper!
Throughout the year, it is not uncommon to see 40 or even 50 pound "goliath" Stripers pulled from the beautiful waters of the Cumberland River in TN. This fishing is not for the faint of heart however! These big fish hit like freight trains, making long powerful runs in the constantly flowing waters of the river!
We also seasonally catch fabulous Walleye and Sauger! Come enjoy the scenic and beautiful Cumberland River as you pursue various trophy fish!
You have got to come do this! Click here for more information: http://striperfun.com/pages/bookacharter.php
LAKE CUMBERLAND FISHING CONDITIONS AND TECHNIQUES – MOST RECENT REPORT
As we are now moving through fall the Stripers have formed into massive schools on the lake! We have been catching fish around the thermocline, both trolling Captain Jim hair jigs on "Slide Divers" and down rigging. I am moving the boat really fast 3.5 MPH fishing 60 to 70 feet deep where the creeks flow into the main lake. The fish are about yanking the rods out of their rod holders!
DOWN RIGGING
CANNON DOWN RIGGERS FROM JOHNSON OUTDOORS
I only use Cannon Downriggers from Johnson Outdoors and so should you! I love my Cannon Down riggers!" For smooth operation and ease of use, you cannot beat Cannon down riggers. My electric "Digi Troll 5" down riggers deliver for me – Striper after Striper! All StriperFun guides run only CANNON DOWNRIGGERS!

For more downrigger techniques, please refer to the July 2015 Captain Jim Lake Cumberland report:
http://www.fishin.com/forums2/content.php/4455-CAPTAIN-JIM-S-CUMBERLAND-STRIPER-FISHING-REPORT?s=b8702b6bfa4a1ed5cda904c97fb059d7
SLIDE DIVERS
Captain Jim Lures sells the "Slide Diver – Lite Bite" controlled depth trolling fishing device! Captain Jim and the StriperFun crew on many weeks catch limit after limit of Stripers t (and some huge trophy monster Stripers as well) trolling my hair jigs on Slide Divers!
Over the years, many Lake Cumberland fishermen have had great success "down rigging" Captain Jim Special "Dominator" hair jigs. When using a down rigger, you can control the depth at which your hair jig is running. If you see the fish continuing to hold at a certain depth, by using a down rigger you can keep your hair jig at this depth to keep your lure in front of the fish.
However, down riggers (both manual and electric) can be very expensive! Many fishermen simply cannot afford to buy multiple down riggers for their boats. Also, smaller boats (or some boat designs) to not have sufficient space to be able to mount down riggers. Further, using down riggers can be intimidating for some fishermen, especially the need for "double stacking" to increase the number of lures being trolled.
So what is the solution? How can fishermen inexpensively and dramatically increase the number of lures they can troll while at the same time actually "controlling the depth" at which the lures are running?
The answer is the "Slide Diver – Lite Bite"!
The Slide Diver – Lite Bite is a disc shaped "in line" device that utilizes water pressure against the planing surface which forces the unit to "dive both out and down" when trolling. The difference is, that while older styled divers were permanently attached to the line (and the lure could only be back as far as the length of the rod from the diver), the new Slide Diver – Lite Bite actually "releases" and slides down the line to the lure once a fish hits. This allows you to run your lures back as far as you want (generally 100 to 150 feet) before you lock down the Slide Diver – Lite Bite to the line.
This is very important.
Stripers (different for example from Lake Trout or Salmon) have very keen eye sight. They spook very easily! Because older styled divers were permanently attached to the line and the lure was within just a rod's length from the disc, they were no good for Striper fishing. The disc would spook the Stripers and scatter them and the lure would pass just a second after. The Stripers would not have the time to regroup and settle back in to their normal pattern before the lure arrived.
However, the new Slide Diver – Lite Bite again allows the lure to be back 100 to 150 feet behind the disc. This is very similar to how you troll a hair jig and plastic trailer 100 to 150 feet behind a down rigger ball. This gives the needed time (once the disc passes) for the Stripers to regroup and settle back in to their normal pattern before the lure arrives. Just like a down rigged lure yanks the line off the down rigger clip when a fish hits, the new Slide Diver – Lite Bite "releases" when the fish hits and slides down the line to the lure.
It is just so cool how these things work!
The adjustable weight shifts the diver from the center to the far right or far left trolling positions from the boat. Based on the adjustable setting on each diver and the amount of line released, the Slide Diver will descend to a pre-selected angle and depth. I can "dial in" the degree I want the diver to run "away from the boat and down" just like a planer boat runs away from the boat. With a planer board, the more line you put out, the further the planer board runs out away from the boat.
The same thing happens with the Slide Diver – Lite Bite!
For example, I can put the Captain Jim Special "Dominator" hair jig and plastic trailer out 100 feet and then lock in the Slide Diver – Lite Bite. If I tune the diver in at a 6 degrees setting and let the diver itself out another 100 feet, at this setting the diver will be running at an angle (like a planer board) about 15 feet "away" from the boat and at a depth of about 28 feet. Then I will put out a second Captain Jim Special "Dominator" hair jig 75 feet out lock in the Slide Diver – Lite Bite. If I tune in the second diver at a 3 degrees setting and let the diver itself out another 75 feet, then the second diver will be running at an angle (like a planer board) about 7 feet "away" from the boat and at a depth of about 32 feet. The second diver at a 3 degrees setting (less severe) is running at a more "downward" angle.
You can tune the Slide Diver – Lite Bites either right or left –either way! As such, I generally run both a 6 degree "and" a 3 degree diver off each side of the boat (right and left) at the aforementioned settings. Once set, I then also double stack Captain Jim Special "Dominator" hair jig and plastic trailers on my Cannon down riggers.
This allows me to easily troll 8 Captain Jim Special "Dominator" hair jig and plastic trailers at the same time. The fish catching results are simply phenomenal!
Click this link to watch a Slide Diver demonstration:
http://www.youtube.com/watch?v=ezJKLFuPjx4#sthash.jXCrqVSX.dpuf
You can buy the new Slide Diver – Lite Bites directly on the StriperFun website store! Just click the link below:
http://www.striperfun.com/store/slide-diver-lite-bite-p-50.html?%3CosCsid%3E
CAPTAIN JIM ON THE RADIO!
I did a fishing radio talk show recently on WHAS 840 out of Louisville on the "Jim Strader" Great Outdoors show. It is broadcast to 17 States. I had the pleasure of being on the air with Jim Strader for almost 2 hours, covering fishing on Lake Cumberland, Dale Hollow and the Cumberland River.
You can listen to the radio show by clicking: http://www.whas.com/media/podcast-gr…2014-24935145/
I hope you enjoy it! I am generally on Sunday nights at 6:30 pm eastern.
Casting
We are casting Captain Jim lures to the occasional (this time of year) surfacing fish:
STRIPERFUN'S FULL LINE UP OF LURES

Captain Jim Lures, a Division of Striperfun.com, sells the top of the line hair jigs (captain Jim Specials) and blade baits (Little Friends), as well as the "Striper Mugger", the "Kentucky Thumper" the "Tennessee Thumper" and the "Walleye Dazzler"! These lures have been heavily field tested, are super easy to cast (or troll) and besides being Striper magnets, they also absolutely wear out the Large Mouth, Spots, Walleye and Small Mouth!
Click the link below to go to the StriperFun website and watch the new lures as their photos will appear (a new photo "pops in" every few seconds) in the middle of the top of the screen on the first page. Click any photo of any lure that to go in and read more about the newly designed lures and to see enhanced photos!
You can also watch them demonstrated on YouTube by clicking the links below:
"Kentucky Thumper": http://www.youtube.com/watch?v=JXEQaTkleb8
To buy this lure click: http://www.striperfun.com/store/kent…mper-p-41.html
"Tennessee Thumper": http://www.youtube.com/watch?v=Ba8uN6NYhk8
To buy this lure click: http://www.striperfun.com/store/tennessee-thumper-p-42.html?%3CosCsid%3E
"Walleye Dazzler": http://www.youtube.com/watch?v=BfuizmHF9r0
To buy this lure click: http://www.striperfun.com/store/wall…zler-p-43.html
"Striper Mugger": http://www.youtube.com/watch?v=46aVV…e=results_main
To buy this lure click: http://www.striperfun.com/store/stri…gger-p-46.html
"Captain Jim Hair Jigs and Blade Baits": http://www.striperfun.com/store/stri…b2964914829f7a
"Captain Jim Umbrella Rigs": http://www.striperfun.com/store/umbrellas-c-13.html
Grider Hill Resort Marina is StriperFun Guide Service "Headquarters" on Lake Cumberland!
Grider Hill Resort Marina offers the most comprehensive recreation, entertainment, fishing and houseboat experience on Lake Cumberland. Grider Hill provides great dining at their "on the water" restaurant along with terrific lodging in their beautiful landmark lodge, luxury suites with balconies and lake views and beautiful secluded cabins in the woods! When you add in the cleanest and best priced houseboats on Lake Cumberland, as well as great prices on boat slips, day boat rentals and with new ownership dedicated to excellent customer service, it is no wonder that Grider Hill Resort Marina is the fastest growing resort on Lake Cumberland!
Let Captain Jim help you organize your "vacation" of a life time" by booking you one of Grider Hill's great houseboats for a family fun adventure. Or stay in Grider Hill lodging!
Just call Captain Jim at 931-403-2501 or click on the Grider Hill houseboat website page at:
http://www.striperfun.com/pages/grider/house-boats.html
When you book any service with StriperFun or Grider Hill Resort Marina, be sure to ask for the "Captain Jim Special" to get a great FREE gift!
SUPER BAIT TANKS

To really hit the "monster" Stripers, you need to use the freshest live shad. Not only can catching fresh shad be tough, keeping them alive used to be virtually impossible! Not any longer!
The SUPER BAIT TANK has a triple filtration system, a built in oxygen infuser, a built in light for night use and is insulated. This system has been tested to hold gizzard shad & blue black herring for up to one week.
I use only the SUPER BAIT TANK. Every guide I know uses it and so should you! StriperFun is the exclusive NATIONAL "on line" dealer of the SUPER BAIT TANK.
For "new" Super Bait Tank orders – call me or click:
http://www.striperfun.com/store/super-bait-tanks-c-3.html
"SPECIAL NOTICE"
When it's time to go boating and fishing, you want to make sure your boat is ready to hit the water with all the equipment you need to have a great time!
StriperFun and its related companies can help!
With a full line up of the most modern marine electronics (fish finders, GPS, radar and more..) at "way below" national chain store prices, you need to let us get you the most modern marine electronics you have really been wanting! StriperFun also sells Captain Jim fishing lures, Striper Fish like a Pro "how to" DVDs, Super Bait Tanks, Hydro Glow Fish lights, Fitech bait nets and more. Captain Jim and StriperFun have everything you need to have a safe and fun year!
As a new service, we are also providing a "bow to stern" approach of helping boaters and fishermen "update" the equipment on their boat. This includes outfitting brand both new boats as well as upgrading older boats (where the owners want to upgrade equipment). This also includes full installation of all electronic and mechanical equipment (installing marine electronics, trolling motors, down riggers, radar units, battery chargers and more!).
StriperFun and Captain Jim is a "one stop shop" for your boating and fishing upgrade needs or to outfit your new boat! Give me a call at 931-403-2501 or email me at captainjim@striperfun.com

HUMMINBIRD COMBO GPS AND FISH FINDER UNITS
All StriperFun Captains use Humminbird Side and Down Imaging units. Humminbird Fish Finder / GPS units are simply the best on the market! When you have to depend on your marine electronics to navigate safely at night and in the fog, as well as help you find fish, it is one of your most valuable tools!
My Humminbird HD unit is simply great! When trolling artificial lures or live bait, I just don't troll "hoping" to run in to a school of fish. I am scanning up to 240 feet per each side of the boat, looking for schools of bait and fish. When I see them (example: 3 o'clock to the starboard or 9 o'clock to port!), I can then "turn" my boat towards the schools of bait and fish to "get in to the strike zone".
Once arriving on the schools of bait and fish, I can switch over to the "Down Imaging", "Quadrabeam Plus" or "Switch Fire" sonar systems to let me see with great clarity (each technology providing a different yet important view!) exactly where the fish are and how they are orientating.
Why troll "blind" when you can scan surrounding water to see where the "big ones" are!!
It makes all the difference in the world, turning a slow fishing day into a great catching day!
My Humminbird Fish Finder is a guide's best friend. As a Field Staff member of Johnson Outdoors, I strongly recommend this product to any open water fishermen. To be successful, you need to learn to use your marine electronics. If you are looking for new marine electronics, feel free to call me and I can make some solid suggestions on HUMMINBIRD COMBO GPS AND FISH FINDER UNITS.
MINN KOTA TROLLING MOTORS FROM JOHNSON OUTDOORS
I only use the Minn Kota "Rip Tide" trolling motors from Johnson Marine and so should you! As a professional fishing charter Captain, my livelihood depends on my trolling motor working every time – every day! For 15 years I have used Minn Kota trolling motors and my "Rip Tide" trolling motor never lets me down!
With "cool" features like the hands free "Auto Pilot and "I" Pilot functions, I can set my motor to go a specific direction and turn my back to deploy lines and have full confidence it will stay on course no matter the weather conditions!
For using a "drop shot" on the fish, once I locate a nice an active school I simply push a button on "I" Pilot functions control and it "electronically anchors me" directly over the fish. If the winds blows me off the spot, the "I" Pilot brings me right back and again "electronically anchors" me back over the fish.
Man, is that cool or what? I would never consider using anything else but a Minn Kota trolling motor!
GIVE THE BEST GIFT OF ALL, A FISHING TRIP WITH CAPTAIN JIM AND STRIPERFUN GUIDE SERVICE OR DALE HOLLOW FISHING CHARTERS!
The gift of a weekend package deal (or even a one day fishing trip) with StriperFun Guide Service or Dale Hollow Fishing Charters makes a great Christmas or birthday present for Dad, a brother or for the family and kids, or can make a great bonus for an employee or a promotion for a customer! We fish year round and our trips are very popular and our booking dates fill up fast!
Fishing is family friendly and wholesome. So if you are interested in giving the perfect gift to that special someone, order a fishing gift certificate today!
Call me at 931-403-2501 or email me at: captainjim@striperfun.com
SPECIAL NOTICE!
For years, as I have done radio and TV shows as well as outdoors and boat show seminars on Striper fishing, I have been approached by the "nicest" people who have a true desire to learn more about the great sport of Striper fishing. There are always lots of questions asked regarding the numerous different techniques involved in our great sport.
Unfortunately, many times, it is hard to explain things and answer questions when you are not out on the water (to be able to physically demonstrate what you are talking about!). Initially, this is why I created my (hot selling!) "Striper Fish like a Pro" instructional 3 DVD "Trilogy". This gave new (and even experienced!) fishermen a lot of good solid data on how we "Pros" do what we do, etc.
But from the constant feedback I get I have learned that more information and training is wanted! Because of this continual strong request and demand for more information and Striper fishing training, I now offer "hands on and personalized" Striper fishing technique training with "on the water" instructional trips! These will be trips on my new Alweld that will allow customers to "narrow down and focus in on" a large and diverse group of specific areas of Striper fishing they want to learn more about. It will also allow me to provide very precise and detailed training in a direct on the water "one on one" teaching environment!

The Striper fishing technique training subjects will include (but not be limited to):
MULTI SKILL TROLLING SECRETS INCLUDING UMBRELLA RIG – DOWN RIGGING AND SLIDE DIVERS TROLLING;
HOW TO SET YOUR BOAT UP CORRECTLY FOR BIG GAME FISHING TO BE SUCCESSFUL;
HOW TO READ MARINE ELECTRONICS WITH AN EMPHASIS ON THE GREAT NEW LINE OF HUMMINBIRD FISH FINDER / GPS UNITS;
LIVE BAIT TECHNIQUES (EVERY POSSIBLE SCENARIO HOW TO FISH LIVE BAIT, AS WELL AS TRICKS FOR KEEPING YOUR BAIT FRISKY!);
CASTING AND RETRIEVING TECHNIQUES AND WHAT LURES TO USE IN VARIOUS SITUATIONS.
And dozens of more subjects!!!
Training trips are $75.00 an hour with a 4 hour minimum and are held afternoons beginning at noon. I suggest you book at least 30 days in advance as they are already getting popular and I am booking up.
By the way, you might even catch a trophy Striper while we are training!
Please call me at 931-403-2501 if you would like more information. I hope to see you soon!
To get in on the great fishing action, you can book a Striper fishing adventure with StriperFun! Click the following link: www.striperfun.com/pages/bookacharter.php

Many of our customers do not initially realize that the Striper fishing is 365 days year round. However, all of our boats are covered and we virtually fish almost every day.
We live for this type of fishing and you can too! Come see us!
Do not be afraid however to call last minute if you want a trip as we have numerous guides and can accommodate your schedule!
LEAGUE OF KENTUCKY SPORTSMEN!
Regulations that govern hunting, fishing, and habitat are formed by both the Kentucky Wildlife Commission and the legislative process. The League of Kentucky Sportsmen (League) helps keep the hunters and fishermen on top of today's issues. The combined voices of sportsmen are a powerful tool used to more effectively influence the decision making so that sportsmen can actually have a say in how the resources are managed.
The League works with individuals, Government Agencies, and Club Affiliates to constantly support the use of scientific wildlife management practices on public lands, private lands, and corporate lands. The League also supports the Kentucky heritage of hunting, trapping, fishing, and the right to keep and bear arms. The League also provides assistance with organizing events to bring kids and adults together in the great outdoors.
No single individual or organization can do it alone. The League needs your help. Become a member today.
Contact the LKS office and order your membership over the phone at (859) 858-0135. Or click on to their website: http://www.kentuckysportsmen.com/

If you have any other ideas, techniques or subjects you want me to write about, drop me a line!
I am many times asked "What are the advantages to hiring a guide"? In essence, you hire a guide to utilize the guide's many years of experience and lake knowledge, to learn new tactics and techniques to increase your chance of "landing the big one". Guides use top of the line equipment and the freshest live bait. Also, if you cannot afford your own boat, it is a very cost effective way for you or your group to fish (cost per fisherman). Even professional fishermen hire guides to learn a lake and new techniques!
We are moving quickly through fall. Dawn rolls around a little later each morning and "Twilight" now rolls around just a little earlier each night.

It is great to be alive and be a "free" American! I look forward to seeing all of you this year on the water.
Count your blessings each day and live "in the moment", not in the future and always remember to stop and shake the hand of a person in uniform or wearing garb that shows they are a veteran! Their service is why you speak English, can vote and can enjoy the freedoms you do!
Remember also to always obey all Kentucky and TN fishing regulations while on Lake Cumberland or any Kentucky (or Tennessee) waterway. Following the rules is a must! It is important that we all be good stewards of our fishing resources. If you have any questions about fishing regulations or to report poachers, call Kentucky Fish and Wildlife at 800-858-1549.
Until next time, blue skies and tight lines!