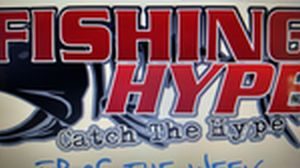 Come enjoy a day on the water with Capt. Brian Brown, I have fished from Minnesota to Louisiana and Texas to Florida. Capt. Brian is a very versatile angler having fished many of the lakes in MN and WI along with great lakes to fisheries like the Red River in LA and Lake Okeechobee in Florida and of course the twin lakes Kentucky and Barkley here in Western KY and TN. We specialize in Large and Smallmouth bass, crappie, bluegill/redear along with white, yellow and hybrid bass. We can help with your electronic questions also as we provide an on the water class going over the ins and outs of your units and how to use them.
Contact us at:
Website – www.fishinghype.com
Facebook – https://www.facebook.com/fishinghype/?ref=aymt_homepage_panel
You Tube – https://www.youtube.com/channel/UCJOiRxLrh5yhfXBlcc9Vetw
Capt. Brian Brown
612-889-2423
Lake Barkley and Kentucky Lake Kentucky fishing report:  04 Aug 2016
Lake Conditions:
Barkley – 358.85, 17,600-27,600 CFS, water is stained in color, with water temps running in the upper 80's to low 90's
Kentucky –  358.83, 13,300-46,700 CFS, water has light stain in color, with water temps running in the upper 80's to low 90's
Weather: It's been an interesting week of dodging thunderstorms. As is typical this time of year it starts out looking beautiful but by midday with the heat and humidity pop up thunderstorms roll in. While most are short lived this week's storms stayed together with some wild lightening and flooding rains. The forecast for the upcoming week is looking good with a small chance of rain on Saturday and dry most of the week. Highs look to run in the upper 80's but will have some humidity around yet.
Bass Fishing: Well unfortunately nothing has changed and this report will sound like a broken record but it is that time of year. We did change up a little and fished a few more docks with a 1/4oz Outkast Tackle swim jig and wacky rigged Big Bite Baits 6'' trick stick and caught a few fish. The ledge bite is still hit or miss depending on what the TVA is doing with the water generation. As normal with little or no current the bite can be pretty fickle but when they get it ramped up the same spots can be incredible. When there has been water movement the main lake ledges and flats have been the place to be as these areas are much more affected by what the current is doing. Swimbaits, crankbaits, big spinnerbaits have been catching the active fish while we've had to pull out the football jigs, Carolina rigs, shaky heads and Texas rigs along with a drop shot to pick away at the inactive fish. Our most effective baits overall again this week have been a 1/2oz Picasso lures football shaky head paired with a 8'' Big Bite Baits finesse worm in either black blue fleck or candy apple colors. We are throwing this on a Powell 734 MH baitcasting rod with 14lb Sunline sniper fluorocarbon line. When there hasn't been much current we've been fishing in the mouth of the bays with large flats and soaking a Texas rig worm in the brush along them. For this we are using a 10'' Big Bite Baits candy apple B2 worm paired with a 4/0 Gamakastu worm hook and 3/8 or 1/2oz Bag 5 Baits tungsten worm weight.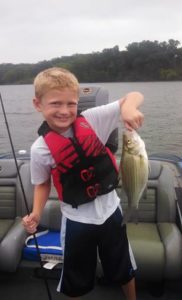 White and Yellow Bass: With the extra current being pulled through Lake Barkley this bite did pick up for us with a couple descent trips. Using a blade bait like a Steel Shad or a rooster tail dropping them over the side of the boat and hopping them off the bottom and letting them flutter back down will get you bit and most of your bites with happen as the bait falls back to the bottom. I don't personally troll for them but have seen plenty of anglers doing so with deep diving crankbait and with curly tail jig or rooster tail running off the back of it catching both white and hybrids.
DO NOT get left on the dock because you forgot to book a trip. Call us today and setup your next fishing adventure and possibly catch the fish of a lifetime at 612-889-2423. Some awesome summer fishing and weather is ahead so be sure to get your dates booked today.
******Hot summer deal, book and take your trip in the month of August and save $50 on the trip********
*****Don't forget about our on the water electronics classes. We have run the Lowrance products the past 10yrs and now are running the NEW Humminbird Helix units. So if you're stumped as what you're looking at or how to navigate through the units we can help you. Got a unit and need it installed get in touch with us and we can get you hooked up and finding fish like the pros. 
Anyone needing any boat work done or looking for a new boat be sure to stop by and see the guys atLegacy Marine 270-928-3253 they have you covered for any of your boating needs.
Be sure to check us out on Facebook along with our YouTube Channel and KentuckyLake.com tip of the week videos                            
Capt. Brian Brown
Fishing Hype Guide Service
612-889-2423