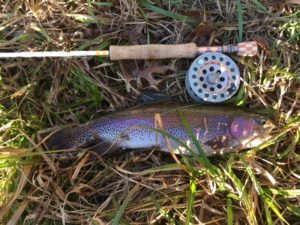 27 Oct 2017
Hitting the River
The weather on Friday was awesome and I had something I needed, maybe wanted to do. I got home from work, did a little wood turning on the lathe and then decided it was time to wet a line. I looked at the boat, knew these nice days were going to be limited, but decided I just didn't have the energy to pull the boat out. I decided to take the fly rod, my newly built striper rod, to the river.
The generators were turning ~1040 cfs and I have an intermediate sink line on this 8 wt, I figured I could roll cast and may get lucky. Knowing that the trout are very picky, I still didn't change my leader or tippet, this rod is set up with 20 lbs test for the big boys on the lake. The chances of me getting bit have just decreased, but hey, I'm going fishing, just hoping for catching.
I head to the dam and find a few places and start casting, this is a good opportunity to practice my casting without all the stuff in the boat that tends to grab my line. I move around quite a bit and I finally go down stream and wade out a little. A side note here, be careful, I found a place with some calm water but the generators were still moving a little so I didn't push it. I've had a couple of hits on my striper streamer, then right near an overhanging tree, I get nailed, fish is on!
I got immediately into trout mode and begin to fight, then I remember I have my striper gear, let the horsing begin. Let me say this was a blast and sorry the pic didn't turn out as good as possible, I tend to get in a hurry to get the fish back in the water. I kinda think of it as if I was under water, I'd sure like to get air quick. Anyway, we wrestled (or rastled as we pronounces it around here) around a bit, took a photo and my day was complete.
I continued on thinking it's been good, that was a really nice one so I headed back upstream. I fished another spot for 15 minutes or so, then started walking to the truck. I noticed the river had started going down so I headed back out for a few more cast, the sun was getting lower and I probably should've headed home. I get a couple of small bites, and then cast upstream. I am gathering line and the rod pulls hard toward the water then stops. I began stripping the line trying to catch up to the current and big tug, hook set. The fish had hit it early and then headed downstream. As the line tightens, a swirl comes to the top, I didn't see the fish, but the effort he is putting into this fight, I have the biggest trout I've caught on the end of my line. I'm trying to get to where I can use the reel, this thing will take out drag set for my striper fishing, I am pumped. As I move my hand off the line and onto the reel, the line goes limp. Dang, I was pumped, this was a beast, I let off a little bit of pressure and he took advantage, looks like the day ended in a 1-1 tie with the fish.
I walked back to the truck after spending a few minutes seeing if he had a buddy around there anywhere. It was a good day on the river. I got out just to get out, the sun was setting, not many folks at all on the river, it was just a real good day to be out. I probably need to try the boat a few more times this year, but I will say, that little trip makes my waders look awfully enticing. I hope everyone had a great weekend, and a good week to come, God bless.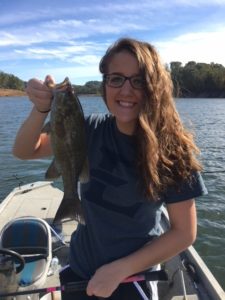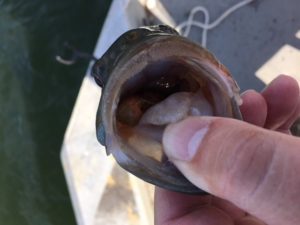 22 Oct 2017
Sorry for the Delay
I must first send out an apology to the 2 faithful readers of this journal #blog, perhaps I should try a video blog, maybe not, I may lose everyone if they get a visual. Anyway, this month is great for fishing and I just have not been able to go. Between ailments and working on the weekends, it has just been tough to get out there.
So without further ado, the daughter and I hit the lake yesterday. We put in at the public ramp at Little Devault Bridge and the wind was impressive. One cast with the net and all the shad we would need for many trips were caught. I plugged in the aerator and nothing, not working. I am glad I filled that big thing up as that is what I use to empty it, hmmmm, I will have some repairing to do. Anyway, we were on a fish catching mission and the type did not matter.
The boat motor has shut off on us while we were heading to get some shad, this put a bit of fear in me not wanting to get too far from the ramp. If I was alone, I may have gone down to a "honey hole", but I didn't want my daughter to have to deal with me if the big motor messed up. No worries though, it must have just been a fluke as it did not do anything like that the rest of the day.
We were fishing for anything that would bite, so we threw out a flat line and hit the bank for bass. My girl kept getting a few bites here and there, but she couldn't land anything. Then I finally got bit, it pretty much caught itself, and you can see the result above. It was a battle due to the fact that a big boat had gone by, the wind had picked up, and we were being blown into a dock. With the help of my first mate, we didn't get blown into anything and we landed the smallie. The rascal had a crawdad in its mouth, hopefully you can see it well. I let her hold the fish cause she is much much more photogenic than myself.
We fought the wind a while longer with periodic bites but nothing to brag about. Finally the flat line got nailed, balloon moved, fish let go. Bless my daughters heart, she did not get to feel the tug of a fish all day long. We had a great time picking back and forth and just spending time together (I disabled comments just in case she wanted to say that it wasn't that much fun). She did have a good time though,  however, she would have preferred to catch one.
Hopefully, work slows down soon and I can get back out there, if not there, perhaps the river. One more thing, if you want a custom fishing rod, send me an email and we can talk, tfr@tnfishingreport.com, or you can call 423-366-0556 . Hope you have a great week and God bless.
01 Oct 2017
Sunday afternoon and the wife wanted to take her rod out for a test drive. It's a beast, I had found a good price on a heavy blank, she wanted wooden handles. You would not want to cast this thing too much, but sits in the rod holder just fine. Also, I wanted to test the wraps as I had used the glow in the dark thread to wrap the guides, I've not used this before.
We load up the boat and head to Davis Marina. As I go to get the boat ready at the ramp, I press button to lift the motor and it lifts but shakes and is weak. Oh no, I have no battery to start the boat……… oh well, we are here and we'll just use trolling motor. I had charged this battery a few days earlier, but it is at least 5 years old, maybe older, not sure if it will hold a charge or not, but I'll find out soon enough.
Anyway, we start off fishing close to the dock for obvious reasons, and head down the lake just a bit. I get one bite on a down line but it was fast and didn't get the hook, just left an impression on the shad. We decided to head upstream, they haven't been generating. Finally, when we get to the furthest point from the dock I felt comfortable getting, we get ready to turn and she gets bit. I said, be patient and it came back, busted the water and balloon went under and she went to set the hook, but the fish was gone.
We turn and head back and another attack just downstream from the first one. I then think to myself, if I had my big motor, we could hang here, but I really don't want to use trolling motor in the dark to put the boat on the trailer. We then begin trolling back to the dock.
We ended up getting back to the dock right about the time that we should start fishing, but hey, I don't wanna risk the other battery going down at the same time. We load it up and head home. The day ended just as it had begun, dead battery and no fish. We had a good time and I got it charging now. It didn't seem suspicious when I went to charge it, but will keep an eye out and see if I had neglected to charge it last week. I don't think I did, but for a $100.00, it's worth a look. Y'all have a great week and God bless.