25 March 2017
As you can see from not seeing a pic, the skunk was on Saturday. To give a little backdrop, I did not put my best foot forward. A few family members caught a bug or something, things were going on around the house, and I am trying to get more fishing reports for the website, that isn't mentioning spring time chores that, well, just need to get done. I only had a short window of fishing available.
With the information at hand, I opted to take the kayak. Due to my time constraints, I can load the kayak in minutes, unload as fast and just about anywhere, whereas the big boat would have consumed my fishing time getting it on the truck and ready. The only ammunition I took with me was a few crappie (the fish, not the way they look) flies and a Ned Rig setup. I had some swim baits in my bag but chose not to try them.
I ended up fishing for about 45-60 minutes and didn't get a bite. However, it was good to get out on the water. I got to speak with a game warden checking boats at the ramp, very helpful gentleman. I talked with another angler who said he had only caught one last week, I did hate that for him, however, it made me feel a little better knowing I just got skunked. All and all it was a good day out on the water. The weather now is perfect, 70's, sun or cloud is very comfortable. I am hoping the rain holds off this weekend as I tend to be a fair weather angler anymore.
I did fortunately get some tree limbs cut, honey do list has dwindled by 0.5 (half check). I had purchased a lathe in a effort to make my own reel seats, turned a piece of pin oak and I really liked the way it looked. And got a new fishing pole started. April will definetly be a better month of fishing as I have not been much in March, but check back on this page, I may get to go on Friday if that lightning bolt on the weather app changes. Anyway, hope you catching was better than mine, but your fishing, well, it's good anytime. Have a great week and God Bless.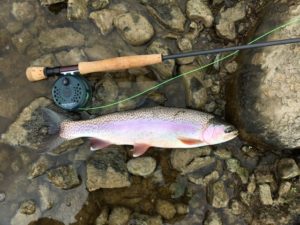 Back to the River
19 March 2017
My apologies for the lack of input in the journal, I will give a quick excuse, I mean update of what's been happening. At the first of March we went on a cruise. My daughter graduated high school in December and this was spring break. We had some Disney dollars saved up and got a pretty good rate on the cruise, 4 nighter. To say the least, it was awesome, weather was warm, got a bit of a sunburn on my face, and we had a great time overall.
I came back from this trip ready to wet a line, however, started getting sick the last night of the cruise, it started with a sore throat. This is still going on now but it appears we are coming out of it. Not sure what it was but I did not have the energy to fish last weekend. This weekend however, I figured I would take about 45 minutes on Sunday afternoon to wet a line.
I headed out to Bluff City, to my little honey hole. Let me say that this year's honey hole is on the other side of the river from last year's honey hole. So maybe the fishing really is better on the other side, well at least in this scenario.
I started in the old honey hole throwing some new flies that could catch trout in a bathtub. Well, I was not told that the bathtub had to be filled with starving trout, but nonetheless I kept throwing them. After a while I switched the back fly to a pheasant tail, this one usually gets a few hits. I try in the old honey hole, the dried up honey hole, or the hole with no honey as it has newly been named and I get nothing. I finally begin venturing to the new spot.
If you've read this journal regular, this is the spot where I landed my personal best brown, the hooked jawed beast. Not sure how big it was but it was definitely more than 20" and it was a blast. I really wasn't expecting much coming back but I got a bite or two. I continued to fish and out of nowhere a big hit, hook set, followed quickly by a grin. The rascal jumped immediately and I thought, wow, that is nice, I began to plan my fight. I didn't bring my net as using two flies causes issues with my net, so I began to make my way to the shore thinking that the fish is gonna escape at any moment. The fight lasted a few minutes as he took a bit of drag and then I just wore him down.
This may be my biggest rainbow yet, I am not sure of the size, guessing under 20", but it was a good time. I got the photo and let him/her swim back to grow a bit bigger, slot limit feller anyhow. The day was a success and catching anything else did not matter. I meandered around for a bit longer then headed to the house. The weather was cool and I began thinking, it'll be warm soon, the boat will get the batteries recharged and if everything goes well, we may take it out this weekend. I've been hankering to catch a striper and maybe even a bass or two. Mowing will start pretty soon also, so we have the sneezing to look forward too.
I do need to sale a few fishing rods, I have some 6.5' XF Med spinning and Med Heavy casting rods complete, if anyone is interested. I've not done a lot of trying to sale much as I didn't want to get overwhelmed. I am almost caught up with what I've been working on recently. I'm trying to get ahead a bit but we'll see how that goes. If interested, shoot me an email: tfr@tnfishingreport.com.   Hope everyone has a great week and good luck on the water, God bless.