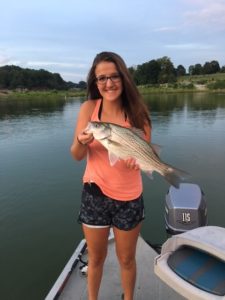 13 July 2017
She Finally Got One
I've got a little vacation built up and I decided to take Friday off, the girl hasn't caught a striper or hybrid this year and she is fit to be tied. So she decided we would go in the evening on Thursday instead of Friday morning. Striper fishing for us has been a bit tough this year. She hasn't gotten to go much other than bank fishing, and I have had a time finding them when we've gone. I typically go to certain areas and don't drive the boat around much so if they aren't where I am, then it's tough. I should do a better job of searching for them, but I don't want to buy gas every trip.
Anyway, we put in at Davis and caught bait rather quickly. The river had generated about 6 hours and should be getting a bit of cooler water soon, so we headed upstream a bit. The lines got baited up and we began fishing. In this area we had a couple of bites if I remember correctly. The planer board on one jerked then released, and I am thinking a swirl was in the vicinity of our shad one other time, but really, all we did was troll around for a bit. On a side note, if you find shade over 65F water, it's not so hot out.
We packed up from there and headed down stream, there is one little area that sometimes produces a hybrid or striper. She threw out her balloon and I tossed out the planer line. As I was putting the planer board on the line, it took off. I let go quick cause if it was a big striper, them fellers can absolutely cut your hand. The line paused, I began again, low and behold the line takes off and fish on. I hand the rod to my daughter and she reels the little hybrid into the boat. She is tickled pink, first one of the year and she happy as she can be. She said, I don't want to sound like I'm ready to go, but today was a success.
I take the photo and we fish for a while longer, just after dark, and decided to head back to the house. We didn't get any more bites, but the girl had caught her one. Normal years she would have had quite a few already, however, she graduated high school, spent her first semester in college, and has gone on vacation more times than most soccer teams score points in a game. She has done a lot of bank fishing, but not much in way of boat. Hopefully we will get out more in the near future, but we shall see.
I hope everyone is enjoying the nice warm days on the water. It is hot, but not bad late or early. I'm getting very few fishing reports in right now, which is typical this time of the year. I hope you get out and enjoy fishing soon, it may be a bit tougher, or maybe not, but I just hope you enjoy the time on the water. Have a great week and God bless.
4th of July
First I'd like to wish everyone a happy and safe 4th of July. I love this time of year simply for the patriotism, we sure are blessed to live in this country. It couldn't have come at a better time either, maybe, just maybe folks can put aside their differences and can work for the betterment of this country. So happy 4th and I'll move on before I head down a political rabbit hole.
This week has not played out as I had seen it in my head. Friday the daughter and I were to go fishing, but when I woke her up at 6:00, she showed me the radar and said she'd rather not go get wet. We could go Saturday morning.
Saturday rolled around and she had not finished everything before she was to head to the beach, so I determined to go Saturday evening. After dropping her off, I came home, saw the storm (more just heavy rain) coming and decided to try the river. I headed to Bluff City and ended up with 2 bites. The rain came and I left.
Sunday afternoon comes next, after hooking up the boat, my son called, he had locked his keys in his car. I had gone with him on Thursday and he had traded his car for this one. The key to drive the car does not unlock the doors, this is good information but coming a bit late. Anyway, he was finally able to break into his car and I came home and headed to the lake.
A good friend of mine had given me a bait tank, it's homemade and really good, they had gotten a new one. I put in about 15 good size shad and began fishing. First cast, seconds after hitting the water, the balloon takes off, stops, takes off again then stops for good, they are messing with me. I figured this to be a trout the way it acted but I put out a down line ~8-10 feet. After a while, this one doubled over, then released, no fish again, they are messing with me.
My planer board is out and I hear a big hit, typical striper action, planer board jerks, but then straitens, again, this fish are messing with me. I continue on and see a few bust top water periodically but get one hit on my Ned Rig and decide to move. I head down the lake and fish around a point, notice that the boat traffic is a bit heavier here and fireworks are starting.
The sun is starting to set and my intentions were to stay past dark. I made a decision to just go on to the house. I headed out working on a July skunk. July 3rd consisted of some yard work, take wife to doctor, gather some needed stuff at Lowe's, then come home and I was done.
Today is the 4th, I know the lake will be busy and I did not head out there this morning. Hot dogs and hamburgers for lunch, and not sure about the evening. I'm gonna get out there again this week and hoping that I can find a few stripers. I hope y'all have faired much better than I, however, today we will be seeing stars and stripes and I plan on enjoying this awesome holiday. Happy Freedom and God bless.