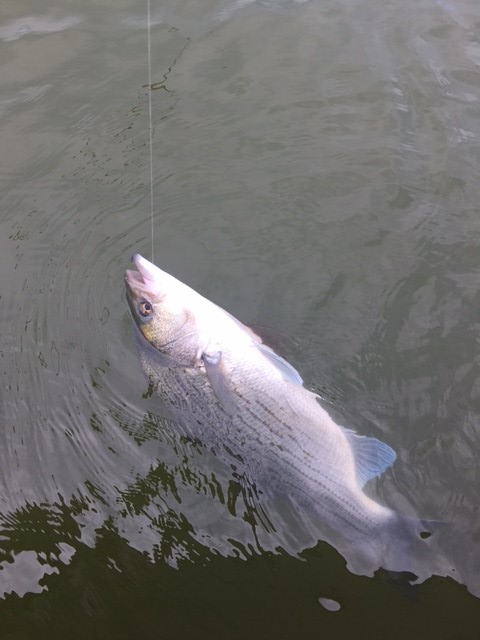 26 Aug 2017
My apologies as I could not come up with a catchy title, I know, that hasn't stopped me before, but this weekend was interesting. I finally got the boat out, first time in a bit, and headed over to Davis. I wasn't sure if I was going as I had gone to an estate sale that morning. I'm on the lookout for a chuck for my wood lathe, but reckon I'll end up having to drive to Knoxville to get one. Anyway, this trip lasted about 1.5 hours, not long, but migraines have been numerous this month, and another showed up on the water.
So I launched at Davis and tossed the cast net in while on the dock. I caught about 7 shad on the first cast and figured that would be plenty. I started fishing at a typical spot I fish last, but thought I'd reverse things today. I got a few bites on my Ned Rig but nothing would take it. I only threw out one flat line and trolled along a bank. I heard a noise and looked around and a swirl was right at my balloon, but that was it. I saw a feller fishing from the bank in front of me and figured I'd just make another pass.
As I was going back through, I heard the drag on the downline in back. I reeled in and ran to the back and grabbed the rod, the fight was on. I figured this to be a hybrid due to location and the on and off again line removal. The hybrid are big fighters in my opinion and this one was fighting hard. After a few minutes I finally got him to the surface, I could see blood coming from his gill area. I figured I got me something to take home now, once he got to the surface he pretty much just floated on top. I grabbed the camera for a quick pic, then I grabbed the lip gripper. I got this for the saltwater fish, but I thought it was handy and the net was in the back, he was probably near death so I'd just lip him with this. I opened the jaws, touched the lip, he turned his head hard, knocked the lip gripper out of my hands, spit the hook and took off. I stood there stunned, the fish looked sluggish, but he may have been setting me up. The hook come out pretty easy, and the lip gripper don't float.
There I was looking in the water for something, anything a fish, a lip gripper, just anything and all I had was an empty hook. So if you find a lip gripper, just keep it, it is probably rusted pretty bad by now anyway, at least the spring in it. I fished a bit longer and the head started so I packed it up. The day was good, that hybrid was a nice one, I had gotten a few other hits, and I reckon I will call this day a tie. This weekend college football starts and Monday the Vols play. I will probably get a chance to go next week if the weather is decent so check back in with us. I hope y'all have a great Labor Day weekend, God bless.
05 Aug 2017     First Weekend of August
First of all an apology is in order, sorry. Last weekend I went out fishing, however, work has been busy and I did not have the time to get my head wrapped around the fishing trip. I know you are thinking, what, you actually put thought into these journals, well, believe or not, I try. This may explain my grades in high school.
Anyway, last weekend I took out the kayak as it is much easier to load and unload, we will leave it at that. I armed myself with a mud minnow and ended up catching a couple bass, a few sun fish, and hooked a smallmouth that probably went 4 lbs. I have no pics but he was pulling me around a bit in the yak and when I went to lip the rascal, he released. It was a blast and a well spent couple of hours.
Yesterday, I finally got out on the water in the boat. I launched at Davis, caught shad at the ramp and headed up. I fished my wanna be honey hole, this is a place I get quite a few bites but don't catch any. As I spent an hour or so there, I did not even get a hit and began to think this is going to be  short trip.
I headed down the lake and tried another spot I usually pull a hybrid (by usually I really mean sometimes). I loaded up a bait, tossed it out, and before I could get the other rod ready, drag was coming off. I grab the rod and the fish broke top water. I was confused as drag starting screaming and thinking, striper don't do that, I wished I would have gotten a better look. As this drag was going and I was making my way to the trolling motor, the tension stopped, the fish had released. I still don't know what it was, trout don't take drag like that.
Anyway, I continued to troll and the planer board rod released, fish on. I began the fight and this one felt like a hybrid. When I got him in the boat, he had only consumed the hook and half of the shad was hanging out. I removed the hook, took a pic, and let the little feller go to be caught again.
Feeling good that the skunk was gone, I continued down the lake, close enough to the bank to use my Ned Rig and not just troll around. Just a few minutes after catching the hybrid, the Mud Minnow gets bit. I set the hook and the fight is on. I use a light saltwater rod for this fishing, the reason is I like the rod. It has a lot of play, but not too much. It's pretty sensitive for a rod with this much play in it, with a moderate fast action.
I use 8 lbs test line and have to let the fish take drag and this one felt like a hybrid at first, then he came to the surface and I saw the brown. This was a good smallmouth, not as big as the one I missed last weekend, but it would have weighed in a tournment. I took a pic next to the net to see if I could get a better idea of size, that explains the duplicate photos.
Anyway, the smallie was released and I felt like it had been a good day. I decided to head on back to the house, another good couple of hours spent and I needed to do someo mowing.
I hope everyone had a great opening weekend of August, football practice has started, a few fish are biting, fall is really close. Get ready for the fall bite if you aren't going to be hunting, it'll be here before you know it. Have a great week and God bless.