First try at Poppin'
22 July 2016
Friday came and everyone wanted to hit the water. Not sure if you noticed, but it was a bit warm this weekend and we decided to go out a bit later and stay a bit later. The daughter was at golf practice so the wife and I went out a bit early and she was going to meet us there. I had just "finished" my medium light fast action 7'6" spinning rod, and I was pumped. When I say finished, what I mean is, it is completely fishable, however, I need to complete a bit more on it, I was too excited to use it so I didn't get everything on it, like a hook keeper.
We catch bait at Davis without much difficulty and then head on up toward rainbow. The cold water had made its way past the bridge and we hit 59F at one point. We figured we would fish the cool water a bit so we chucked out some shad and I got my rod ready. Seriously who am I kidding, I had this thing ready early just in cast an opportunity arose to use it. The shad were flat lining due to the area we were fishing and they got about 3-4 boil ups. All it did was mark up the shad but they never would take one.
However, I was doing a bit of angling with my popping float and a swim bait about 2' below it. Now I tend to not get caught up with trying to go out and catch as many fish as I can. I like the playing around part of fishing. I had heard and read about popping in saltwater and catching drum. My thinking was, why would this not work for other species. I saw one video on the line popping for bass and figured I would give it a shot.
After just a few minutes I caught the smallie you see above, this was a nice one and let me say on 8 lb test medium light rod, it was fun. I was pretty pumped as my new rod built for display was functioning better than I had hoped. I continued on with this approach and low and behold, the striper above grabbed a hold of it. This was a good time as it took off and we chased. Now I don't know what would happen if a 30 pounder got a hold of this, but this feller was a blast.
The sun began falling and the daughter showed up, she had a good day on the course shooting an 82 (this is why I don't play her in golf anymore). I change over to the Ned Rig, she goes with her PB & J Ned Rig and we are off. Shad still trailing in the back but we are going to hit the banks now. In little to no time, the daughter gets pumped hooking one, it's a hybrid. I don't enjoy catching fish nearly as much as I enjoy seeing and listening to her catch fish, it is a blast. At least until I turn on the video, then she get quiet. Anyway, she gets a nice little hybrid and a big 'ol smile.
We fish a bit longer and we get one more smallmouth, 4 fish and quite a few boil ups, and of course we missed a couple. All in all, not a bad evening. On a few bank fishing trips, the girls have done better with chicken liver than we did with shad, I bet the trout would've done well. Anyway, we had a ball and now it's time to go back to work. Hope everyone has a great week.
And one more thing, I have just gotten approved to sale 14 Official University of Tennessee fishing rods. That means I can legally use the Power T, checkerboard, etc……., without infringing on the trademark. Hope you have a great week and God bless.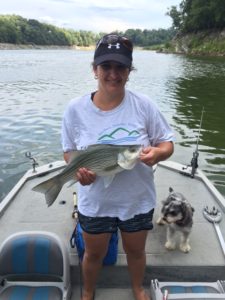 16 July 2016
Time to try a New Spot
We've been doing pretty well at Davis Marina, at least by my standards, but we thought we would give another part of Boone a shot. We launched at the new boat ramp at Devault Bridge and began the search. First we went to Muddy Creek to find bait. Although we saw a few flipping, we weren't doing well catching any, so we headed to Long Hollow. I head down the left side and let me say there were shad-a-plenty.
This was a nice spot as the wind was not too heavy here and you could see shad flipping all around. One cast netted a gar, now I didn't mess with this as I went to try to assist him, he started moving that mouth full of teeth all around. So I just shook the net a bit and he got untangled. There were a lot of gar active here as well, I've caught some before but I don't typically fish for them. If that is your thing, allow me to recommend Long Hollow.
We caught plenty of bait and with my theory of fishing near the bait, we began here. Now I have this theory based on what I've seen, if you drive around town, you will notice people at the restaurants, folks gotta eat. I figure it isn't much different with fish, they like to hang around there food when they're hungry and hungry fish is what we are after. Well the sun was a blazing and we didn't get a hit so we headed to a shaded area. Now this isn't based on any crazy theories of mine I was just hot as it was late afternoon.
After settling in a bit, we hear some distant thunder, check the weather map and we should be ok. Then a few fish started hitting the bait fish on top, all the sudden the planer board got nailed. Wife grabs the rod and the fight is on, sorry no video, it was hot and I had a headache, I didn't wear the GoPro. As you can tell from the pic, she lands a hybrid. Then shortly thereafter the wind picks up.
We check the map again and it looks like we are safe but we must be on the out skirts of this storm. The activity came to a screeching halt, then the wind died down. The fish started hitting top water, either striper or hybrid, they were aggressive. We ventured over toward that area using trolling motor and then hear a bit more grumbling, now it's on the other side. Wife checks the weather map, we are apparently already getting rained on according to the map. That is when she saw lightning. Let me just say that if I see it, I shall flee it. Being on the water when lightning is going on is not something that I have any interest in doing.
We reeled in our three lines, only one of them had bait on there, my that's a good feeling knowing you've spent the last 15 minutes fishing without bait. But nonetheless, I didn't have to take anything off, tied it all up and headed to the boat ramp. All and all, we had a pretty good day, we found fish, we caught one, side note I missed three bass fishing, and have a new spot if Davis gets too crowded. Would like to get out prior to the weekend, but if not, oh well, next weekend we will try to land a few more. Hope everyone has a great week and God bless.
I Got a Bass Thumb   07 July 2016
The rain was suppose to continue all day, at least that's what I thought I saw. When afternoon rolled around it just looked overcast and the girls wanted to hit the lake. I had just finished my daughter a new rod, it is not of the finest components, I know but I am trying to get some displays without spending a ton of money that I don't have.
I put on a carbon fiber weave Tennessee handle split grip, with a carbon fiber butt grip. Why split it? Short answer, weight and she wanted a design in that area. I put on some concept guides with a halide ring and the blank is a no name 100% graphite gloss 6'6″. She helped me put electrical tape on the reel to secure it to the handle. She made some type of comments of that being perhaps not the classiest thing she's seen. I chose bass over class, you can feel quite a bit more with this handle.
We arrive at the lake, catch some shad and as we start trolling with shad and bass fishing, boom, she lands a hybrid. A few minutes later, my down line takes off and it breaks, a bit frustrating I really need to change that line. A short time later, she lands another hybrid, it fishing time on Boone Lake. We troll around toward a bank with some bass and we miss a 2 or 3 more on the shad, they just weren't taking it.
She had taken a break and I told her I was going to be the first to catch one on her rod, she laughed, and I caught a small smallmouth, sorry for the redundency. She takes back her pole and begins to fish, now she hasn't bass fished much, mostly striper. But she says I think I got a bite, I told her we should talk about it and not try to set the hook, we laugh and she gets one. Not big but it comes to surface and gets off.
Then she hooks a really good size keeper large mouth, it comes up, my guess is around 4-5 pounds, and it released, that's when I saw the competitive nature she has come out. She hooked about 4-5, then she caught that one above, it was nice. She lips it, poses for picture, releases then said my thumb is bleeding a little. I told her she has now got a bass thumb.
We didn't catch anymore after that big one, but we did hear that I have a bass thumb about 4-5 times. We had a ball, the fish were biting, new rod broken in right, and smiles to go around. It was a good time on Boone, this vacation has been busy, but time extremely well spent. Have a great weekend and God bless.
Second Honeymoon        05 July 2016
It's not even close to our anniversary, however, my wife and I went on a guided striper fishing trip on our honeymoon, yep, I am that romantic. She got off work a bit early today, I am on vacation this week, and the daughter is baby sitting. Our son works and is 19 years old, he is gone most of the time, I remember being that age. Anyhow, the wife wanted to go fishing, the daughter was to meet us there later, so we headed out.
We launch at Davis, see one guy fishing, look at the overcast and just hope a storm doesn't blow through. I was looking for some big shad but couldn't locate any, we had to stick with the small 5-6″ or so. We get to our honey hole and the fishing starts. Within a matter of minutes, my wife's 8′ deep down line gets bent, fish on, GoPro in the floor, not ready for this but the drag is singing. I don't remember the order of events exactly, but she catches a striper and about 4 hybrids and this does not include the ones she missed.
While I am using the trolling motor fighting the wind, baiting hooks, I take a bit of time to use the Ned Rig. Josh Morris who provides the Barren River Lake Kentucky fishing report had written an article about this a while back called Try the Ned Rig. I had read the article, but hadn't gotten the boat out and hadn't given it a go. Well I bought some stuff for it on the 4th and I gave it a shot while we were striper fishing.
A big shout out to Josh Morris, bud, it was fun, I missed probably 4-5 fish and caught the small largemouth above, and the striper. Yep, the striper nailed it and it was a blast on 8 lbs test line. Just wanted to give Josh some props and recommend that you read his articles, we have them under the article tab.
Anyway, we pick up daughter, out of bait so we go for more. One good throw and we hit the mother load, off we go. We get back to honey hole, fish on, daughter fights it but the line breaks. It was near the hook and I had checked the line, spit on the knot and daughter suggested swallowed hook and "teeth", rough lips, may have caused a weak spot in the line.
We are hearing thunder and she needs to land one, sure enough another bite, she gets this one into the boat after a nice tussle. I have the drag low on the rods, too many line breaks and the reels hold plenty of line, so hey, why muscle them into the boat. We get a photo and continue fishing.
The big boys, striper, hybrid, and it looked like bass, were wearing out the shad. We looked at the clouds, the girls checked the radar, thank you technology, and we decided we should head back. We get boat on trailer, some rain starts, we get boat in the house and well, we made it just in time.
Let me just say it was an awesome day on the water. We caught a big number of fish and had a ball. Good times all the way around. I hope your week is this good to you and we may just try it again real soon. Have a great week and God bless.
No Pics Doesn't Mean No Fish
01-02 July
Friday rolled around and the girls wanted to go fishing, we have two kayaks, hard to fit 3 people in there, so we finally got out the boat. We launched at Davis and caught shad immediately, but we could not find the big shad. Friday version will be short as we spent a good while trolling around and seeing fish on the screen, but could not get a bite. I convinced myself that it it totally due to the shad size, true or not, that is my hypothesis.
Saturday rolls around and the new puppy the daughter bought for her birthday is getting sicker. We take her to the vet, get her some medication and figure someone ought to hang out with her the remainder of the day. This is a pup from the pound (I guess in this day and time it is called a shelter, my how we don't want to even say anything that isn't encouraging). Anyway, let's not chase that rabbit, the pup is part lab but she is acting more like flash from Dukes of Hazard. Daughter and her new to fishing friend want to go catch them a fish. Wife sacrificially volunteers to stay with the pooch and so we go.
Same scenario as catching bait is not much of a chore, however I did forget to mention that my best casting net is now on the bottom of Boone Lake. Yep, it found something that I could not get it off of, if you lose a plug on it, I am terribly sorry, but please know I tried. Daughter even got in the water to try to get it, but oh well, net gone. Earlier I had taken some mono and patched up an old net that had one small section NOT ripped. I was just hoping that it would hold and it did, good day so far.
We have one flat line out and two down lines and then out of no where, the down line takes off. Fish on, daughter grabs out of rod holder (by grab I mean wrestled it for a few seconds) and got it set then handed to her friend. The line is coming off pretty good then stops, the line had broke. This was a bit discouraging but let's give it another shot.
We go back over newly discovered honey hole and the flat line gets bit, Daughter friend whom we have nicknamed Abby the Angler grabs rod and gets excited. I get part of this on video, but I will not post it but let me say that she was pumped. It was about an 8 lbs hybrid, nice good fight and she had a ball. It was great to watch. Also, daughter netted that thing like a pro, she maybe taking over my role sooner rather than later.
We go back over the spot and get another hybrid, it is a bit smaller and daughter reels it in like a boss, sorry, she told me not to talk like that but like she'll read this. We fished a bit more but no more hits.
It was a fun day on the water and now taking me a couple of days to recover before heading back out. We got a couple of pics, but they are just for the girls, sorry I didn't get one of the fish. You'll probably just have to take my word for it, however if I were going to lie about the fish caught, it would have been at least 9 pounds.
I hope everyone has a great 4th of July, this time off is keeping me very busy and hard to get to the computer. I hope to add some more here real soon. Have a great week, God bless.