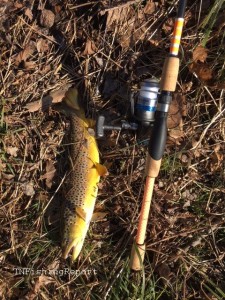 27 Feb 2016
A Little Bit of Relief
The generators were rolling (or generating, not really sure how to say this) and with my lack of desire to brave the elements, today was going to be in the house working on fishing rods. I had one that had to cure and began another, this one was going to have a checkerboard on one side and vols on the other. Things were going well until I realized, the fishing rod was not an ambulance. To explain this reference, after I had gotten the Vol weaved into the rod I took a step back and realized that you would need a mirror to read this. I simply stepped back.
Typically at this point I would cut up all of the hours of work I had done and begin again, but I decided to get some shrimp from the freezer and head to the river for a short amount of time, just to get a little bit of relief (see how I worked in the title right there). I headed to the lower part of the river as it was closer and I wasn't really going out to fish anyway.
After walking around for a bit and missing one, I finally got this nice brown up above. Fortunately all I had with me was the rod and bait, no net, forceps, or really anything that a person might need. I got the hook out and set him free. Realizing I didn't have a net I thought, mercy, I sure am glad I haven't hooked a big one..              Just kidding, no matter my gear, that thought will not enter into my mind, it just simply isn't allowed.
I fished around for a while more and missed quite a few, then eventually found the bottom. I simply broke the line and headed home. Head clear, life was once again in balance and time to eat. That evening I went back down and unweaved (which by the way takes just as long as weaving for me) the letters. Then began again.
Let me say that this was excellent practice. As I was able to finish the next day and get some color preserver on it. The letters do look better this go around than before, could it be that just simply taking a breath showed more productivity than my typical cut off and start again? Hmmmmm, I will have to ponder on this, but nonetheless work to be done.
Update, Davis Marina is in the process of working on their boat ramp, I drove by coming home from the river and some heavy machinery was hard at it. Looks like we will have a place to launch in the future and they have some good eats in the restaurant. I have heard that folks have been catching some stripers, but that is about all, no honey hole locations. Hope everyone has a great week and March is just about here. Don't forget to buy your fishing license. Good luck out there and God bless.
19-20 Feb 2016
Gone fishin then headed to the Expo
The ICRBE International Custom Rod Building Expo which is held annually in Winston Salem was this weekend (last weekend as I type). The plan was to go Friday and stay the night, spend the day at the Expo then c'mon back to the house. Things happen and we weren't going to be able to leave until late, so we just decided to go Saturday morning, this opened up a small window of opportunity.
Around 3:00 pm on Friday I decided to wet a line. This was a debate within myself as I have some chores to do and I have no flies ready, however, it had been a couple weeks, so off I went. When I arrived at the spot, I began to put on my waders and gather my gear, fortunately I discovered I forgot my clippers. This may not seem like a big deal and if I were bass fishing, it would not be, however, if you bite your line and then attempt to get it into the eye of the hook on the smaller flies, it just doesn't work. Sunglasses, well it seems I have misplaced them as well. I have just a bit of time to fish so I head out and begin.
After switching out a few flies, I finally gave a #22 an attempt, this only too about 5 minutes to get tied on due to my chompers flattening the line instead of a smooth cut, but it worked. First cast I get bit, but land nothing. I fish this for a while with one more bite but as you can tell by the lack of photos, I did not fare well. This was ok due as fishing is more about time outdoors than catching (I say this after every skunking). I head home and begin to get ready for morning trip to Winston Salem.
Saturday the wife and I get up and head to the ICRBE. We arrive about an hour or so after it opened and as we were walking into the convention center, a few folks were walking out with arms full of blanks and stuff. This was my first rod building expo and I wanted to do a walk about prior to purchasing anything. Vendors were set up all over the room and a lot of rod building supplies were available. We saw some really good looking wraps on rods and the creativity was fantastic.
We attended a couple of classes while we were there that day, one dealing with cross wraps and I learned enough to know that many many hours will go into these wraps if the goal is to make one look great. Another was on rod blanks for techniques with some great information given. I grabbed a few on sale blanks, looked like IM6's, and some deals on titanium guides, mercy if you made a rod out of the best components, you could spend a lot of money.
The show was good and I was whooped as we got to closing time. I don't think that I could absorb a lot more information so we headed to a motel for the night. It was a well spend weekend and I have already begun marbling and wrapping another rod for someone. There is no hurry on this one so I will experiment and play around to see what I can do with it. Anyway, the weather has warmed up a bit and spring is on the way. I've got to get some things taken care of but I am hoping that the kayak will get wet soon, stripers are being put on notice. Hope everyone had a great week and God bless, oh yeah, don't forget to go vote, the election is coming soon.
Spinning in February    06 Feb 2016
With the rain we have been having, the generators are going on South Holston and Watauga. A buddy of mine I hadn't seen in a while called and invited me fishing Saturday. Typically I don't spin fish much on the river, biggest reason is I don't usually catch anything, but I figured I could learn something from him.
I grabbed my newly made medium heavy 7′ Tennessee wrapped fishing rod. This is way too much rod for the river, but it's new, I'm excited, and figured it would be fun. I grabbed a handful of shrimp from the freezer (sounds like expensive bait, however, it had gotten on the bottom and forgotten and not fit for human consumption) and headed to the river.
Initially I started off with a bobber, I figured I would get hung up in the current, but I took this off rather quickly and began getting hits. A couple of the bites were serious, big hits but I missed. After landing one brown, I pitch one under a limb, well it was meant to be under a limb but actually I hit the limb and lost the hook. This my friend was a blessing. I had no more hooks (this one was a 12 or 14 and I got a size 8 from my pal.
From this point on I was able to hook more fish and ended the day landing 4 hooking up a few more that got off and missing a bunch. I could feel the sinker bouncing off the rocks on the bottom which was a suprisingly nice feel as this rod wasn't built necessarily for great sensitivity. All and all it was a good day.
Spring is going to be here soon, I'm pretty pumped about the weather warming. I'm not sure if it's age or what, but handling the cold weather isn't as easy this year as it was in previous years. I hope everyone got a chance to wet a line and the week has been good to you. Don't forget to pull for the Broncos in the Super Bowl, would be great to see Peyton win what may be his final game. Have a great day and God bless.