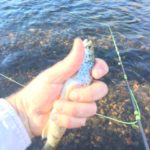 Final 2016 Entry
Warning      Fish in picture above isn't any bigger than it appears……..     Sorry for the delay, I was off this week and did get to hit the river a time or two, there was really not much to report. I caught this beast above on a scud and another a bit larger on an egg. Other than those two, I had quite a few misses but no more fish. A buddy of mine did catch a 26″ brown, but I played no part in that.
The week was good, when I went out, it was for less than an hour, I just don't have the unction that I used to, this is starting to get old. I did however have the upper part of the felt on my wader boots come loose. I tried some pull tights and that lasted 2 trips before breaking and they are loose again.
2016 has been a great year however. My daughter has really enjoyed bass fishing, but she graduated high school in December so with college starting January, we'll see if I have a fishing partner this year or not. My son will graduate college in the spring, he has done well and very proud of both of them. He may start having time to fish a bit, but he does enjoy his work right now an awful lot.
The goal for 2016 was to catch a striper out of a kayak, that mission was accomplished, now I need a goal or two for 2017. With the health doing as it is, I am going to change up the goals a bit toward the rod building. This allows me to still be involved with the fishing, but not expending the energy. I've sold a few rods this year without doing any advertising (other than my plug here). I don't wanna get too busy as I still have a "real" job, custom rods are part of my early retirement plan.
I am getting ready to start one for a friend I served with in the Marines. I'll be weaving an EGA (Eagle, Globe, and Anchor) onto the rod. I am hoping to build about 25-30 this year, this will not help for retirement, but it may get me out of the hole on the business side. I didn't realize all that I am learning, but I don't want to get on a soap box, well I do want to get on a soap box, but I am just gonna let that go.
I hope 2016 brought to you a great year, and I hope that 2017 is going to be even better. This year is going to be interesting if nothing else, last year was and I learned I am a much happier person when I don't listen to the media too much. So this year I am going to stay informed, realize I might be hearing one side of a story, and not jump to conclusions about anything, just let it play out.
So to 2016 I will say good bye and a big hello to 2017. This year, try to make someone you meet happy. Remember that today is a great day to do something awesome and everytime you improve someone's life, it will improve yours as well. Oh yeah, don't forget to get a good hook set and keep your line tight. Have a great year and God bless.
Merry Christmas Everybody
First I haven't been fishing in a while, most of December I have just been unable to get out. I won't explain cause I try not to complain (my Dr. Seuss moment), but I am planning to get out this week, so check back periodically if you enjoy the journal.
I would like to wish everyone a very Merry Christmas from TNFishingReport and TFR Custom Rods. We aren't looking at a white Christmas, but we are getting some much needed rain. This time of year we get to spend with family and friends and I hope you can make the most of it.
We celebrated Christmas Eve with my mom, we had breakfast at lunch time, let me say biscuits and gravy are good anytime. Today we go the the better half's parents. I'm not sure of the menu, but I am sure it will be good. As time appears to fly by the older I get, I try to take my time at these gatherings and enjoy the time with family.
I hope that everyone can take a minute to remember the reason we are celebrating Christmas. It is a time to celebrate the birth of our Savior, The Son of God, Jesus. Sometimes we may get so consumed with the season that we forget why this day even exist. Take just a moment, read Luke Chapter 2, and I hope that this celebration brings you what you wanted and brings you closer to God. Have a great week and God bless.
02 Dec 2016
A Day on the River
I came home from work and received a couple of text, first was from a friend on the river and another was from a friend wanting to go on the river. I was working on a rod and waiting to see if my daughter wanted to go to the river. She was visiting a college which means I am going to have to make a whole bunch of rods over the next 4 years, well, I'm not sure I can make that many rods, wow college is not cheap. Not trying to chase rabbits, but folks going into major debt to get a $40,000/year job does not make a lot of financial sense.
Anyway, I don't want to get on my soap box, I have been diligent not to do that. So back to the river, I finally committed and said I would meet them up there. I arrived, and began fishing with my daughters MHX 5wt fly rod. Yep, it was made for her by dear ol' dad and I like it better than mine so when she is not going, it's mine.
This is my favorite time of year for fly fishing, to be fully honest, I like fly fishing from Nov-Feb. I am too soft to get the boat out in this weather and it isn't quite as crowded in the winter. Now let me say that the fishing was downright good.
Adam, the one with the big brown above has been fly fishing a long time. Derek is a novice as this is about his 3rd or so trip, maybe more but you get the point. Derek was casting very well and Adam was hooking some nice one. This big boy above was 22″, I got net duty and was just nervous I was going to get in the way. We walked with that fish 20+ yds down the river. The line is small, no more than 4 lb test, maybe less, and you cannot horse them.
Derek landed that nice one above and since I had done such an outstanding job netting the big one, he allowed me to net his. I know that it had nothing to do with the fact he didn't have a net.
I ended up catching two fish, the swimming one and one in the net, they were not 22″, but they were still fun. I saw some big ones in the water and got a few hits as it passed in front of them, but I was not real fortunate. The line I use must have had some weak spots. I ended up bring 3 line just after hook set. I am certain that this were big and really probably for the best. The last 17″ brown I caught I had some issues with my torn bicep. I know it's not an excuse but dang it was difficult.
We had a really good day of fishing and talking and just enjoying time on the river. I have some vacation coming up around Christmas, so I should get a few entries at the end of the month. I purchased some rod blanks to help with my winter time activities, no just to figure out how to sell– sale  however you spell that, them. I do have one I'm finishing for a friend and another Marine Rod I'm gonna start.
I hope y'all had a good week and got an opportunity to wet a line. Try to get out this winter and catch a few. The creeks may be good now that we have had a little rain and thank The Lord for the rain, Gatlinburg really needed it. Have a great December and God bless.