Busy Weekend on the Water
26-28 Aug
I am going to try to wrap all this up in one journal entry, but I got to hit the water three times this weekend, highly unusual. I took some vacation on Friday and headed out to the lake after everyone left for the morning. I took the father in law with me and we headed to Davis. Catching bait hasn't been a problem and we were fishing shortly after getting there. After putting out the second line on the planer board, I didn't have time to get my rod ready and fish on.
My fishing partner grabbed it, wrestled the beast (slight exaggeration) and pics were taken. Catch one early but not the first cast, probably gonna be a good day. We troll up the lake and see shad getting chased, yep, we headed that way. Trolling through here a few time, we missed one and were able to wrangle in a smallie, this thing was good size, I really need to measure them.
The next morning, the daughter and I got up and were at Davis by 6:15, she does like to catch a fish. Bait caught, one line out on a balloon, then planer board line. I toss out the line, attach the swivel and try to get the clamp attached and fish on. As I am fumbling around looking rather ridiculous, I final hand the rod to the daughter and fish off. In all the hustle, I should have considered setting the hook.
We make our way to where I had been the morning before, this time I had put on a Hula Stick Mud Minnow by Z Man (they are not a sponsor, just thought I would let you know what I was using). As we see some shad getting hit, I tossed the mud minnow on my 8 pound test ML rod and it was hammered. I set the hook, see there I can learn, and tell the daughter to c'mon up. I handed her the rod and said, light line, don't muscle, we'll just follow. She looks up and said, uh… we are running out of line, I put it in high gear and explained that I got my new Okuma reel that will hold around 200 yards of 8lb test so we wouldn't, but hey why risk it. She finally lands it and I asked her how much it weighed. She said she wasn't sure, but felt heavier than her schnauzer (13 lbs). The pooch wasn't with us, nor did I have a balance, so I just took her word for it.
The next afternoon I ran up to Bluff City for a few minutes. I tried my Hula Stick and hooked a big rainbow, at least 18", didn't get him caught. I missed about 3 more and did see one striper. I didn't try for the striper as I had my small rod with me and it would just have required me to replace a spool of line.
It was a good weekend, hot but still decent fishing. Fall will be here soon and the mighty UT Vols will be playing some football on Thursday. This is an awesome time of year, I hope everyone has had a great week so far, God bless.
A Wet Weekend
20 Aug 2016
The weekend was busy, race in town, rain in town, and reeling one in wasn't happening. Years ago the rain would've simply been an invitation to catch fish with less company, I'm not able to convince myself that is smart any longer. So you are probably wondering, what in the world are you writing about if you didn't go fishing, well, I finished up a couple of rods and I needed a place to share it.
I sold the first Official University of Tennessee Custom Fishing Rod. As part of the licensing agreement, I am able to sale 14 this year, until July of next year, and well, I am now down to 13. Those are the pics that you see above, it is an 8' heavy power, moderate action casting rod equipped with carbon fiber composite grips, Fuji reel seat, microwave casting guides. The gentleman wanted this to reach out to some stripers busting the top water. I asked him for a review and he said that the feel, casting, and everything about it was great, but he wasn't necessarily qualified for a true review. His response was enough, if you are happy with what you are using, it doesn't matter what anyone else says or thinks.
Anyway, I just took another off the dryer, much simpler rod, just wanted it light, I'll weigh it when I get home. I've built rods off and on for at least 20 years, just for me and friends. Off and on because with the youngens, my time was consumed and gladly. But they are much bigger now and I needed something to occupy my time. Physically, fishing is not an option every day. I have one more that I am working on, guides are on, just weaving a design for the gentleman and another one in the books.
I'll post a tab for the rod building whenever things get slow, but right now with a "real job", a website, and the word of mouth, I am as busy as I need to be. This is a retirement program for me, if I can make enough to pay for my fishing and start to build it up, I may be able to retire early enough to do a little more fishing. I'm gonna try to get out this weekend and if at all possible, maybe one day this week. Check back next week and hopefully you'll see some fishing pics.
If you are interested in a fishing rod, send me an email: tfr@tnfishingreport.com  The Official UT fishing rods are limited in number per year, they will run a bit higher with the time it requires for me to put them together, but there are other options. Was this just a shameless plug for TFR Custom Rods (that is the name of the business), yeah, it sure was sorry, we'll get back to fishing soon. Have a great week and God bless.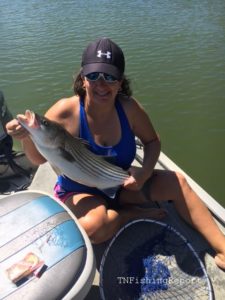 The Day the Weather Won
12 Aug 2016
I took some vacation Friday, got up early and got the daughter off to school. The wife had a kidney stone attack the day prior, but I checked on her, she said we would need to wait a bit before hitting the water. I did a little work on some rods and then off we went, somewhere around 9-10 am.
The water at Davis was around 78F if I remember correctly, but the generators ran till 11:00pm the night before, we headed upstream. The water was getting cooler with every few feet and I checked at 11:00am, the cold line was around Rainbow Bridge.
Anyway, catching bait was not a problem as the shad are everywhere. We put out a couple of shad and I fished with a Ned Rig when close enough to the bank. I did get one bite on this, it felt very similar to a bluegill type bite, that usually means you just missed a wall hanger, well, that's what I tell myself.
We trolled up into the cold water and you can see to the bottom easily in 10′ so we started going back to the warmer side, in the 60's. We see one striper bust the top water and start going to that area. This entire time the sun was hot as blue blazes and let me just say, I have a hard time in the heat these days. By the time we had made our way back downstream, The dizziness was too much for standing, I stopped casting and just manned to trolling motor.
As we are putting along slowly, we both hear a striper bust some shad and I tell you, it was bigger than any I had ever heard. Now I have done enough striper fishing to recognize their distinct sound and this one was a whopper and just short of one of our lines.
We are now pretty excited and the wife sees me holding on for balance. As we discuss leaving, or as she tells me we are leaving, the line takes off. Folks it is fish on and she is manning the rod. She gets it to the boat, I take the hook out and get a pic of her with her beast. The pic didn't turn out too well, but this one was probably about 15 lbs, it doesn't look as big in the pic, but hey, it was a blast.
We put everything up, thank the Lord for giving us this fish and head to the house. This weather was just a bit much, I know we should've gotten out early, but hey, you do what you can. Anyway, it was a good time, she drove the boat and trailer rather well as I was white knuckling the passenger seat, sorry, I just get nervous when others drive. We made it home and all is well. Not sure how much more is going to happen unless this weather cools, but hope you get out there and catch a few. Have a great week and God bless.