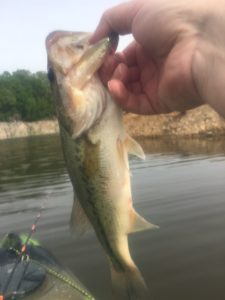 29 April 2016
Sorry for the Delay
First my apologies, I should have written this up this weekend, but time flies and sometimes if I'm just not feelin' it, I tend to put it off. This keeps me from getting on a soap box and ranting about things, which is probably good. I tend to be pretty stubborn with what I think and I didn't want this website to ever turn into one of those places where a lot of bickering takes place. Excuses for delaying journal, check, now to proceed.
Friday afternoon I headed back over to Davis Marina, let me say when I pulled out, the fish fry Friday is still a huge hit, parking lot was full. As I was getting the yak out of the truck, I saw a shad flip. Truck parked, got everything ready and then threw the cast net, boom, caught all the shad I would need. This is a relief as I brought 3 rods this time and the cast net would have been interesting from the yak.
I grabbed the big shad, put it on the big rod, tossed it behind the yak and to quote Peter, I go a fishin' (maybe not an exact quote, but close). I headed to the crappie bank, the place I caught one last week and fished a bit but nothing. I got tired of throwing the little stuff and whipped out the green pumpkin finesse worm. This was a wise decision (I am the only one who ever makes that claim about my decision) as I started getting a few hits. I was having a difficult time getting a hook set and missed about 5 or so bites.
I continued up the bank and finally, the little feller in the pic above got busted. This pic was taken through a plastic bag as not to risk ruining the phone, I've often wondered how in the world I used to fish without the phone camera. Pic taken, fish released, and grin could not be contained. I continued fishing and only got maybe one or two more bites and as the sun began setting, I decided to call it a day.
Another good day on the water as I tend not to measure good days by number of fish. You might be thinking that as few as you catch, you better not do that, well, you nailed it. But plenty of hits, caught one, and got to enjoy a little peace on the water. I hope you had a chance to get out there and enjoy these nice days. Looks like we are getting some rain and cooler weather, but hey, work is getting in the way of play right now anyhow. Good Luck in May and God bless
Sunny Sunday and Davis has a Ramp
24 April 2016
I haven't got out much as I have had a great deal of things happening. The first a shameless plug, the rod building business has begun and I am still sorting some things out as I have typically been a consumer and not on the other end. I will finish my third rod this week, just got to weave in a heart turn a couple of nights after applying a couple of coats of epoxy and the third one will be complete. Speed is definitely going to be an issue as I tend to cut away and start all over again many times, but my thinking is it needs to be done right. I'll post a few pics later as I will eventually put a page on the website.
Anyway, Sunday was filled with a lot of happenings, a smorgasbord of fish and testing. First the ramp in the pic is at Davis Marina, Boonie's is the name of the restaurant, if you haven't eaten there yet, I recommend it, good stuff and reasonable. They have completed the ramp and it opened on Saturday, $5 launch fee, I'll save money in gas and time. Anyway, stop by and launch and get a bite to eat, be careful, Boone is still shallow in spots and a lot of kayaks on that end of the lake Sunday.
The first thing I wanted to do was try to catch bait, yep I am in the kayak, this said fishing kayak, but it is not one of the expensive stable, stand up and stuff kayaks. So throwing a cast net from a seated position was going to be learned, I am getting better, well I thought. I was discovering that I needed to throw hard, I am level with the water. On about attempt #5, I went back and through hard, the rod in the rod holder jumped around and my heart jumped. This was my orange and white checkerboard rod, but still in the rod holder, the swim bait was dangling from the tip and I thought, hmmmmm, must have just hit it. I grabbed the rod and noticed the hook on the swim bait was bent pretty bad and my hook keeper had been pulled out. Honestly, I was very thankful for this, the hook keeper can be replaced, or not used, but it was a heck of a jerk as the net apparently grabbed the hook as I was throwing, the torque on that must have been a lot to bend that hook that way. Lesson was learned and it will not happen again until the next trip.
I have a road runner type bait on my rod looking for some crappie and I find one in the picture above. I figure it was go time now and threw that till my arm got tired. I switched to a green crappie fly, dropped it right at the kayak down about 2' and got hit hard, I missed him, but it sure felt good. I went along the bank and landed three bluegills using this fly. For a minute as I was just using a small fly and casting a rod with my Zebco 33 I took a short trip back to my childhood. I didn't realize how much fun this used to be, just messing around catching little fish.
Headed over to a point and I had a green pumpkin finesse worm on my other rod, you know the one that about went swimming. I tossed it in and felt a knock. I twitched it a few times and there it went. The hook was set and a largemouth jumped out of the water, went back in and was kind enough to release my worm from his mouth. I go down the bank and again another hit, this time it was the smallmouth above. Mercy I was pumped, haven't been catching many recently and I know for most anglers this is sad, but hey, this is only my second trip in April.
I got on over into some cover, as again another crappie, this one was smaller and me not wanting to drop my phone didn't think it to be worth risking a pic. About this time, my wife who started fishing but was just cruising around, said she saw some shad flipping. She like going after the striper, just put a shad on her line and she is fine for hours, so I headed over and tried my luck again.
I tossed out the cast net and I had hit it just right. I caught a catfish and a couple of handfuls of shad. I released the catfish and handed her a shad. I cast out again and caught a big shad, so I put it on the line. We trolled around until we decided to just sit. We stayed till the sun went behind the trees, let me say that when it did, I got cold, the cast net will get you wet, so we headed home.
It was a great day on the water, the small fishing was a blast, the bass were a lot of fun. Getting used to fishing out of these things may take a day or two, but it is a real good time. I talked to a guy whose caught striper out of them and that is on my bucket list. As I am now a master at catching bait (I hope you're laughing at that remark), it is simply a matter of time before I catch a ride with a striper. I hope y'all had a great week also, God bless and tight lines.
Finally Got to Wet a Line
15 April 2016
Friday afternoon rolls around and I have got quite a few chores. I am working on 3 fishing rods for customers, but hey, all work and no play……. So I headed over to Boone for a bit. The ramp at Davis is coming along real good, but they were hard at it and that meant carrying the kayak, well, some carry a lot of dragging, I orta get me some wheels for that thing. Anyway, I arrive, park, go to get the yak out and realize, the tailgate no longer wants to come down on the truck. That was kind of a bummer, but still no worries, started my journey to the water's edge.
I didn't bring a lot of arsenal thinking that I would just fling a few flies for crappie and a swim bait for everything else. I pushed off and headed toward a place that I had slayed a few crappie last spring. First I began with a crappie fly, as I hit the spot I was getting nothing, typically a little bluegill or something would take a liken to the fly. I switched out to a little road runner. I did get a few hits on this but not many and not very aggressive. My one little honey hole was skunking me so I moved on.
I grabbed the swim bait as I can cover some lake a bit faster with this thing and began flinging. I was getting no hits, nothing. I figured I would head back up the lake a spell and tossed out the swim bait, put in rod holder, and began paddling. My thinking was a bit of trolling cause you sure won't catch anything with your line out of the water. Needless to say, this little techniques was not effective this day, but I will come back to it.
I had only been on the water for about an hour and a half, but I decided to call it a day. Too much to do at home and I am exhausted. I would like to apologize for not getting more stuff out here, I do try, but I got an awesome doctor on it and hopefully things will get a bit better soon. Good Lord willing and the creek don't rise, I am going to be getting the boat out fairly soon. Maybe this weekend I can get out for a bit on the water is some way shape or form.
With that, I have heard that the black caddis were on the Watauga River this weekend, if you fly fish, you might wanna get out there soon. I hope everyone had better luck than me this weekend, let us know how you did, have a great week and God bless.