27 Sept 2015
Fall is here and time to be fishing or hunting. In a couple of weeks, goose season opens, were gonna try to find us a one, I know where many are however, unable to hunt those spots. Anyway, I headed to the river a couple of times this weekend. Friday was a short trip to Bluff City just an effort to give my new pheasant tail a try, I tried a different color on the thorax. I did get 5 or so bites but was unable to set the hook on any.
Saturday came and my daughter has been sick. I hung out with her until the Tennessee game started, then I went on an emotional roller coaster for a few hours. I did tell my wife that if you could set your emotions to the side, this is a really good game to watch. I did however learn to keep emotions in check years ago, I hope them Vols breakthrough with a big win this year.
Anyway, I don't want to get on that for too long so I'll just tell you about yesterday afternoon. I headed to the Watauga River to one of my honey holes. This one produced a bunch of fish my last couple of trips, but my son had gone there and said he didn't do too well, so I thought I'd give it a go.
I stopped at the first spot and tried out my new fly and got one bite, that was it. This is not a good sign, but before I start switching all baits, I headed to the good spot. I make some cast and nothing. I go with flashback pheasant tail and a midge, nothing. I switch midges, nothing, I finally trail the flashback with a green weenie (you can feel the desperation). Finally I hook one, I figured the green weenie strikes again, but no, this was on the flashback.
I make a few more cast and switch out the green weenie with a red squirmy wormy, folks, this was a game changer. I hook one immediately and then another, then a big hit, rod lift, squirmy wormy gone. I look into the fly box, I have a store bought one so I put it on alone. This one is a heavy rascal and my 3 wt rod does not enjoy throwing it very much, but it was fish on. I ended up landing 7 fish, all but one on a squirmy wormy red. I had spent the first hour trying to figure out what they were hitting, then the next hour catching 7, it was a good day.
This time of year is awesome to be out, the weather is just about perfect. I went out to take a gander at the moon last night, but prior to my 10:00 bed time, I reckon it was just too cloudy. Nonetheless, it is great this time of year. Whether you are going to be out fishing or hunting, enjoy the fall, winter may be here before we know it. Have a great week and God bless.
19 Sept 2015
First off, my sincere apologies to my readers, yes it is plural because I try to proof read, for leaving last week off. Truth is I went to the river for just a bit before the Tennessee game, got a few hits but caught nothing. No major incidents happened that were embarrassing and I just couldn't squeeze out the time to put something down. The excuses have now ended and we shall recall the events of the weekend.
My chores are catching up to me so I decided to head to South Holston River for a quick trip. The generators were off until 2:00 so upstream was the choice I made. I haven't been up here since the spring, usually the crowd is thick and I just wait until winter for this trip. Off I went armed with sulfurs and a mixed box of flies, even a few midges which folks tell me they love.
When I get up there, the grates were fairly tight quarters for someone of my casting skills. I tend to perform much better when no one is around, in other words, I am so wild with the fly rod I cause problems for others. I headed just below the bridge around some moving water. I started the day with my green weenie, usually this is how I end it but I was thinking why not try the last resort first. This little experiment didn't take long to complete and I switched it up with a sulfur.
I did see a couple flying and floating, but nothing like a big hatch coming off, but hey, why not give it a shot. A few cast later I hook one, 1.23 seconds of adrenaline rush, then release. Well I figured I was onto something and kept using the sulfur and I miss a few but the bites are few and far in between. I put on a midge trailing a sulfur and I get a hit, boom, it's a little rainbow fresh from the truck, about 8". This one was on the sulfur and I kept up fishing, another bite, slight hook penetration, then release. This was the midge, many misses have I with the small stuff.
I continued on for about 1.5 hours total, this was plenty of time. I only landed one, sorry for not providing pic, I'm not on my computer. I had two that lasted on the line long enough for me to think hey, I'm getting another one, then they got off. There were probably 10+ misses for this time frame and I am going to blame that on my fishing skills although I could blame the flies that were on there, but I tied them up as well, this is all on me. It was a good day, time on the river, the weather was great, and just a chance to get out for a while.
Both of my youngens (by youngens I mean young adults now, my how they grow up so quickly) have mentioned going out. I have heard boat and fly fishing so maybe this weekend I will get them out there. I hope everyone has a great week and God bless.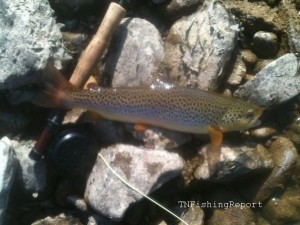 Labor Day Weekend
The weekend was here and I was able to get out on the water every day, well, wading in the river everyday for an hour or two. I squeezed in some time, had a fresh batch of flies tied up and headed out on my mission. The days have somehow run together, however, if I remember the trips correctly, the results were pretty much the same.
Each trip saw me arrive at the South Holston River, first day I was on river road, not sure how else to describe the location. I found some current (which is what I like to fish) and threw about everything in my fly box at them, I considered throwing my fly box. I finally found a small midge that got a few hits, I have such a difficult time getting a hook set with these size 24's, but eventually I shall prevail. Finally, I landed one so the skunk had left the building.
Each day seemed to produce equal results, as I missed a bunch of fish, felt the hook barely turn the fish, then gone. Each trip saw plenty of bites but was only able to catch one fish each day. I only have a couple of pics in here, with the brown being the best of the bunch.
Some of the bites were refusals as I was attempting to use cream, gray, black colored midges with the black getting the most attention. But I think every fish was caught on a sulfur #18. I was not out during any hatches, but nonetheless I have noticed that I can usually pick one up with this sulfur in the afternoon, but it's just one.
I did find a new little spot below the bridge in Bluff City. Had three nice ones rise up take the fly and only to release it when I lifted my rod, I felt them on the other line for a split second.
The fishing was good, catching not so great, but there is just something about being out on the river that is a bit relaxing at times. The state of relaxation I was feeling will explain why I did not throw the fly box at the fish. Anyway, I got the striper video up if you want to take a gander, just follow this link to the video page. Sorry about the jumping and quickness of the video, It would have been over 6 minutes if I did not edit, not to mention you would have had to listen to my talking as I spent time taking the hook out. Hope you enjoy and had a great holiday weekend, God bless