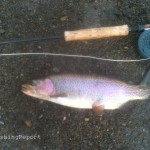 27 Nov 2015
Finally I get to make a trip to the river. Restrictions still exist, I can only lift no more than 10 lbs, but hey, the chances of me catching a trout that size is………. well non existent. I decided I would not go for at least a week, and that worked out good, as I had family in from out of town. It was great spending time with them, typically it is only a week a year, but a great week.
The food was abundant and good, and the surgery came at a great time, I was only able to consume one plate of food from each house. That's right folks, I did not gain weight over the holidays, Boom.
Sorry for the rambling I'll get on to the fishing now. I headed up to the Wier Dam, the generators had been running for the morning and downstream wasn't a choice. I already had an egg, it's a peach, light pink, looking little egg, on my line so I just threw it. A few cast and the nice ~15″ beauty you see above took a chomp on the egg. This ws early, a nice fish, and I was pumped.
I continued on for a while and apparently the egg was not the bait of choice, I did catch one more but hey, after enough time of no hits, I will change. I switched over to a pheasant tail flashback and a midge. I did get a few hits on these but was unable to get a hook set.
I did stay for about an hour and a half or so and let me say, it was a good trip. When you are forced to sit at home and cannot lift anything, which restricts just about everything, it is great to get out. My fly box is now full and I should be able to get out another day or so before returning to work. Hope everyone had a great Thanksgiving and God bless.
15 Nov 2015
My apologies for the delay in writing this up, yesterday was surgery, and recovery is a bit more than expected. With that said, I apologize for anything that sounds ridiculous in this journal.
Anyway, Sunday afternoon came and I headed back to the South Holston River. I headed to the same new "honey hole" armed with the same flies. I started with a flashback pheasant tail and a peach egg. I threw a few times and started thinking, hmmm maybe this isn't working today. I caught one on the egg, but only a couple of bites.
Sulfurs were flying around and I decided to give a comparidun a try. Now this decision was not an easy one as I am stubborn and like to stick with what I have confidence in using. I make a few cast and was tickled with my decision. I caught a couple of smaller ones, then all the sudden, one sipped my fly off the top of the water. I set the hook and the line began leaving my hand.
I have on rare occassion had to use my reel when fly fishing, but drag started to scream. Now by scream I don't mean striper fishing screaming, but it was coming off pretty good. The fight was on and I didn't think this one would fit in the net too well. I made my way to some shallow water and after a few minutes, she was wore out. I got my picture and another in my hand, not sure the photo does justice to this beauty. I released the rascal and was pumped.
I was wearing the GoPro, however, for some reason, it decided it would cut off during this fish, I cut it back on, then cuts off again, then it would not do anything. This has happened in the past, but this was definetly bad timing. Anyhow, I tried a few more dry sulfurs but the comparidun was by far the most effective.
It was a good day on the river and according to the doctor, I cannot go for a week or so, the way I have been feeling, I think I agree with him. However, this will give me time to tie up a few flies and maybe even get a rod built. I hope everyone has a great week and if I don't get back out before Thanksgiving, I hope it is a great day for you with family. Have a great week and God bless.
November Friday the 13th
Friday afternoon came and the river was calling. The generators were shut off at 2:00 so I needed to head upstream. Knowing there would be a crowd, I went toward the dam, but skipped the grates. I went on up to the Island, sorry, can't spell Osceola right, and figured I would walk around and find a spot. When I arrived on the other side of the island, I found a secluded fishing spot.
I already had a pheasant tail and peachish colored egg and just figured I would use this. Within just a cast or two, I get one of the smaller ones. The rainbow smiled for the camera and the fishing continued, the egg was a hot item Friday. I caught a few more small rainbows and then I got a big pull.
This rascal was nice, now I am not sure of the length, that is why I laid my rod near it, but it put up a bit of a fight. Not bringing my net, I walked it to the bank and got the snapshot, as my line broke. I saved the egg, released the fish and was pumped.
I got right back at it and began searching for another. Low and behold another really nice one hits (now nice to me is 15") I follow the same pattern as before and the line breaks at the bank. I got the pic, released the fish and began my investigation. The line was breaking in the knot, fortunately the egg hooks can handle a double loop and the fishing began again.
I ended up fishing about an hour and fifteen minutes, ended up landing 9 fish in total. I only took snapshots of the two nice ones and the first couple of small ones, figured they all look about the same on the short end. This was a great time in the river, typically I will only catch nice fish a couple times a year, but today, I had landed two. I need to make 20" on the rod somewhere so I can get a size, but nonetheless, it was good times.
I went Sunday afternoon as well and will try to write that up in a day or so. This week I have a surgery scheduled so I am not sure if I will be released for fly fishing by the weekend or not. But if not, somebody let me know how you did. Anyway, y'all have a great week and God bless.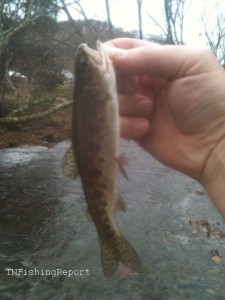 06 Nov 2015
A Little Time on Stony Creek
Friday rolled around and I got my appointments completed at the VA and figured I'd go after a few trout. South Holston and Watauga Rivers were generating by the time I got finished, so I called my fishing buddy and we headed to Stony Creek.
We get to a spot and decided to walk onto the bridge and take a gander at the water, it appeared to be pretty low. We get on the bridge and see quite a few 6″ little fellers and then a nice one swam up. This one was probably around 15″ and I got a bit pumped. Then two more rainbows swam up that dwarfed the 15″ rainbow. One was significantly bigger, at least 20″, it was a beast.
I walked well down the creek and began to fish. I worked my way up to the bridge and didn't even have a hit, did I mention the water was low. I met my buddy up at the bridge, he had slayed a couple of 6″ beast, so I leaped frogged him and went well upstream.
This is where I got my groove, in about a 10 minute span, I slayed 2, that's right 2 6″ rainbows. Now I am guessing at the size, the picture above should give a pretty good idea of how my rod bent. I got one on a pheasant tail and one  on a prince nymph.
We drove downstream and I got about 4 more hits on a purple squirmy wormy. I didn't get any of these hooked, but I suspect they were as small as the others. It was a good day on the creek. Maybe we did not have a lot of bent rods, but that is not what fishing is all about, just icing on the cake. Have a great week and God bless.