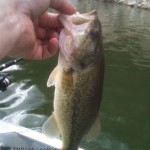 25 March 2015
I had some time during the week, not the optimal fishing time, but needed to get the 'ol Sea Ark and go for a ride. So knowing Wednesday would not be crowded at the one and only boat ramp on Boone Lake, I went out about 2:00. I got to the boat ramp, only the second time ever launching here, and to my amazement, it was packed. Folks were parking across the street and I thought it was a Saturday.
I gave it a launch and began heading toward the dam. The wind was blowing pretty good and I knew I would have to blind cast for shad or use the radar. This is usually and long process so I chose to just throw a swim bait. I started near the dam and ran along a bank. The swim bait I was using was big and I didn't get a hit, I figured a hybrid would've been there and hungry.
I headed on down the lake toward the South Holston arm and found a spot I usually fish in the spring time. Plenty of fish were marked and I began doing some casting. Now sometimes I get stubborn and I am not getting a bite on this big swim bait. Finally after figuring I am only fishing another 30 minutes or so, I dropped down a size.
This little one did the trick, real quick I caught one, not big, but fun. I make more cast in my 30 minute window and get 3 more bites. I figured they were small and just hit the tail, but they sure did fill good. Anyway, mission had been accomplished. Driving time if in a hurry is 20-25 minutes so hitting familiar areas is not out of the question.
On the way back to the ramp I see a dead shad floating and mark a lot of big fish down from the ramp. I think I am going to have to explore this Watauga side. This may mean a few skunkings, but it will save gas and time. We'll see how we do on Boone as my plan is to also explore Fort Patrick Henry. I am a creature of habit and I have only launched on this lake once, we may have a year of discoveries.
March 12-13, 2015
Let's cover a few days
The rain came and I was tickled it wasn't snow, bring on the springtime. The forecast showed that I would be ok getting the boat out this weekend, however, I just don't have it in me just yet. The ease of going to the river for an hour or two just seems much more appealing right now, dang I miss them stripers. Anyhow, I am not very good at sitting around the house, so I ventured out for a short trip for about three days. You might be saying, dude, the way you slay fish, how in the world can you write that up in one entry. Well, I would just like to say, welcome new reader because if you are familiar with my skill set, three trips, two fish is about average.
First trip was to the South Holston River, rain was a coming but I had me some new flies tied up. I stopped and got some #24 hooks and just new that the fish did not stand a chance. Well fortunately the fish were not rising very well. I got stubborn and continued with my new flies and about thirty minutes into the trip, I hear a splash right beside of me. I looked down and see my reel in the water. I pick up the reel, locate the metal piece that fell off and thought, hmmm, 16 years the epoxy lasted, not bad. I took advantage of this situation by learning where I could store my reel while casting as well as realizing that it was uncomfortable to hold the reel with your hand while casting. Yes the fly rod does twist when the reel is off. Yes the reel will fall into the water multiple times when it is not attached to the rod. Yes there is much difficulty when reeling in the line, and yes, I did get this little challenge fixed when I got home.
Day 2 at the South Holston yielded much improved results. The weather was still a bit poor so I had plenty of room to fish, not completely to myself, but close. This is where I saw the redheads (ducks). I took the pic with my phone so it didn't turn out too good, but they were great to watch. I've not seen very many redheads in these parts. Anyway, after a significant amount of time trying my #24 BWO, I switched to the pheasant tail. Upon first or second cast, I hook one, halfway through the fight I turn on my camera, thus no video this week. I catch the pic above, it was a nice one and I am convinced I have found the answer. Let me say that was the only fish in the water, or I hadn't found the answer, no more bites.
Day 3 Watauga then Stoney Creek, cause 600 cfs spilling out of Watauga is way yonder too much to wade where I went. I tried back fishing, thought I had a bite but no proof so I dunno. I tried this for a while then headed to Stoney Creek. I knew the water would be up, I knew I wasn't fishing for long, but hey, it's is this or sit in the house. The water is a bit higher at the creek and I just fish about a 50 yard area. I get a few hits and hook one, it is not very big but does provide some resistance. I get it up near me and he releases. The rain starts coming down a bit more, and I just decided to head to the house.
In the next couple of weeks I am going to have to get the boat out. The fly fishing is gonna have to take a break. I am debating trying Fort Patrick Henry, or drive over to Pickens Bridge. The end of March I am hoping to knock the dust off the 'ol Sea Ark and see what happens. I've fished Fort Patrick Henry once in a boat but this year I may have to get familiar. Maybe, just maybe someone will extend a boat ramp at Boone on the Holston side, my fingers are crossed. Y'all have a good week and God bless.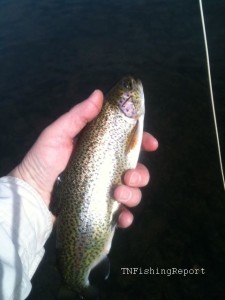 08 March 2015
Wow, is this a taste of spring time we are having? The forecast for the weekend was nice and I knew the South Holston would have a couple of folks on it, but I hadn't been in a while. I headed to the river Saturday, I was not feeling too good and had no expectations of staying long, but had to get out of the house. I went up and fished about an hour or so and only had a few rises. My thought was, these fish are blind because I tie such realistic looking flies, however, reality quickly returned and I realized my #22 looked like a condor beside the other midges. I did get a few rises, I think these were the blind ones, but didn't stay long.
Sunday afternoon was just too nice to hang out in the house. I drove up to the Dam by way of the lower part of the river. Solitude would not be found today as everyone was probably itching to get out. I had a Forrest Gump moment and just kept driving. I ended up directly below the dam and noticed no one was around. I saw no fish rising, figured this place must be empty for a reason, so why not fish it.
The water here was extremely calm except when the wind would put a ripple on the water. I personally like the ripple as I have convinced myself that it is more difficult for the fish to see the errors in my flies. With each step I take I am applying ripples of my own and I wonder if these fish will notice. I see a couple rise and begin to place my fly near the activity. Quickly I hook one; it is about a 12" rainbow that felt as if he was auditioning for sea world as he had 3 nice jumps. I land the beast, fumble around trying to remove the fly, finally release the rascal as he swims off to inform his friends not to bite my fly.
I continue for a while stalking my prey, that sounds better than slipping and making a lot of noise in the water trying to get close enough to them to fish. I end up getting a few more rises at my fly but not successfully hooking anymore.
It was a beautiful day on the river. Nice breeze the sun was out, no snow anywhere and the thought of spring on my mind. About time to get the boat out and see how the 'ol girl is doing. Hope everyone enjoyed the weekend God bless and a video will be added soon.