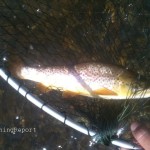 25 July 2015
It's a Twofer
Well Saturday was here and some time became available, not long, but a few minutes. I was a bit anxious to try out my zebra midge and wanted to head to South Holston. As the schedule apeared to favor this one, my thoughts were, Saturday on the South Holston River….. might be hard to find a spot. I decided to visit the lower part of the river less fished.
I get in the water and in no time I get a bite, hook set and fish on, rainbow, maybe 8-10″. Feeling pretty good I get a few more bites and then catch that nice brown above guessing 10-12″, really I am terrible at estimating size, but this one was pretty good. Considered making a meal but then thought I didn't feel much like cleaning then cooking tonight when I got home. I begin moving around a bit and catch one more rainbow, with a lot of bites/misses.
I move to a deeper hole and see what I was hoping might be there. A couple of ~15lb stripers swam right by without even caring about my presence. I continue trout fishing with no luck and decided to head back to the house, but back to the house with a plan.
Next day I headed back with my big rods and some liver. Now I remember years ago fishing for stripers with liver, I am hearing that you catch a bunch of hybrid on liver, but not many stripers, well, it was about all I had on hand as I forgot the correct tackle box.
Anyway, I grab a spot at the bank, toss out the liver and sit patiently. After a little while, I see a few small striper swimming up to the hole. I thought it was time to get ready. Shortly after, my drag went on for just a second, then stopped. Now I have caught some nice brown trout on liver and figured it was one of them, stripers usually leave no doubt.
After that brief second (I am rounding up) of drag, no excitement came the rest of the time. Well, no excitement with the rod, but I did see a couple (or one twice) big stripers roll. I was looking in the deep hole and a huge, like probably better than 30 lb white flash appeared for a second or two, then disappeared. I saw this twice in different spots and let me tell you, it would have been a new personal best.
I didn't catch anything this day, but I did get a glimmer of hope, next trip will have some jigs with me, and maybe I can get some live bait. The heat is taking its toll on my fishing trips, as at this age, staying up much past dark is not much of an option. My apologies for no great fish story, but I say this year as interesting as it has been so far with bank and river fishing much more than boat, I'll have to say, it has still been a lot of fun. We'll get back out there in August, y'all have a great week and God bless.
Finally Jotting Something Down 17 July 2015
My apologies for not penning anything last week, however, I made it to Fort Patrick Henry Lake and caught a bunch of shad. I went toward the dam and attempted to land a few, but to no avail. I didn't get a bite but I did get hot. There wasn't a whole lot to say about that trip, so I just got lazy.
Anyhow, this week we may get a couple in here. Friday evening I headed to Boone, well, kinda Boone but more of South Holston River. I went bank fishing and headed to rainbow bridge, the plan, some liver for stripers or hybrids, though I've caught a few nice browns on liver. The trash line (cold water line) had made its way down to Davis Marina, so I was fishing the cold water. I got a lot of bites, but my bank fishing skills with liver have never been honed properly. Those rascals just stole me blind, not sure what the little thief was as I never saw it, however, it was a good way to spend an hour or so.
Saturday I figured I would head out again to a bank. Why not take the boat you ask, well it is hot, seriously hot. The water is far enough away from the bank that trying to find shade would not be an easy task. And the truth be told, there are days I just don't have the energy to get the boat out. I grabbed the gear and headed to Davis, thought I would liverize the cold water line. When I get there, the trash was at the bank and about 10' out. I thought this may be nothing but a headache fighting all the trash, so I headed to Muddy Creek.
I arrive and begin to fish, as I prepare my third rod, my first one gets bit. I lay down the third pole, grab the rod, feel a tug, set the hook, and folks we have a fish on. I pull in a nice little catfish and I haven't been here no time, things are looking good. Now I mention the third pole for a reason, it was a process of every time I would grab my third pole for bluegill, I'd start getting bites with the other rod. This went on for a while and I continued to miss when I did try to set the hook, one catfish on the bottom.
A lot of activity was taking place near the top water down the lake, so I went with liver and a bobber about 5' deep. I went this route due to activity and due to getting the line stuck on bottom and having to break line and re-tie. So I throw it out and immediately get a bite, I catch another similar size catfish. I continued this method and got bites on each cast with the bobber. I was unable to hook anymore fish, again, my bank fishing, bobber using, catfishing skills need much honing.
It was a pretty good day on the lake, very hot, fish were biting and a little bit of catching was taking place. I've tried a bunch of different tactics this year, typically I would have spent the summer in Bluff City after the stripers. Oh well, maybe a few more ramps will be put in place soon, but until then, next story, I went fly fishing Sunday afternoon.
4th of July   Trying a different Approach
I think I left off in the previous entry that I was planning on using a float tube, well, today was the day. I've just not had the energy to get the boat out and this seemed simple. I had used this float tube many years ago on the South Holston River. I'll be honest, they were generating and I briefly got a foot stuck on a rock and let me tell you that was a bit scary, river water is pretty powerful. Therefore it had been put up and not used again, at least not until the Fourth of July 2015.
I headed to Davis Marina, but Beaver Creek was pushing some mud from all the rain we've had, so I headed to Rainbow Bridge. The parking lot here was full and I didn't want to be "that guy" that disturbed all the bank anglers. Little Devault Bridge was next on the list. I put on my wading boots, grabbed my rod and float tube and began walking to the back of the cove. I was going to put in at the back and so I could take out at the front. I don't have any flippers (fins or whatever you call them) and I could just take out at the front.
I put in and began fishing. I toss a watermelon copper crawl tube and just a few cast into the day. I get a nice one, it is the first one on the video and I thought it might jump in my lap. I get it off and began heading down the bank. I end up missing a couple, hooking a couple that got away, and catching one more.
Now a confession, I do not like swimming in the ocean, I figure just about everything in there will kill you, so I just avoid it. Well, Boone lake has not human predators, however, if you were on the bank watching, you would have thought differently. I kicked something with my foot in the deep water and it ran chills over me. I also found out that apparently there are minnows or something in the water that like my legs. I was getting bites and it wasn't mosquitos, figured it was minnows.
It may take a couple of trips to get this down pretty good, but I hope you enjoy the video. Maybe I'll get me a striper in this thing one day. Hope your long weekend was great, have a great week and God bless.
01 July 2015
This is a Combo
I figured I would combine a couple days fishing into one entry. I had a couple hours one evening so I headed over to the South Holston River. I have had a more difficult time catching fish on the SoHo as opposed to the Watauga River, but hey, I like a challenge.
I was in about the middle of the river, at least the 13 mile stretch of it, I'm not sure where the river stops and Boone starts now. Anyway, I found a bit of moving water and began to cast. They didn't seem too fond of my pheasant tail and red squirmy wormy, so I switched to a purple squirmy wormy. This seemed to do the trick.
In about an hour and a half I caught 4 trout, 3 browns and a rainbow. I was feeling really good about this as I don't typically do real well on the South Holston unless I happen to hit a hatch.
The next morning, my son and I headed to the Watauga. I had told him of my little 50 fish adventure and he was a bit pumped. We parked and began walking, tne after finally arriving at the honey hole, I showed him where to cast. On cast number 2 the front part of his rod came off. He grabbed it, then placed it back onto the lower part. This was a lesson for us both, he said he must've over compensated but still to this day I am unable to twist or pull the pieces apart. I've googled and tried, but not yet.
Anyway, we began fishing and upon his about 4th cast, he lands one. I began to show him with my rod where to throw his fly and with one cast, I caught one. I told him to have fun and I went downstream.
My purpose was to put him on some fish so I was just looking around for more spots. I hear a holler and turn around, he has one. Then a few minutes later another holler, he has another. I am tickled and hope that he is having a ball. I get out of earshot and catch 4 fish total, I did miss a few. After about 45 minutes to an hour of fishing, I look up and he is undoing a knot.
I make my way up to where he is and see the knot, I told him that was a very impressive knot and if we could perfect that, we would not have to worry about ever having a hook untie. He said he was ready to go and that he had caught 9 fish total. Let me say, in a 45ish minute time frame, that is not bad at all.
We walk back to the shore with me not falling any however I did slip a bunch and a few tree limbs kept me from getting drenched. I got the knot undone using some snippers and the rod is still a one piece, but let me say, he had a great time and it was an awesome trip.
I am hoping if the weather holds off to have another trip this weekend. I have a float tube and the wife reminded me of this. I am planning on taking the float tube on the South Holston side of Boone and see what we can catch. Hopefully you will hear from this adventure soon. Have a great 4th of July and God bless.