28 Feb 2015
The last day of February and the snow has finally stopped. Temperature was suppose to be in the lower 40's and I figured the South Holston River would be crowded. It's the final day of the fishing license so a trip is going to have to take place, Watauga River here I come.
My plan was to find another spot today, but hey, I thought I would check out my honey hole on the way. No one is there so I figure an hour here wouldn't hurt a thing so I'm off. I start off with a pheasant tail and honestly can't remember if I caught one with it, I think it was my first one. Anyway, I started to see a few rises, then more and I switched to my #22 BWO. I use this cause I can't see what is coming off and just figured it was small.
I kid you not, I must have missed 20 fish it was amazing, I am in the middle of a hatch and I have the right fly, what a great day. I end up catching about 5 or so, too many catches and misses to remember. I didn't get pics of most of them due to not bringing my net. I won't put them in the video because it would just be too long.
I finally leave this spot and head toward Riverside Park. I head out to a deep hole with the pheasant tails and it wasn't long till I catch this really nice rainbow. I'm not sure if the picture does it justice but boy it was a nice one. After a bit of time I catch another just like it. I don't know if it was the same fish, brother, sister, or what but it was a big beauty.
A bit longer and I catch another smaller rainbow. I've had a blast and head toward the truck. I talk to a gentleman for a while and then go to the truck to leave. As I get there, I look upstream and think, why not. I take my BWO upstream and catch another. I missed two more but man what a day.
My thought was what a great way to end my license season, now time to get another. I hope everyone gets out this week and still hoping for spring type weather. May God bless and have a great week.
23 Feb 2015
The beginning of the week we welcomed the snow. As it begin to fall and folks started leaving work, I had memories of the last time I left at quitting time in this situation, a typical 30 minute drive took 2 hours. Well, I took advantage of the snow, snuck out earlier and headed to South Holston River. I got some good video of snow falling, but did not get a bite. After an hour or so in the cold, I called it quits and headed home.
Friday rolled around and the snow came again and South Holston River was my destination. Same situation produced the same results, yes to the snow but the fish said no, Dr. Seuss has nothing on me.
Sunday afternoon around 2:00 I decided to hit the Watauga River. SoHo has not been good to me so I thought of a change of venue was in order. I headed to what I thought was my honey hole, but I'm finding out that it is quite a few folks honey hole.
I wade out and make a few cast, hook up with one for a brief period and get another bite. I am using a pheasant tail and a #20 BWO looking thing I made. One hooked briefly and a couple of bites and I decide to switch it up. I am seeing a few little ones rise at nothing and I figure it's a tiny BWO or something. I used a #22 BWO with a CDC wing. When I had this floating it was getting a couple of fish, but I must have not used enough for the wings or something, anyhow I made a switch.
I put on a #22 BWO but think of Griffith's Gnat except olive turkey biot for the body. Anyway, I ended up catching an addition 3-4 on this one. It was a bit tough cause with the lighting or my age, I couldn't see the fly, I just looked for a flip and on a couple, they just grabbed it as I was lifting my rod. Or wait……maybe I just used my instincts to set the hook at just the right time. Either way they were a blast.
In a couple of hours I caught 6 or so and missed quite a few. They weren't very big and they were skinny, but hey, if all I ate were gnats, well, I would know if I was wearing a belt. Unlike now when I have to feel cause I sure can't see cause of the gut. Anyway, the pheasant tail did catch one and it was really a great day on the water. I don't want to sound like I am wishing a day away, but I can't wait for warmer weather and no more snow. Hope you got out on the water this weekend, a video will be up as soon as I get the editing done. God bless and have a goodn'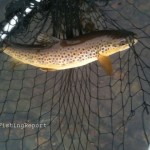 14 Feb 2015
Date night was Friday as Valentine's Day is usually extremely crowded. It was a great evening and as Saturday blew in, and the wind was a howling, I headed to South Holston River. I started off about mid river and didn't have much luck. The wind was blowing very hard and I was not getting any hits, so I headed up to the River Bend Area. I don't get here too much as when I drive by, the parking lot is usually about full, but today, one vehicle and they were leaving.
After the walk to the river and starting to make a few casts, I hook one. This adrenaline rush was short lived as the hook set was not good and the fish removed itself from my clutches. I begin moving upstream into uncharted waters for me and get a bite or two more. Then casting upstream, my line twitches, I feel the bump, and the hook is set. As soon as it started pulling I thought, hmmmm, this is a pretty good fish. The struggle continues and as he reveals himself at the top of the water, I notice I had snagged him in the side with my #20 trailer. Dag nabbit, I really hate when this happens, so I quickly get him in the net, take a pic, grab the forceps, and commence to removing the hook. The hook came out very easy and the little feller took right off. Disappointed by the snagging but hey, it happens every once in a while.
I continue fishing and get a bump, I set the hook and my line snaps instantly. Now I would like to say that it was due to a very large fish, but truth is, I found a rock. I tied back up, switching to just one fly and continue fishing. I get about 5 hits the entire trip, well; it was just a couple hours and probably about 1-1.5 hours of actual fishing. It was time to head back.
This week was a busy one and a bit tough, I was just glad to get out for a few minutes. We have a huge snow coming and I really want to get back out during the snow, just not sure if I want to drive during all the snowing. Last year it took 2 hours to drive a typical 30 minute drive, accidents had the roads blocked. I'm not sure if I will battle this or not, but I hope your fishing landed you a few more than me. If not, it sure was fun anyhow. Have a great week and God bless.
Stoney Creek 07 Feb 2015
07 Feb 2015
Delays delays, I should have gotten this up a day or two ago, but nonetheless, Saturday was a 3 river day. Well 2 rivers and a creek but 3 river sounds much better. I headed to Elizabethton knowing that the South Holston may have an angler or two present. My first stop was to take a shot at the Doe River. I've not fished it before and didn't have any prince nymphs with me, however, I found me a spot and ventured into the area where the Doe meets Watauga. This looked like it could be a dandy little spot to fish, however, after about an hour of nothing, no rises, no bites, swift water, I decided to head up to Stoney Creek.
Stoney Creek was pretty good as I had gotten a couple of bites. However, I also lost a fly on the bottom, found a few trees, and dropped my rod trying to get the hook out of the fish. One of the more interesting things that happened was the catch. I had tied a modified Griffith's Gnat, I used a blue wing olive body instead of the peacock that is used. There were some rises and I felt ready. I missed quite a few with this little size 22 fly but then I hooked up with a beautiful rainbow, the photo does not do it justice. After releasing the feller, I continued with the fly. Shortly after the release, the rises stopped, the bugs were still floating along the surface but the rises just ceased. I am now thinking that may theory may have proof that the fish released go back and tell the others to avoid eating as an angler is in the area. I did not get another bite so I headed toward the Watauga River.
I showed up at my honey hole and started with a BWO dry. Not seeing rises and thinking I was just casting at this point, I did not turn on the video camera; it had been running all day. A very nice, pretty big, impressive trout (hope you get the point there) rose and took the fly. It was the most enjoyable 1.8 seconds of the day as he decided to release himself (or herself) from hook. I get excited and turn on the camera and get a bite or two. I suddenly hear a beep, the battery has just died, well rats, but it was getting about time to go. Within about 2 minutes I catch a small trout that decided to jump what appeared to be 2 feet out of the water at least twice. He was one of the most active fish I have hooked in a while and of course the battery was dead. Then a few cast later I catch another decent trout and the theories begin to form, again this is with evidence. My thinking is the fish bite better without a camera running, hey, I have proof, well I'll put the photos up later.
I fish a bit longer and one breaks my line with my bead head, it was pretty nice, and I miss quite a few more. A pheasant tail was the bait of choice this day on the Watauga and it appeared to be pretty active. With the battery out of juice, with me running extremely low on juice, and feeling kinda satisfied, I called it a day, well a week really. I'm hoping to get back out sometime next weekend, however, you need to remember Valentine's Day, it might be wise to plan the fishing trip around the pampering, it'll pay off in the long run. Have a great week and God bless.
 06 Feb 2015
Friday had come and the weekend was forecasted to be nice. I figured the South Holston River would be ok today, but the weekend would be crowded. I headed toward the sluice but there were a few vehicles in the parking lot, so I went on up to the grates. My intentions were not to stay too long but maybe catch a few.
The plan was falling short due to my reflexes, I missed numerous fish but finally landed one. After a land and a miss, I thought I would head downstream, just wanted to go to a different place. I found a pull off on River Rd, a frequent stop, and began fishing.
The pheasant tail was not being nearly as productive as it was upstream, so I switched to the tungsten bead head pheasant tail, I figured it may get down a bit lower. Shortly after putting this one I get nailed, this is a miss in the video. I saw the flash of the fish when I went to set the hook, this was a big one, perhaps would have hit my 20″ mark. The resistance was short lived as it got off as quick as it hit.
I walked upstream to another good looking spot, but it just didn't appear to be my day. I got one in but without any pics as it got off right as I touched it. I had a lot of misses and it ended up being a good day on the river. It never really has been about catching.