24 April 2015  Just a Couple of Hours on Stoney Creek
First off, let me start out by mentioning that you will see underlined text (links) in this entry. They are going to be links to eBay specifically for that type item. I add this note so that you don't get confused and know where your going, anyway, let's talk about Friday.
The heat pump got installed and they did a great job, the weather had been perfect for having no heat or air. After I got everything loaded back up, I just didn't have the energy to get the boat out and cast a net looking for bait. I was somewhat short on time and the generators were flowing at unwadeable conditions. The decision was made, I grab my Fly Fishing Equipment
 and head to Stoney Creek.
I pull into the lower part of the creek like I always do. I talk myself out of fishing this spot and I am not real sure why. There is a pull off on the main road but it just seems congested and I can't talk myself into stopping. So after a furious fuss with myself, I head upstream. I am a strange bird, when I get comfortable at a spot, I always feel drawn to go back. I do like to explore, but I think that is more of a wishing than an actual put into practice thing.
Well I drive right on by my honey hole as I had planned and it just so happened a few anglers were either putting in or taking out when I arrived. I go a bit more upstream and time to try a new spot. I get out and put on a Tellico that a friend had made me and gave it a go. This pattern felt like it weigh 4 lbs and the 'ol 5 wt was not doing a good job of casting it. I then changed to my one hand tied prince nymph. It is a slight variation as I did not have all the right colored feathers, and did not go to eBay Flies
 but hey, maybe one is color blind.
After a couple of cast I land one, nice little rainbow and I'll work on the video later, and I am pumped. I've got this fishing figured out, until I got bit again, lifted the rod a second late and the prince nymph nestled itself about 13′ up in a tree. The tree was stronger than my 4lbs test line and you can guess it, I lost the fly.
I then switch to a bead head pheasant tail and realize, I am going to have to use one of the store bought non-weighted prince nymphs. I tied it behind my PT and began fishing. Let me shorten my exciting long story by saying, best day on Stoney Creek for me ever. I must have caught 10 trout, so many that I stopped taking pictures. Of course, in so doing I lost all my prince nymphs and my weighted pheasant tail, which did catch me one.
I looked in the box and found another weighted nymph that I don't even know what the name is but it caught a few. The small one you see in the picture above was a lot of fun. Not because it was a tremendous fight, but during the struggle, he must have jumped right as I was lifting my rod. That little feller came out of the water at least 5′, yes I do have it on video. I thought that was pretty good and decided to call it a day.
I'm really excited about trying to get me a striper on here, but I am going to have to learn some patients. Looks like May will be the time to do this. Y'all have a great week and God Bless.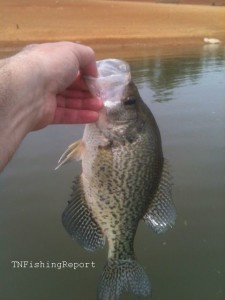 18 April 2015 
Back to Boone
Well the weather changed and Saturday looked like the day to head to Boone Lake. I had determined that I would find bait and give them stripers a go. As I am completely unfamiliar with the Watauga side, I figured I should be able to locate some there. I went up a little way past Pickens Bridge, but saw no shad activity, decided to head toward the dam.
Too make a very long, slow, and boring story short, I stopped at every cove along the way until I was at Misty Waters. Finally reaching familiar waters, I caught about 3 nice shad. I had spend a large portion of my time pursuing bait as catching them in deeper water is a bit difficult for me. I guess it could be the lowest priced 6′ net that I use but hey, I saved a buck. Anyway, I thought I would give Candy Creek a go.
Now the fish you see above, was just short of 14″ and it was a beauty, however, I tossed it back into the water as it was a mistake. During my casting for bait, I ended up catching 2 largemouth, a white bass, and one monster crappie. I caught more game fish than I did bait. Anyway, off to fish.
I trolled around with a down line 10-15′ deep, a flat line, and one on the planer board. I looked toward the shad on the balloon and a big wave comes at it, but not bite. This is early in the fishing and I figure it to be a good day. I troll on around and get a swirl on the smallest shad I was using, but he didn't take it, just scared my bait.
I continue trolling and get 3 more swirls, but not takers. Then on my final lap I look back and hear the ever familiar sound of a striper hitting the bait on the top water. I get pumped, run to the rod, remain extremely patient, and watch the water go calm and remain that way.
I figure I had been out for a while, the battery went dead on the GoPro, and yes I did forget the charging stuff in the boat. So with a point picked out that I am heading to, I throw out the remaining bait in the livewells. When the bait is gone, my down line gets bent over in 48′ water. I grab it quickly and realize, I am hung on somthing. I end up breaking the line. I cruise across the lake and the flat line gets tight. This one also found something to hang and I turn the boat to try to work loose.
This is great as I am taking my time because breaking the 20lbs test is not my first choice, but yep, it ends up separated from the hook. I head to the front of the boat, turn on the trolling motor. I look over and the planer board is coming closer to me. I stop the trolling motor and you guessed it, the shad had gotten the line tangled in the motor. The blad had cut the line, I patiently removed the line and decided enough was enough.
Boone has gotten the best of me concerning the stripers this year, but I've not given up on them. I shall return and hopefully produce a video worth watching. Hope you did better this weekend, have a great week and God bless.
Check out the Weekly Deals on eBay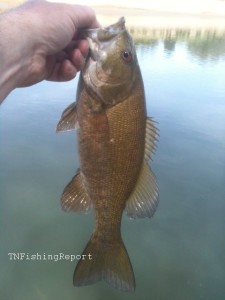 12 April 2015
Quick Trip
Sunday afternoon is here and the weather is outstanding. With the way I have been feeling, I just didn't want to get the boat out today, but even the Masters was not a big enough event to stay locked down on the couch. So I figured I would head over to Boone Lake and my new found honey hole. The generators had been rolling and if history based on two data points has taught me anything, it has taught me that it was a good time to go fishing. I have also discovered that I can use history to demonstrate anytime is a good time to go fishing, but hey, this data is real.
I go by way of Beaver Creek Road and could not help but to stop off at a childhood honey hole. Memories rushed back of a friend throwing a stick and stunning a snake swimming across the water and it floating downstream. I fish here for about 20 minutes and could not help but to think wow, when I was a kid I was barely able to get my line halfway in the creek, now I can tangle in the trees on the other side. I wondered whether this was equipment or skill, then I realized as a kid I actually caught fish here, so I am glad I have this new equipment.
Not surprisingly I was skunked in the childhood honey hole, so off to Rainbow Bridge I go. I pull in and a couple of gentlemen were fishing. There is plenty of room if you have the skills of a mountain goat, so I parked the truck and walked on down. The gentlemen were as kind as they could be and we spoke for a little bit, then I went on the steep side. I grab a rock with just about every step as I have seen my skill level diminish. Something has taken place in the years that my mind took a long time to catch up with my body. I used to be able to cruise down a bank like this in no time, but now, my mind has a tendency to think that I can still do this and my body has a way of reminding me that I cannot. That would explain the wipe out on all fours as I was leaving, glad the camera was turned off and all witnesses had left.
Anyway, the river water appeared to be arriving and I began making a few casts down the banks. I probably looked as if I knew what I was doing, but y'all have read this before…right. Anyway, as the other fishermen were leaving, I got bit by this nice smallie in the pic. The Loomis was up to the challenge and the adrenaline was flowing hard. The fight did not last long but the thrill stayed with me for another thirty minutes. I walked the bank casting and reeling, then repeating.
The smallmouth was the only one that I caught as I did not stay very long, which probably made no difference at all. The weather was nice, the fishing was fun, and my swim bait was still a workin'. It was a good day and time to head back and watch Jordan Spieth win the Masters. I hope to get out this weekend and we will try to get more going. I do have a good friend that writes and plays music (country). We are going to try to get some music on the videos soon so that you won't have to listen to my one word comments while fishing. Maybe I will try doing more talking on those and see if that is more entertaining. Anyway, one day we will get there and hopefully it will be something you can enjoy. Have a great week and God bless.  And Oh Yeah!!! I forgot a shameless plug for one of our new affiliate.  Weekly deals on eBay
11 April 2015
Fort Patrick Henry Part 1 of ????
The forecast was for no rain and about 69F, my guess was the one and only boat ramp accessible on Boone Lake would be packed. I know I am going to have to start figuring out Fort Patrick Henry, so why not start today. I have heard stories of big stripers, walleye have been stocked, and trout that are very healthy. Today was the day to venture out and land me a nice one.
We launched to boat in the upper part, second bridge from the dam, and caution was used as I had never been on this lake above Warriors Path State Park. I had only launched at Warrior's one time in the past so this is totally unfamilar territory.
We started headed to the park as I have seen a multitude of shad there from the bank. As we are cruising fairly slow, watching the water depth and just being cautious, I stop to answer my phone, talk about 15 minutes, then off again. No shad were present so we hit a few banks bass fishing as we start heading back upstream. My hope is to find some shad then go up there after stripers that I know are present.
We find some areas that I would have thought would have been perfect for shad and or bass, we come up short. We end up going on up toward the dam and casting some swim baits, hoping to imitate the shad enough to entice something to take a bite. To make a long story short, we got skunked, Fort Patrick Henry 1 – me 0.
We did have a good time on the water and will be back when things warm up a bit. My thoughts are I should have gone to Boone, but hey, I've never been one to do the smart thing when it comes to fishing. So Sunday afternoon I have not figured out yet what I am going to do, I should stay home and do chores, but let's just wait and see. Hope everyone had a better weekend of catching than I did, good luck out there and may God bless.
01 April 2015
After work, I decided to head out to Boone Lake. First I went out toward Muddy Creek Area and cast from the bank. Well that produced nothing, I saw a fish or two hit the top water, however, they were not within casting distance.
I got in the truck and headed upstream on the Holston Arm. I found a place which almost required me to bring out my mountain goat skills, but with slow and decisive steps, I made it to the water. Before final scale, I saw a couple of largemouth, so I headed to the left so as not to spook them. As I moved down and along the bank, I noticed that there were quite a few bass hanging out at the bank.
I found me a spot and began to cast, I see one of the bass come over and take the bait and I set the hook. I must've pulled before he actually took it because I did not land him. I missed the next one that hit and then finally I land one.
This gets me pretty pumped and I finish walking up and down the bank casting. I end up catching three, not big but a good time. I saw one largemouth that was every bit of 5 pounds but he would not pay any attention to my swim bait. The swim bait is all that I had brought due to just getting out of the house.
Well I go back the next day and we do not get a bite or even see anything but shad. I got to doing some pondering and I think I have drawn a conclusion. Apparently the first day they were generating as on the second day the water was not as clear or as high. I am hoping that this is a good theory as I will investigate this a bit more probably.
The weekend has brought a lot of wind and with the way I was feeling I figured to just do a few chores. Hoping next week to head out to the lake in the boat. The way I operate, I will probably not get out there until the bite slows down, but maybe we'll get some stuff going soon. I do hope that everyone has a fantastic Easter weekend, and take some time to remember that we are celebrating The Death, Burial, and  Resurrection of Jesus Christ. Have a great week and God bless.