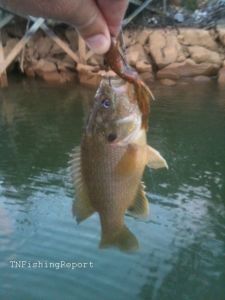 Boone Lake Fishing
27 Sept 2014
I made the pic a bit bigger just so you wouldn't miss it. For the regular readers, I wanted both of you to know this wouldn't be the story of a skunking. This fish was so big that the lake dropped about 6″ when I pulled it out of the water, you can see that in the rocks of the background, the proof is in the picture. For all those serious folks, that was just a joke, I tend to do that frequently. If you take everything very serious, you may want to stop reading at this point, which may drop me to 1 regular reader.
The day started about the beginning of the 4th quarter. I wanted to watch the game as one of my favorite all time UT quarterbacks (Justin Worley) is about to come back from his injury. However, I went and turned on the radio and headed to the lake, I didn't want to stay out too late this evening.
I headed into Candy Creek in search of bait. I went to the back and folks be careful the water has dropped and began catching bait. I caught some nice gizzard shad and headed out looking for some stripers. I look around at the mouth of Candy Creek and didn't mark any on the fish finder. This one is real old and I don't have confidence in it, but skipped this spot. I went to this point and marked a few with the trolling motor fishfinder 140 and fished here about 20 minutes. Nothing hit and I headed to the dam.
I arrive and the fishfinder 140 stopped working, it's always something. I put out a flat line and a couple of down lines, thought I would pitch a tube toward the deep bank here anyway. The live bait never got a bit, but the watermelon copper crawl tube got quite a few bites. I missed about 4-5 which I attribute to a lack of practice, although some of them were no doubt bluegill.
I fish here for quite sometime and with no bite I head back near Candy Creek. I find a spot and put out some lines. As I am messing with the old fishfinder trying to get it showing me something, I look up and I get a tip dip. Now a tip dip is what I am calling when the down line gets pulled and the tip of the rod hits the water. I go up to set the hook and nothing, it didn't even take the bait. I get one more tip dip with the same results, I'm gonna have to get a bit of smaller bait next time, and the sun is starting to set.
I decide to take the tube, hit one of my little don't get skunked honey holes near the boat ramp, and catch one. Thus you can see the result of the day above, it was getting late in the evening, kinda like the two minute warning. The game was on the line and I drove the distance and landed the beast. Looks like my fall fishing season, I finally got a victory.
One note I forgot to mention, during my cast net throwing for bait, I caught about 7 white bass in the net. If you like fishing for them, look around Candy Creek, there were quite a few in that area. Y'all have a great day and God bless.
~20 Sept 2014
Sorry for the delays and the apparent lack of effort in getting out on the water recently. The past couple of weeks have been busy with a flurry of activity. The daughter just completed her final round of golf for the year, this is where I get my exercise and get to watch her golf. I hope this doesn't mean that I will be getting fatter since the season ended.
With the activities and "stuff" happening, I was only able to squeeze in about 1.5 hours of fishing, I had headed to the South Holston River. If I would have gotten the boat out, I would not have had time to get bait before I had to leave, so off to the river for a spell.
The time was well spent as I got a hit (notice that is singular) on everything I threw out. Now I was fighting a migraine and losing, so I didn't change flies all that often. The hit total was probably 8-10, all flies were submerged, with no hook-ups. The green weenie did hook two and I could see the flash of the fish, I could lie here but they weren't too big, just not a good hook set. I am really considering using a bobber, oops I mean strike indicator, I just haven't broken down to spend the $1.37 that it would cost, I bet the wife has some yarn in the closet.
Anyway, Lord willing I will get out on the lake this weekend, or at least fishing for the big boys. One bummer is the noon kickoff of the mighty Vols, I typically like to go in the afternoon but we will have to see how this works out. I hope to get after some stripers but if you've been able to land a few, shoot us an email and let us know how, where, when, and if you want to give me grid coordinates…… heck who am I kidding, that still wouldn't help me much. Anyway, y'all have a great week and hope to give a bit more info next week.
12 & 13 September 2014
Whoo hooo!! I finally landed a few fish, but let's not start with the 13th, but with the 12th. I had read an article on the internet, bonjour, telling of how big stripers are present below Boone Dam, recommended that you bank fish, in the fall. Well, it's not fall yet, but when I read something like that on a Tuesday, it drives me crazy until I can make it down there. So Friday was the day of exploration.
Getting down there is not easy, it's a decent walk through the woods and around a bunch of rocks. The way I've been feeling as of late, this was a mistake, but hey, there may be some 30+ pounders down there. I made it down there and commenced to doing some angling. I got a few hits and spotted a smallmouth trying to attack my swim bait. It appeared as if he was more interested in the tail than in the area that contained the hook. I was unable to hang around there long, it was just exploration, but I shall be back.
My plan was to mow on Saturday and do some flower bed work. I know your saying that it is late in the season for flower bed work, but I prefer to say that I am way early for next years work. Anyway, the rain had wet the yard, the flower bed was muddy and the sky was overcast. I do not get on the water if lightning is around so I headed to South Holston River.
I chose to use the green weenie at first and got a few bites, then finally I catch one. I noticed in the 15 minutes I waited to catch one, another angler had landed multiple trout. Now I am no genius but I am thinking that I should change flies. I put on a sulfur and the bites begin. Now I still am not getting what the other angler is getting, but I do land a couple on this.
This fly began to show some wear so I switched up again. I don't know what this one is called, but it looks to be tied like the puff daddy (don't confuse this name with the celeb) but the body was orange. Well it is game day so I thought I would give it a shot. This little rascal was deadly, I was getting a hit about every third cast, and finally after releasing the 5th trout of the day, the body of this fly was destroyed. This is about the time that I hear the siren go off for generating and I decide to go mow. I figured the grass was somewhat dry by this time.
This was a good little trip and it's easy to get out of the water if the weather turns sour. I will try to get the boat out next weekend, depending on the weather, but as for this week, it was nice to have to wash off the fish smell from my hands. Hope you have a great week.
05 Sept. 2014
My apologies for skipping last week, I went out just for a short scouting trip. I had marked a few fish in Candy Creek. I made a pass through and headed to the islands at Muddy Creek. I didn't mark many at this location so I went ahead and headed back to the house.
Friday came and after spending most of the morning at the VA, I headed out in the afternoon. I headed to the back of Candy Creek and got my bait. The gizzards must be scattered, I caught them one at a time. This made catching bait a bit time consuming, but nonetheless, it was time for some fishin'.
I headed up to the mouth of Candy Creek where I had marked the fish a the week before. Sure enough when I get in the main channel of the Creek, 60′ of water, I mark a lot of fish. Hooks get baited and lines go out, it is time for some fishing. As I have been trolling around about 20 minutes, I hear thunder off to the left. The sky is dark in that direction but I figure it will go on by. About 40 minutes into trolling, the planer board gets some attention. This goes on for about 5 minutes off and on, then all the sudden the line pops from the planer board and drag begins to scream. I reach down and grab the rod and all the sudden the line gets slack.
Just as the line gets some slack, I hear a little more thunder. I look up and the sky is dark and looks like it may be heading in my direction. I thought to myself, the Lord gave me a warning earlier and I ignored it, time to head to the boat ramp. I don't mind rain while I am fishing, but you can rest assured, I will not be in a boat when the lightning is striking. I go back to the house empty handed but ready for the fall fishing to start.
Hope everyone has had a great couple of weeks and your lines stayed tight. Have a great week and we'll try to wet a line next week.