24-25 Oct 2014
A Couple Days at Stoney Creek
Mercy it is a beautiful weekend, the yard has been mowed, I was gonna say lawn has been cut but who am I kidding, we gotta a yard. A big thanks to the family for taking care of this for me. I had my 40 hours in at work and Friday I was off, time to wet a line. Friday began with catching up on a few chores, burning brush, then contemplating where to fish. With the way I have been feeling, getting the boat out and wrestling everything just seemed like too much, so I decided to fly fish. One benefit is less work and I don't feel obligated to stay 3 or 4 hours.
I took a gander at my TVA App and both Watauga and South Holston River were cranking out some water. I decided to go to Stoney Creek and see if I could catch a few small ones. My first stop is from the pick of the water above. I've caught a few from there in the past but it is just such a purdy spot I can't resist going back. I stayed here just a short time and didn't even get a bite, so I headed upstream.
I parked near a bridge and started from there. I was using a Tellico nymph and a peach/pink type egg. I made a few cast and got a couple of hits. Then one just about jerked the rod out of my hand, my blood is really pumping now. I catch a couple in this spot, miss about 5 or more and decided to start walking upstream.
I find a spot and they begin to hit, the egg is what every fish is biting. I land a few small ones with one of them whizzing by me ear when I set the hook. This one would've fit nicely into a sardine can. I continue fishing and heading upstream. The fish seem to get bigger with each catch and of course I am missing more than I am catching. I catch an additional 3-4 without taking pics, they were about 12″ or so, I would have taken the pics but the sun appeared to be setting, blood was pumping, I didn't want to take the time, there are fish to be caught. Am I the only person who seems to think this way? Anyhow, that was Friday.
Saturday rolls around and the same deal with the boat, would have enjoyed it, but just don't have the energy to fool with it. Knowing that the fish are starved to death at my new found honey hole, I head back. My intentions were to go ahead and catch about 10 in the same spot, then move upstream on an exploration.
After arriving and fishing the same bait, I found myself exploring only receiving a few bites and no catches. I finally find this deep hole that I know has some fish in there. I fish this spot for a while and realize that I must have shown up today just to clean out the creek. I must have gotten my fly hung up on around 1 billion leaves and the fish weren't too hungry.
I reached into the fly box and found a green weenie. On my first or second cast with this thing I land the biggest of the above fish, the one with the fly rod in the pic, around 17″ or so. I had brought my 3 wt and it was a blast landing this rascal. After he smiled and sparkled for the camera, he was released and I went back to cleaning out the creek .
I fished a bit longer with no more fish but mercy that was a nice one. It was a great weekend on the water, God bless and keep them lines tight.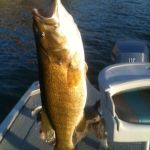 17 Oct 2014
Battling the Breeze
Friday is my half day at work, yep I do get 40 hours in each week, and I thought I would get the boat out. The temp was suppose to be in the lower 70's and finally, no rain. Got the boat loaded and headed behind the airport to launch. I saw a few flips of shad at the ramp and tried to catch a few there, no luck but I didn't waste too much time. Candy Creek is usually pretty good so I headed that way.
Normally I will catch my bait at the back, throwing in deeper water for me is a bit difficult to catch bait, however, I stopped short to do some looking around. I marked a lot of big fish and bait in 16′ of water, but the bait was not something I was able to catch. I went toward the back, caught a dozen gizzard shad in about one or two cast, then began to fish.
The wind was blowing pretty good and this was a battle that I did not enjoy. I've often wondered about the walleye fishermen I see on tv with white caps and bad weather and think man I'm glad I don't have to fish in those conditions. Well, although the day was sunny, the wind was a battle most of the day. All throughout Candy Creek Area I marked a lot of fish. I double checked this on my other fish finder, my lowrance which may have been one of the first they ever came out with, and fish were a plenty. I had a swim bait at the ready and when I saw a break, I chucked it to the spot, began to reel and bam, got one. I fought this maybe 16″ largemouth until he decided he had had enough and got off. I got about 4-5 bites on this swim bait. I don't remember what kind, but probably the cheapest one they had.
I put out two down lines adjusting the depth to the fish ID but hanging around 8-16′. After cruising through all the area and getting nothing, I headed to the main channel, a spot I have caught a few at over the years. This lasted about 40 minutes, marking only a few fish and the wind being extremely annoying, I decided to find some calmer waters.
I went around past marker 6 and found calmness. A few fish were marked in the main channel but I decided to try to catch a few bass. I had a flat line out behind the boat and throwing toward the bank, I look back and the rod get hammered. I jump to the back hurdling the schnauzer and grabbed the rod. My adrenaline is pumping and I am hoping for a big'un. I get the smallie to the boat and I'm fired up.
I grab the lip gripper, so I don't break the jaw trying to hold it and not to lay it on the carpet cause that is bad for it. Sorry but if you only have two hands, are only 5'8″, and try to take a pic of  a fish this size, it ain't easy. If you do it wrong and post a pic, let the comments roll. Anyhow, doing the best I can I noticed the lip gripper with scales is reading about 1.5. Well folks I am not one that can tell weight too well, but I thought this one was bigger. I figured that due to my lack of catching over the past two months probably got a build up of dust or rust. Anyway, I tried to measure without laying it on the lid of the livewell and that rascal was every bit of 21.5″. It would have probable measured 22 had I layed it down and measured right, but hey, this was enough info for me, smiled for the camera and released.
The sun was thinking about setting so I figured I would leave. It was a good day and probably time to start tying some flies. I will try to get the boat out again, but the weather will dictate this, yep, I am that guy. Anyway, fall/winter fly fishing is a blast, and I am going to get ready, God bless and have a goodn'.
10-11 Oct 2014
My Wet Weekend
I have waited so long to write this up that I can't remember what days I went fishing, so sometime this weekend, I went to the Watauga River and on another day I went to the South Holston. My memory is spotty at best and just be glad you don't have to live with me, I sometimes can't finish sentences. I know some of y'all are saying with the way you write, that may be a blessing to those around you. Anyway, let's not chase any rabbits, let's talk about some fishing.
With all the rain we have been getting I typically don't take out the boat. Seems in the big rains that the compartments take forever to dry out, all compartments should be waterproof, however mine have carpet and just takes too long, so off to the Watauga River I go. I knew that I had purchased years ago a nice raincoat for about $3.00 or so. This was a top of the line brand new off the rack jacket that I could use to prevent being drenched. Shortly after arriving and getting into the rain I realized that the price must have been based on one dollar per minute of staying dry. Yep, after about 3 minutes, I was starting to get wet, that is what you get for being a tight wad.
The Watauga was a lot of fun, one fish is all that I landed; however, I got quite a few bites. I hooked numerous trout, in the 12" range, they hit, I set, they jumped, I grinned, slack would then get in line and they would get off. One may think this to be frustrating, but in the rain I didn't want to get my phone out too much anyhow. I spent about 2 hours on the water, hooked up with at least 5 jump run release trout and one landed. I missed a few more completely and got to do a little bit of exploring, probably 30 minutes of walking around and 1.5 hours of fishing. Every fish came on an egg either peach or orange, not sure which, try them both.
Another day I ventured out to the South Holston River. I headed up to the Wier thinking that the crowd would be down due to the weather. The crowd was down, but not by much. I landed quite a few, only took one picture as they all looked about the same and didn't want to get the phone out, knowing facebook, would probably be accused of it being the same fish anyhow, I better get back to fishing. I had switched over to the orange egg and caught 3 on three casts, man I tie a great egg, or maybe the stockers were just hungry. I also had tied up a black ant, size 22, and after spending a great deal of time trying to get the line in the hole of the hook, I caught one and missed a few on this one. I was tickled, first one I had tied and caught me a fish.
The weather did not prevent the day from being enjoyed, if you don't see the pics, I'll try to post them tonight, have a great day and God bless. May the weekend be dry and the lines stay tight.
06 Oct 2014
I apologize for the delay in getting the Oct Journal started. Fall break began on Friday, I did go to the South Holston River and caught a few trout, but nothing major happened and I didn't want to bore you with "hey, I caught a couple. So Sunday we headed to the Smokies.
When we go we like to get a cabin, we looked in Cosby Creek Area, but couldn't turn anything up that was near the creek and meeting the wants of all involved. We ended up in Wears Valley area way up on top of the mountain. It was about 20+ minutes to the nearest creek and we had no cell service up there. That is a good thing except when you take the one vehicle to go fish.
Anyway, the first evening, ony stayed 2, we heard some clatter. Now me realizing that it was not Christmas Eve, I realized that although clatter had arose, this could not be Santa. So we went out on the deck and low and behold a black bear. This rascal was walking around and looking for some chow, not the dog but food. He roamed and messed and never did smile for the camera, but we got a couple of pics.
Later in the evening, after dark, we were out on the deck and a bigger bear was turning over the metal trash bins, not cans but bins. They were about 5′ long and appeared fairly heavy. He could not figure how to pick the lock so he began roaming around. Well as it got near bedtime, you know 10:00, I stay up late on vacation, I had to take the schnauzer out for relief. Needless to say I began to think, I can't outrun this little dog and have no idea what I would do if he came back. This was one fast potty break and I headed back into the cabin.
The next morning I got up and headed to the creek, about 20-25 minute drive. I got out, thinking I hope there are no bears, and fished for about an hour. I'm not sure what you call those little creek fish I caught, but they were hitting like they haven't ate in a week. I landed 3 or 4, but these two pics give you the idea. I never saw a trout but this little stream (probably a better way to describe it) was a fun little place to wet a line.
After an hour I headed back thinking the family would be waking up and they may need something. This may not be much of a fishing journal this entry, sorry, but it was a nice little trip. The rain came and relaxing was in full force.