Sorry for the Delay
I would first like to apologies to the multitudes that have been chomping at the bit to hear how things are going in Florida, and by multitudes I mean of course the few family members that read this just to make sure I haven't thrown them under the bus. Anyway, I was planning on writing every night on our vacation, however, we fished from our dock until the wee hours and I was just way too wore out. I have a new found respect for fishing guides since this trip, mercy they work pretty hard.
Due to my lack of diligence, I shall not bore you with pages and pages of what took place, but as this week progresses, I do hope to add a write up or two and just hit the highlights.
As you were welcomed below, the big redfish was our grand catch from the shore, nothing compared to this fish until we got off shore. We did land a few Jack's, many mutton or lane snapper, not sure which one it was, and all the catfish you can stand. More species were caught like the toad fish and some bait looking things that I didn't know what there were and got too lazy to look it up.
About every evening we would put out the green light that you see above. Now this I bought from our affiliate over on the right (sorry for the plug but hey Father's Day draws near). Anyway, it is the submersible fish light, you can search it from the website after clicking the banner. I read the reviews and I will tell you they were horrible. I reckon that most everyone that I read said that they leaked and didn't last anytime. So I looked at the price, know that I can return it if it fails and figure hey, on a budget like I have, it is certainly worth the risk. I sure am glad I did. You can see the bait swimming around the light above (stripers now do not stand a chance with me), and we used it at least 15 hours this past week and it was still working great when I brought it home. Now that doesn't mean that yours will be great so please no backlash, there are plenty of negative responses, but I'll tell ya, in the words of Barney Fife "it's the cats".
Well enough of that, we fished the bottom mostly, and I used a few shrimp lures, let me say we didn't catch a lot of size from the dock, but a few 5 pound cats and a multitude of others. Dolphins swam around our dock very often, except when the wife brought out the camera, and it was great. The bug life there is flourishing as the sun sets, thus we only bridge fished a few times. We did hook a few big'uns that I'll talk about in a day or so, but just wanted to let the "family" know that we are back and will be updating soon.
By the way, the toad fish, or whatever the final decision was on the official name, is possibly poisonous. We caught quite a few of them, but did not come close to touching them. If you see me with gloves or something else, my motto on saltwater fish is that everything in there can kill you, so I take all precautions. Have a great day
31 May 2014
Let the Vacation Begin
We arrive at Marco Island somewhere around 2:00pm. It's a long drive from Tennessee and we had to stop before arriving to pick up a few odds and ends, you know fishing stuff and groceries. We arrive and unload the vehicle and we were chomping at the bit to wet a line.
I haven't eaten since breakfast and we didn't have any bait, so I put on a bucktail jig and went down to the dock while the hot dogs were cooking. I'll get bait after the viddles are devoured. After about the third cast I get nailed, the fight is on and my 8 lbs test line is strong as an ox. It is a Jack something or other with a yellow tail and built for speed. He runs under the dock, I was not prepared and my line snaps as he takes it against the post, fish 1- Phil 0.
We end up fishing off the dock and catching as many catfish as you can stand, not big and started getting slightly old. We caught quite a few grunts I think they are called and one more Jack.
We headed out to the surf in the late evening and discovered we need to do a little more research before heading to the beach to fish. We then went to the bridge, it's now dark. The tide is low and apparently an assault of bugs were unleashed upon us. Mercy I haven't been wore out like this since I was on Parris Island. After about 10 minutes I was ready to go when the daughter got hammered. She battles the beast and I grab my lip gripper, it is my interpretation that touching a saltwater fish is dangerous. At least for me when I have no idea what they are in the dark. An angler comes by, tells us it's a redfish, which I thought was great cause I heard they ate well, and then we measure. It was 29″ and that was too big to keep, rats.
We came back, fished the dock, fought the bugs, caught the small ones then called it a night. We are now in search of some big ones, hope to report soon, but if not, maybe it's cause we are fighting fish.
Memorial Day Weekend
Well Friday was a good day on the water. The girls and I headed out and the young lady wrangled one into the boat. The weekend is here and after church on Sunday I thought I would head out to Bluff City. The girls stayed back with stuff to do and I went at it alone. Left the pooch at the house on Sunday, I did take her Monday, but the way I've been feeling, I was not too good a company anyhow. At the launch I talk to a few folks and it sounds like many are struggling to catch the stripers, I hear this on both Sunday and Monday which really should have been some kind of sign for me. However, with my skill set I am certain that….. who am I kidding, I figured I would get skunked yet again but thought hey, this sure is nice being out on the water.
Catching bait has not been a chore at all. The shallows near the ball field have done great and even if not, I have seen shad flipping past the swinging bridge, figured I could catch some there. I have yet to need to try because apparently I only need one shad per rod. I troll around all through Bluff City area and on both days I think I got one hit. I say that because I never saw my line take-off, but when releasing my Monday shad, it did have marks indicating something had messed with it. So two days and two skunks, but the bait is up there and just wondering if the stripers won't be there in the very near future.
I have been hearing that on the Watauga side they are catching a few stripers, also, this "should" be the time of year to throw a threadfin plug toward the bank at night and holding on for the top water action. However, with the stripers not very active until after midnight (I am going on past experience) and with me not enjoying staying up past 11:00, it sure doesn't seem like a good combination.
I went home and removed all reels from the rods and began collecting all the gear I think I will need. I know you are thinking, sounds like you don't need gear but perhaps take up a new hobby. However, the next journal entry I will guarantee there will be a fish or two caught, no that doesn't mean that I am not going to write anything until September, but hopefully by the first part of June. I won't be after the stripers this weekend, so if you head out, drop an email or comment on the facebook page and let us know how you did. If you get skunked, hey don't feel bad, my kids say you got a fishing website and get skunked. I would say that is embarrassing, but truth be told, that's the reason I started this site, thought I might be able to get a few pointers. Everyone have a great week and I hope you took a little time just to ponder the incredible sacrifice that our fallen service members have made, that is what Memorial Day weekend is about.
23 May 2014
Rod Test was a Success
We finally got the finishing touches on the rod, this one belongs to the daughter. She ground down the cork and assisted with her golf ball butt cap, her idea and a good one. This one was built just for the stripers and with a half day at work, it was time to head out to Bluff City.
We caught bait in the shallows at the ball field, that is the bluegill she is holding up there. We figured we better get a pic before throwing it back, just so we could have evidence of catching something. We had plenty of bait and had managed to get three big shad, headed to the mouth of the river.
When we arrived we noticed that there was plenty of bait here and hoped that to be a good sign. We put out a couple of balloons, a planer board orta be here next week, and began trolling. It wasn't very long that the new rod starting having a striper mess with the shad. It looked as if it was just trying to kill the thing. Daughter said, why do they play with there food, I get in trouble for that. I explained to her that it was due to there up bringing.
Anyway, after about three minutes of this thing beating the shad to near death, boom, it took it. The fight was on the girl was excited. She fought it for a bit and we finally wrangled it into the boat. She tried to pick it up and found the teeth with her thumb, I told her that on facebook you have to have those marks or you ain't fishin'.
We didn't get a weight and let her go to fight another day, I do plan on keeping one this year. We fished around there a bit longer then trolled to the bridge, no more bites. Not sure if we found the only striper up there or not, but praise the Lord she got one and the pole didn't break. Good luck and hope your rods stay bent.
20 May 2013
Quick Evening Trip to Bluff City
The girls have wanted to go out fishing and I have not taken them out in a spell, so after work I figured we would load up. We didn't get on the water till about 6:00 pm, the wind was blowing rather hard, the water was brown, and my hopes of landing a striper were fairly slim. However, I had all but completed fixing a rod for my daughter and it is built to rip the lips off of some stripers. I found a deal on some rod blanks that had "blemishes" and this one felt more like a broom handle than a rod, so we put some cork and guides on there and gave it a try. The butt cap is coming but this one is taking a bit of time to form due to destroying multiple items on my dremel tool to make it fit, sorry, saw the rabbit and chased.
Anyway, we started throwing the cast net and low and behold we caught bait in about 15 minutes; only one big gizzard, but more than enough threadfin for what we usually catch. We headed up to the train trusses and put out a few lines and began trolling, by this I mean using the trolling motor. We headed toward the river and at the mouth of the creek on the right, I got a nice hit on a shad I was flipping. Now this was probably a trout the way it acted, they tend to play with the shad I flip before they take it.
Set the daughter up to flip a shad and headed toward the river, I get another swirl near the bank, not sure what this one was, but then daughter says she saw a flash after hers. We are getting excited that we might actually land a fish when I look back at the wife and two lines we have trailing. The new rod has the big shad and all the sudden a hit that only the stripers can make comes. The swirl is big and creates a wake, I thought it is on like donkey kong now. The rod tip bounces and the balloon remains, one massive strike and the hook did not set, you could see the disappointment on the daughters face.
We continue trolling around and go back and daughter pitches a shad to the bank. Bam, she says I got one. This is my medium weight rod with 8 pound test that I probably should have replaced a couple years ago and the drag starts. I am guessing a big largemouth that tends to reside in that area, she says I'm gonna need some help here, and as I put my rod in a rod holder, the line snaps, I really should have replaced that line. Mercy the emotions go from thrill and excitement to heartbreak and disappointment.
We had a great day and I know where I am going to launch this weekend if I am able to get out. Good luck out there and I hope you rod stays bent all weekend. I'll get the butt cap on the rod and post a pic or two this week I hope, gotta get a couple tools for the dremel.
17 May 2014
A Day of Discoveries
Mercy what an interesting afternoon. Saturday is here, spring apparently sprung a leak and it's a bit nippy outside. I did not feel like getting the boat out and looking for shad for an hour and coming up empty like last weekend, but I wanted to get out. So I loaded up some gear and headed to Bluff City to try to striper fish from the bank.
I stop by the store and grab some chicken livers, I've heard that the stripers will eat'em up. I get to the spot and I'm glad I didn't get the boat out, the water was stained quite well, the wind was blowing, and I would have never found a shad. So I bait up one with the chicken livers and cast it out. I bait the other, cast it out and as soon as I set it down it takes off. I pull in the smaller brown trout above.
I was confused, I was very unaware that trout would hit this. I text the pic to my buddy and he said that trout should be ashamed of itself for hitting that. Well I fish a bit longer and low and behold another one that is a bit bigger, looked like it went 16″ pretty easy, but hey it's a biased guess.
I fish a bit longer with no more bites, but the wheels are a turning. I'm thinking that I may have to hit the river with some liver just to test this out. Not sure if this was a fluke, if this is a warm water thing or what is going on with these two trout. But I fished for just an hour or so and caught them on liver. So if you see someone at South Holston River with some chicken liver one day, it may be me just doing a little experimenting. Oh yeah, no stripers, but I didn't get skunked.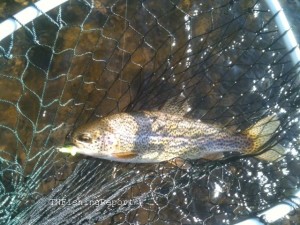 02 May 2014
South Holston River in the spring, not my typical fishing trip, so let's give a low down. This time of year I am most always on the lake fishing for bass and striper, mostly striper. I did get out last Friday when the storm was in town, interesting day. Couldn't find bait, high winds, and the trolling motor battery is now being laid to rest. Just a couple of bites that evening, but a refreshing rainful was great.
Through 2014 we have had some medical issues arise and this has impacted the getting out. Most of the issues have been related to myself and just not able to get out. So Friday, I just grabbed the waders and headed to the river. My fly box was about empty, but I did have a couple and just wanted to get out.
The lower part of the river was crowded and I finally got near the Wier Dam and it was wide open. I wasn't really expecting to do well, but just wanted to get out on the water. The one I caught was on a green weenie, yep, it's too early for that but hey it worked. I had a size 20 Griffith's Gnat and missed about 6, some may have been refusals, need to drop a size.
It was a good day out and I am hoping to get on the lake a bit more in the near future. However, I had an idea to run by the folks reading this. As you can tell I am no writer, but just like to put down the days events every once in a while. If anyone out there would like to participate by writing up a trip, email it to me. The only restriction is that it must be very kid friendly, foul language, or references that may not be appropriate for kids, leave that out. They have enough opportunity to hear and read that mess without having to hear it here.  Thanks and have a great day:  tfr@tnfishingreport.com