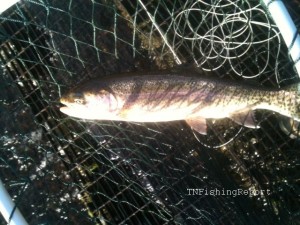 11 Jan 2014
The weather has been well beyond my fishing cold early in the week, but by the end it is starting to feel good. The rain arrived and I figured it would be dark water, but Saturday came and needed to get out. Watauga wasn't generating so this was my first choice. When I arrived the water was up a little and dark from the rain and I got somewhat nervous in the water. With the rain it was a little swift and I did not feel real knowledgeable about the area so after very little fishing, I headed to South Holston.
Knowing that the generators had been running which means a bit of a crowd, figured a spot could be found and a fish caught. By the end of the day I had landed one on a red egg, used some midges but did not get a thing. It appeared that the fishing was slow from most but the water was pretty dingy from the rain.
This was a good day on the river but may have been able to better spend the time working on the fishing rod blank at the house. Once I get rolling on the rods they will work out, but I get way too particular about everything while doing this. I will post some pics of the first rod complete and may skip a fishing trip or two to work on this. If you get any fishing info while you are out on the local waters, help your fellow anglers. Send us an email with a report and pic to tfr@tnfishingreport.com. Have a great week and God bless.
04 Jan 2014
Seclusion Beats Intrusion
Checking out the TVA app on Friday, I really need to pay better attention. South Holston will be shutting off generators at 1:00 and Watauga at 9:00. Realizing the crowd that will be gathered at the SOHO, figured it would be best to give Watauga another try. I am completely unfamiliar with this river and had no idea how long after generators were shut off that it would be before the water subsided and one could wade. Gearhead Perkins commented on the fb page and I figured let's give it a shot.
Heading to Watauga I check the app, of course I pulled off the road at the Bunker Hill turn so that I would be safe and not have to back track if there were a change. Checking the generating schedule prior to entry is not a bad idea, it is subject to change without notice. I realized I had read the schedule wrong the night before, they only generated from 8-9 that morning, could've been fishing already.
I pull into my secret honey hole, this is the only placed I have fished on the Watauga, and head out into the river. I did see an angler wading this time, he was way down the river, but other than that, total seclusion. I realize that whether I catch fish or not, this is the main reason to get out here. The water was flowing, the breeze was blowing, my excitement was growing, and hoping the rod would be bowing. Sorry for the Dr. Seuss moment.
Anyway, today I did not want to spend all my time in the same area, fishing both sides of this little island. Even if fish were being caught, I wanted to venture a little further up and back, just to get a layout of the area. Started off in the most productive waters from last trip and landed a few fish. Missed a few fish as well. I was able to catch a the bottom a couple of times which lent itself to a split second of excitement followed by moments of frustration. Trying to get close to the bank where I had just caught a couple, I was able to get the egg on a limb. This also provided frustration without the excitement.
I ventured all around the place and today noticed that closer to the bank in the deeper water were more hits than in the swifter current. I caught about 10 trout in total, missing quite a few (a bunch) but only a few hook ups then off in seconds. Not sure if that means anything, but I am going to say that it is because I am setting the hook much better and becoming a better angler. It probably doesn't mean that at all, but hey, it makes me feel better.
Today was a great day, continued using the peach colored egg, if it ain't broke, don't fix it. I am beginning to think this Watauga River may become my regular hang out. At least these two trips have yielded great fishing and not having to worry about disturbing someone else when walking around. Mercy, the seclusion on the river gives one time to see the creation of God and time to just enjoy His handy work.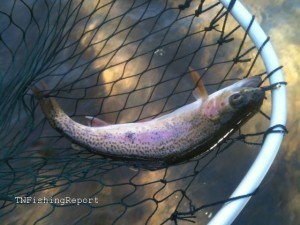 01 Jan 2014
Happy New Year
The new year has begun and I didn't get skunked. The generators were rolling at South Holston and Watauga, I had never been to Watauga while generating and thought I would give it a go. Headed to my one and only honey hole and the water was too much to risk wading, so I headed to Stoney Creek.
The creek was flowing really well, quite a bit of water compared to my last visit, but I tried a new spot. The truck got parked and I ventured off the hard top onto the the trail. I located quite a few briers while walking and realized that the toboggan I was wearing would not stop them from poking you in the noggin. Now to side track, a toboggan in my neck of the woods refers to what the Marine Corps calls a watch cap. I have discovered not everyone calls them a toboggan, they think that is a sled, who knew.
Anyway, I made it out to the creek and began fishing. I was using a bead head hares ear with an egg trailing, missed a couple then landed the beast above. This is my first fish of 2014 and my only fish of 2014. I fished here a while then went upstream. I never got a bite here so I went out driving around for other possibilities to fish. After driving around Elizabethton a while, I found a pull over but decided that I would head on back.
The way back I cut through Bunker Hill and headed to South Holston. They were generating but I was itching to try. On the road running by the river, I found an area I could cast and gave it a shot. One rainbow hit and I got him 5 feet from the bank and he released. No picture but it was a fun fight for 10 seconds. I continued fishing until my line found a tree. The tree apparently liked my flies and kept them. After breaking the line it was time to go to the house.
All and all it was a good day, many opportunities arose that allowed me to work on my knot untying skills and a fish was caught. It's just good to get out of the house and on the river. I hope the year keeps your rods bent, time to get some pizza and watch some football. Have a great year and God bless.