26 July 2013
I owe an apology to the 7 folks who read this journal, I have not made entries due to my "real job", having to change my work schedule. I do hope folks continue to check for new entries, remember if I am able to catch fish, then they must be biting pretty well. So a quick run down of my missed days, last week. Skunked night fishing. we were getting plenty of hits on a watermelon copper crawl tube, however, we just couldn't get a hook set. On another day we caught a catfish and smallmouth flipping shad toward the bank, we did this because it provided some shade and it was hot.
Fridays I get off early and they finally had the generators off, time to go to Bluff City. We launch and head to the cold line to find bait, however, a couple of boats and were in the area and I didn't want to disturb them so we headed to the swinging bridge. This took a little while to catch some bait, but mission accomplished and the one boat left the area we like to fish.
We go up to honey hole and make a few passes, we see one striper chasing our shad, but he did not make much of an effort. We are getting hot, daughter is getting bored and we decide to head up to the cold line. While trolling we begin to see so many shad that they had to be attending a 5A school at a minimum, they were everywhere.
We make our way to the cold line and the daughter gets one chasing her shad. It swirls at the shad about 5 times and daughter says stop playing with your food, it's chow time. We see a few schools scatter and toss toward the area. I begin to reel mine in for another cast and a striper follows the shad all the way to the boat, man they have no fear. I see them breaking up front and cast, within seconds, I get a run, set the hook ( I thought), go to hand rod to daughter, fish gone.
I throw back out and apparently he came back for more. The fight begins, daughter takes over the rod, I get the trolling motor. As we are chasing down the fish, the rod in back makes a racket, I turn to see it jump in the rod holder and line snapped. Don't know if it got hung or a fish was the cause, but I am going with fish. She lands the striper, it is the one above that shows no face.
We fish a bit longer and get another run or two, but they don't take it. Still hot, had a ball, troll down a little to leave. We get more runs and finally fish takes off and hook gets set. We chase this one down and the daughter allows me to fight this one out of the kindness of her heart. It was a nice one, my scales aren't working and I have to guess at the weight, but for us, these are nice stripers.
We head back to the ramp, all in all we had a bunch of stripers messing with us, probably 10 or so in total. This was happening in about a 1 hour time frame once we found them. Funny thing, they tend to move out when the shad moved out, light bulb moment. Now I have known this for many years, however, it was clearly evident this day. When we were around so many shad that we could just about net them like the lake was the bait tank, the fishing was great. As they moved out, so did the big ones following. My honey hole became a honey hole once the shad moved down, but prior to there movement nothing.
Today going to ball games, no fishing planned. Send us some fish pics and let us know how your fishing is going. Have a great day.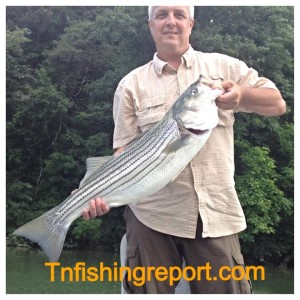 14 July 2013
The trolling motor was fixed shortly after the switch arrived and my buddy the boat mechanic sent me a text. Side note, if you live in the tri-cities and need a great marine mechanic, drop me an email. The next day I look through the online classifieds section I like and found a wireless Motor Guide used and at an affordable price. Drove out there that day, it worked and I got it. I get home and take off my buddies trolling motor for a return, figure out what I need to get this one ready and after a day out with wife and daughter, Saturday I began getting motor on the boat.
This task required more work than I had anticipated, but after 3 trips to town, multiple internet searches, and the lack of willingness to put more holes in the boat, I got a spot and the motor is ready. Sunday after church the daughter and I head to the lake. We begin looking for bait, getting six gizzards while daughter is controlling boat from the back, that was cool.
We put out a flat line, daughters and I cast around another. My shad found a log, my line was broke, then daughter got a swirl. After a few minutes of the chase, the daughter checked her line and she says "I got jacked". We bait up and are going through the bait quick. We troll a bit and bam, rod bends and daughter gets rod out after battling the rod holder. I grab the phone, hit video, and the chase begins. You can't hear the audio, but let me say, there is much humor coming from the daughter, she is excited. I am going to try to get more video in the future. She lands a nice one, but scales are again not working right, batteries I guess.
We fish a bit longer, getting another swirl and then it's time to catch more bait. The cold water is coming down which tends to increase my struggles, but we finally were able to find some. These were great size and we head into the cold water. First cast I get a run for about 2 seconds, daughter saw a bass right after that and all it did was kill the shad. We head to the warmer water after a while, just below the cold line. We are hot and decide its time to go. I place rod in rod holder and start getting things ready.
While getting rid of the remaining shad, I hear my drag and the pole is being pulled hard. I jump to the rod holder and it is a strong fish. Finally get rod out of the rod holder and hold rod. I get ready to give to daughter and the line snaps, this was a nice one. We shut down and head home, it was a good day on the water.
07 July 2013
This year the rain has been impressive, we are well above normal, but I do remember a drought a few years back, so I don't want to sound like I am complaining. The trolling motor is waiting on a switch to arrive, boat is in the shop, I finally broke down yesterday and did some yard work, long overdue. All area dams are generating and we do not have evening services at church tonight. Tomorrow is back to work after a nice week off and I don't want to lay around the house.
Realizing that we have had a large amount of rainfall, I decide that a trip to Beaverdam Creek is in order. With all the rain that has fallen the water levels should be somewhat high but manageable, unlike the tailwaters. Knowing that my son and I slayed them (we caught 4) just a week or so ago, my father in law and I head to the same spot.
Now that I am an expert angler of the Beaverdam Creek, I put on the might stone  fly. This pattern proved deadly producing two fish a week ago so I know I am on to something. After about 5 cast, a little wade into the water, I begin to put on another fly. With my expert angling I managed to find a tree that like the fly better than the trout. This broke at the knot of my newly tied tippet and gave me the opportunity to run my line through the guides again. Fortunately this was my only stone fly and had to go with a bead head something, don't remember the name. After a few cast I realized that I needed more practice with the line through the guides as I missed one.
I fish the area we had fished and did not get a bite, so we move upstream. I am getting wet from the rain and finally a bite, my reflexes were slow and I missed it, but right back at it. A few minutes later as I lift the rod to set the hook, the sucker up there almost made the tip of the rod bend. It was a battle for the ages but in the end I was able to land the beast. He was not a trout, was not big at all, but he was a fish and I got a pic.
I continue on fishing down the creek and get bit a few more times. On the last bite of the day, the brown above was the culprit. After getting the snapshot, I continued on for about another 20 minutes. It is so nice to get out even in the rain and it was just a little extra icing on the cake to catch a couple. For some reason I am really enjoying this creek at Backbone Rock. If you get a chance to head up there, it is really a nice area to just get out and look around. Hoping the rain will slow down and get on the lake soon. With generators going I don't catch too many stripers anyway, if this keeps up and I can't get to the water very often, my lawn may begin to look reasonable. Man I hope my wife don't read this.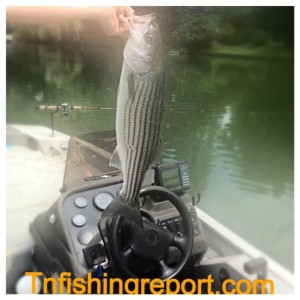 02 July 2013
I got my boat back and it was time to test the trolling motor. It is about noon and I load up the boat and head to Bluff City. Halfway there I turn around realizing that I had forgotten to put in the life jackets, excitement is a funny thing.
I finally get to the lake and begin heading past the swinging bridge for bait. I had seen a few flip at the ramp but I did not let that fool me, I have a hard time catching them there. I got some big gizzards and started fishing. A few passes and nothing was hitting at all. I talk to the family and the daughter is going to come in a little while. I figure I should just troll back to the ramp and try to find them.
I see another school, hoping they were smaller, I grab my cast net, quickly get it and throw. Getting in a rush once again proved to be the wrong move as the net did not open at all. I look up and see a big flash in the water. I begin to head that direction and toss in a shad, boom a striper begins chasing and hitting at the shad. He never took it but my pulse is racing and I am thinking it is time to wear them out. I fish here for thirty minutes and probably have 8 or so stripers chase, swirl, and scare my shad to death, but never did I get one on a hook. It was great to watch and some of them were very big, some small. I figure I will head back, look for smaller bait and discover something is wrong with the trolling motor. It lost every speed, acting as if it is getting no juice at all.
So I head back to pick up the girl, tell her that we are going to anchor down and let her drive the boat. This method is real good for re-stocking the shad. We get a few, some smaller and head up to below the cold line and drop anchor. For a while, nothing, then out of no where, daughters line takes off. I grab phone to video but the striper is so small the fish has to be netted before the camera is ready.
I notice the river is starting to come down and apparently this sparks the stripers, we stay on the cold water side and again have more than 5 boil ups, runs, & and shad that are cold and scared form the stripers chasing them, but they don't take the bait. Daughters shad has 3 different bite marks on it and still kicking well.
We leave beating the rain, take boat back to shop, by the way this is a totally different problem than the one he fixed. This is the best mechanic that I know of for marine equipment and he does not like for things to get returned, he likes to do it right the first time. I told him it was no big deal, rain for next two days anyhow.
We get somewhere around 15 stripers after our bait, but only one willing to take it. I have seen this before, but have no answer as to why, if anyone does, let me know. Anyway, have a great 4th of July weekend and hope your lines and tight and poles are bent.