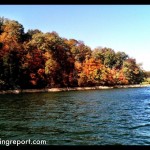 19 Oct 2012
I took Friday off and thought I would head to Boone Lake. Last week I got skunked and did not write it up, why you ask? Well there was nothing eventful at all that had happened. I didn't break anything, lose anything, or do anything embarrassing which is highly unusual. Today however I found out some information and thought I would share it.
I put in behind the airport at Misty Waters and saw some shad flipping. I tried a few cast but nothing so I headed straight to Candy Creek. When I arrived I was tickled at my decision, shad were flipping everywhere. I threw the cast net for an hour, I threw while over shad on the fish finder, I threw within seconds right on top of one flipping. After an hour I had caught 5 nice shad and about a dozen tiny ones. The wind had picked up well and it was time to head out.
There were two folks fishing at the mouth of Candy Creek, but I was going down the lake. I slowed at Muddy Creek, didn't see much in the fish finder. Headed to Long Hollow to see if any shad were around, too much wind to see flipping and not much in the fish finder.
After speaking with folks, Point 10 was the place to go for stripers. The info was probably correct cause there were 3 other boats around that area. The wind is howling and I begin to fish. There was one time that my down line, at 15′, rod tip went into the water, but did not take it. I continue fishing here and the fish finder showed a lot of big fish hanging around. In speaking with one of the other boats, they said that they had been told, the stripers are biting when it is cloudy. If you want shad, go to Beaver Creek. This means a person ought to launch the boat at Davis Marina.
Anyway, I did not catch a thing, but found out some info, hope the above helps someone catch something. Today is chores and I might sneak up to South Holston River, the Vols don't play until tonight. Good luck and help us out on Boone and South Holston, I can't find anyone to report for these lakes.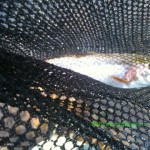 05 Oct 2012
Friday was here and I get off work early. I still have plenty to do around the house so I check the generating schedule on my TVA app and find out I have a few hours of fishing on the South Holston River. I had purchased a few fly tying items and was pretty excited. I head to the Dam and the crowd had the same idea as I had. I decided I would go downstream for a spell.
I fish an area I haven't fished before. I saw a few fish breaking but there was not a lot of activity on the water. A few bites come my way but things were going at the same level as my anticipation after tying my new flies. I have missed quite a few, but nothing to brag about and I continue with wading.
After a while I head back to the truck to work on my leader. I get things straightened out and go back out. It is time to go to the old faithful green weenie. I am using this for a while and considering heading home when I get a bite that just about takes the rod out of my hands. Of course the fish was not on there, so I make another cast, a few minutes later, right as my reflexes had decided to take a break, another big hit.
I decide at this point to pay a little more attention. On a cast I notice my line is moving a little but felt nothing. I set the hook and boom, one is on the line for a whopping 1.827 seconds. I get excited thinking the water will be here soon and I may have discovered something. A few cast later the line moves again, I set the hook and land what you see in the pic above. I am thrilled at this point and realize why it may be important to have a strike indicator.
A few cast while looking up stream and the green weenie finds some bottom. I tug a little too hard on the line and one of the knots from being up at the truck earlier comes loose and I lose my fly. I figure it is now a good time to leave, the water is on its way, I made a personal discovery, and I have a pic which is icing on the cake.
As I am learning a little each and every trip I am just thankful for the day on the river. Hope you get a chance to fish this week and if you do, send us a pic at: tfr@tnfishingreport.com. Have a great week and God bless.