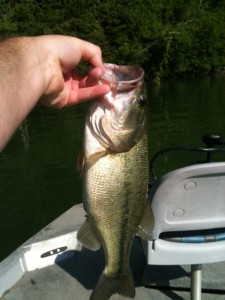 28 May 2012
It is Memorial Day and first thank you is not enough for those that have given all. I would like to thank all veterans for the sacrifices they have made and some have given all.
Got up this morning and tried to beat the boaters to Boone. I put in behind the airport and see the shad flipping. I start casting the net right around the launch spot, but they must be scattered, I don't catch any. After spending too long proving the definition of insanity correct (doing the same thing over and expecting different results) I head to Candy Creek.
End up having to go to the very back, but did well catching shad here. After catching around a dozen or more of a variety of sizes, I head to last years honey hole. When I arrive, no one is around so I start putting out bait. One down line at 15′, a balloon, and one for flipping.
I get up to my tree and boom, it isn't long that I land one. It is the 3.5 pound bucket mouth bass and I think honey hole year 2. I go on down the bank and get another bite. I give a little slack, but not enough, the rascal escapes. I head back to where I was and apparently did not learn my lesson, I miss one more. I am thinking, at this rate I will need many more shad.
I continue flipping and there it goes, I let it take it, then set the hook. This monster takes off, I set the hook and there is no slowing him down. As the line tightens it begins to stretch and snap, I must have had a kink. I am using 17 lbs test and thought the drag was set, but should have checked the line.
I then find a down tree with my down line and end up having to cut it. Fortunately my flipping line was left out and discovered that a sinker is not required to get tangled in this tree, good think pliers were close. As I am tying on a hook and getting bait back on, a striper nails my balloon line. I put rod in rod holder go to grab striper and he had already gotten off. I throw the other rod at the sight of the battle, reel in the balloon line and realize had I hooked it, it would have snapped it was in one great big knot.
I continue fishing a little more and got a small mouth the same height as the boat before it spit the hook. All and all I boated one, missed around 4-5 maybe more, and got real hot. So to let the skiers have their turn, I headed back to the ramp. All and all it was a fun little trip. Thinking the honey hole may still be pretty good for this year. Lot of debris on the water so if you head out, be careful. Hope the fishing is great for you and would love to see some pics, email them to us at: tfr@tnfishingreport.com. Have a great week and God bless.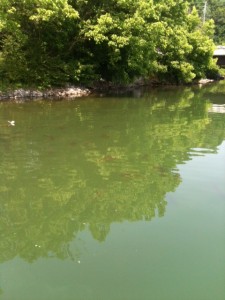 25 may 2012 
This month I would entitle as consistent. There have been a few trips I have gone on and I chosen not to write up. The reason has been not much has happened. I hadn't broke anything, had any bad happen, or caught fish. Figured it would be boring for you. So I chose consistent because yet again I went out fishing and caught nothing.
I thought I would try Bluff City again so I loaded up the boat, grabbed the schnauzer, and off I went. Launch the boat and begin trying to catch bait. This was not very easy, I ended up catching 4 and they were all big. Usually this is a good thing at Bluff City, but I was really wanting a few that were small enough to flip, but none. I head up to the mouth of the river. as I start to fish, using trolling motor and balloons at the train tracks.
As I begin slowly going toward the river mouth, which is my little honey hole, wish the fish were aware of it, I see the trash line coming down. As I get up there, water temperature falls to 55 degrees. I start thinking maybe I should head down ahead of the river water. As I begin to turn my boat around, one of the shad gets real active, I see the striper chasing it. he must have just been having fun cause it looked like about a 10 pounder and didn't take the shad. So I went ahead toward the honey hole.
When I get there I try to flip this monster shad to the spot. I get it there, let it swim around and boom, get a big hit. Well, in my excitement I set the hook forgetting I had a very large shad and need to let the striper take it, all I did was clear out the nasal passage of my shad. Bait is now toast, fish here a bit longer then head to the ramp, trolling the whole way.
Only fished a couple of hours, it was getting hot, bait getting low, ramp getting crowded. I put the boat on the trailer and head to the house. Not a very successful day fishing, but still it was a good time. To tell you about the pic above, that is a bunch of carp when I was trying to catch bait. I saw a couple of carp that appeared to belong in an aquarium like Ripley's, they were huge. I may try to get out again, but this is going to be a crowded weekend. Make sure if you head out this weekend to be careful, boaters will be everywhere. Anyway, hope for better entries soon, hope you have a great week of fishing.
15 May 2012
The other pics are in the photo gallery, some were blurry and I didn't use them.  School is about over, my brother came in from Missouri and we have been extremely busy. I neglected to write up last Friday's fishing adventure with wife, so I will make that brief. Shad were finally caught, but very difficult and one valuable lesson to learn. Make sure you have the bell closed on your flat line. We had been there for just a few minutes and bam, big hit, lot of line leaving. The bell finally gets flipped and the striper got off. Lesson of that trip, leave bell closed when setting the hook.
After work yesterday, my brother and a friend met me at the house and it was time to go fish. Our buddy brought his 8' casting net, so I figured I would not use mine. That didn't last too long we were both throwing at very scattered shad till we finally came upon a couple of schools. It took us a great deal of time, but we finally got some bait.
We head out of Candy Creek and pull to the spot, more of a spot but as of late I am referring to it as the spot. We put one out on balloon, one flat line, then we all start flipping the bank with live bait. It wasn't long till I got bit, set the circle hook, fought for about 3.8392 seconds and it got off. By the end of the day I was wondering why I was using one of those hooks.
We are out having a ball and my brother catches him a small mouth. Now to be honest I can't remember how many or the order of what we caught. I have evidence of around 10, if my counting was correct, however, first smallmouth I forgot to take picture. Did I ever tell you that I tend to get excited? Second fish was our buddies (not using names to protect their identity) catfish. He conveniently got it off his line, with much grumbling, saying you ain't taken no picture of no catfish. I snickered as he wiped the slime from his line.
Typically after I put on a shad, I flip shad in water, put one hand on pole, lean over and try to get slime off of my hand. As I was getting up, a hybrid nailed my shad about 2' from the boat, nice little hybrid, they fight great.
Well my brother had gotten a new rod and reel from when he retired from the Marine Corps (USMC) Semper Fi, and our buddy wanted to try it. The carp were up and he put on a tiny torpedo, if you haven't heard, the cicadas are out. He gets quite a few hits, then one takes it. I put this on video, but it will be a day or so before I get this up. While he was wrestling the carp, brother caught a smalljaw. I haven't watched the video yet, not sure how good the footage is, however, all the laughter went to silence, some folks are camera shy.
Anyhow, when I get the video up you can check it out, you may be able to determine where we were fishing. We boated at least 10-11, hooked and released at least 5 more. We had a pretty good day on Boone Lake. It wasn't the fishing that was fun, hanging out with my brother and our buddy was the good part, the fish were just icing on the cake. Be safe out there and go catch them fish.
It is late, I am tired, and I have to get up at 4:45 am, so this may be a little short. However, I just could not wait to get a picture of a fish on the May Journal. I believe we are up to 5 readers chomping at the bit for a new entry, or maybe I just read it 5 times, nonetheless, today's thought, Fish On.
Normally we do not get a Monday evening, however, a door opened so we ran through it. Told wife that the boat was charged and she said lets go. After she released my arm from twisting it, I hooked up the boat and off we go. We put in behind the airport (on Boone Lake) and head to Candy Creek. Catching bait is tough right now, or maybe it is me, but it took a while. The wind was blowing pretty good, the net is still torn pretty well, but we did catch about 10-15 shad.
I knew that I would be able to write something because with the cast net, I landed two carp, two bluegill, and a white bass. I didn't take a pic due to wanting to hurry, but I knew the skunk was not around. We headed out of Candy Creek and decided to stop where we saw some stripers attacking shad on our way in to catch bait. We saw the attacks take place at the mouth of Candy Creek and right outside the area where the boat ramp is, so we decided to face the wind there.
We stopped and the wind is blowing everywhere, I was fully expecting to catch some walleye. I know there are aren't walleye there, or at least I have never heard of any, but every time I see walleye fishing on tv, it is rough water. I got wife to hand me the pole so that we wouldn't blow into the middle of the lake and I baited her up. She left a shad in the net in the livewell for me and tossed hers in with a balloon. Before I could get another pole up and in my hand, she has got one on the line. She fights and battles, gets it to the boat, I reach out with the net and it gets off. Catch and Release is just how we roll.
I bait her up again and within just a few minutes she get another, that is the striper pic above. Her shad gets hit another couple three times but no more fish are hooked. She says I would like for you to catch one, so I put one on, get close to the bank, I pitch one at a wall. I see the stalking of the smallmouth and boom, it hits. The battle was not that long, but it sure was fun. I would like to tell you that the dog is huge, which might let you think the fish is as well, but you have seen the schnauzer before.
We didn't have a lot of time, still gotta work a real job, I thought it was a great day. The fish were biting, the hands are smelling like the dogs breath after the licking the smallmouth took. We had a good day and if you get a chance to wet a line, send us a pic and tell us where you caught it: tfr@tnfishingreport.com
04 May 2012
I am certain the first thing that you noticed was there is no picture at the beginning, well it appears that May is starting off a little slow for me. I had put in 40 hours so Friday I was off work. I considered going to the lake, however, I did not want to feel obligated to stay all day. Seems like when I go out in the boat I think I have to stay a long time. So I had tied up a few flies, some new ones, and headed to the South Holston River.
I start off down stream and I throw everything in my arsenal. My new fly was my version of a split case nymph, I did get a couple of hits on it. I would put a pic up of it, but it is not real good and I am waiting to see if I can land one first.
After a while I head toward the dam and begin to fish. I miss a few then head to a little spot and one of the first few cast I get one. I set the hook, he comes out of the water, yep, another small one. I got him over halfway in and slack entered the line and the trout decided to stop the fun. I am not sure if you count those you get like that, but I consider it a success if it makes it halfway there.
I get a few hits on a pheasant tail, but I could land anything. I finally out of desperation go with the green weenie. You are probably asking why, well desperation plus I saw an inch worm earlier and the color is similar, I chucked it out there. I did get two pretty good hits, but they must have been hitting the tail because nothing was felt when I lifted the rod tip.
I was getting hungry so I headed out. Got a few bites and got to spend some great time on the river. I do prefer the afternoon fishing on the river, however, it was still a great time. I did get even more efficient at knot removal due to the practice I was able to receive, and when you get better at something that is a plus. Hope the next time your out, you have a great trip, I hope May will offer a few more pics. Send us in your fish pics for Tennessee and tell us what body of water you caught the fish, we'll post it. tfr@tnfishingreport.com