Friday and the my final hours of vacation before losing them are on the books. I have a day of vacation with the batteries charged and it is time to go fishing. I have a partner this time, pappy-in-law, so we go after some stripers. We launch at the Dam, boat starts, and we try to catch some shad. I throw the net for about 15-20 minutes right where I see them flipping. As we are coming out and I am thinking it will be a day of bass fishing, I see one more flip and begin saying I am throwing right on top of the flip and catching nothing, just like this, as I throw. Before I can say look nothing, it is a net full of nice looking threadfins.
Pull up trolling motor, start big motor and go slow, till we get out of the cove, then it is off to the wall of the Dam. We throw out a balloon, down line about 16′, and going to flip. We fish for a bit and the balloon gets some action. It is hit about 3-4 times, but not taken. Shad still alive so we continueook to be set, but missed. Hoping it won't be one of those days. We continue and boom the balloon goes down and p on down the way. Shortly after, balloon gets bit again it goes under this time, partner sets hook and fight is on, as I have my flipping rod reeling in, I see the down line take off. We are on a double and it gets chaotic. Both fish in the boat, grab scales and the batteries are dead. Partner had caught about a 5 pound largemouth and I had caught a hybrid, guessing 8-10 lbs.
We end up missing about 2 more on the balloon but caught around 5 total flipping. The largest bass is in the photo above, I think it goes over 5 lbs, but no scales it is all pure guessing. I thought the lake dropped a foot when I pulled it out, but I could be mistaken. We pitched a live shad near a fallen tree and caught a couple off of it. One other broke our my line, partner had another one hooked, it was real nice, but it got loose.
All in all it was a great day fishing on the lake. The only problem was the batteries. If you get a chance to flip some shad toward the bank, it is awful fun. We have more pics of the day in the Boone Lake 2012 Photo Gallery, hopefully it will grow and grow this year. Hope you have some good fishing and God bless.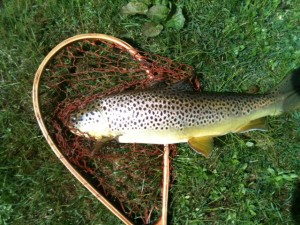 29 March 2012
What a nice day it was today. I am about to lose vacation at work if I do not take it by the end of March, so half a day and tomorrow, I am off. The sun was shining and it was time for some fishing. Considered the lake, however, I have begun working out a couple days a week. Well I have done it once and I was suppose to again this evening, maybe this will get rid of the gut along with the high cholesterol.
Came home, whipped out a little gnat and headed to the river. The little gnat that I used, gray body, hooked a nice brown, it jumped and threw back the fly to me, no fish. The gnat did not last long till it broke off. I can't seem to remember clearly as to whether it was hung up or a fish, so I will go with the second one, but most likely the first. From there went to a gnat with a #22 black fly. I missed another 5 fish with a couple of them being pretty good.
I switched baits just cause I like to play around a bit and after a while, a few bait swaps, I went back to the gnat with dropper. After a few more misses I was ready to head home, however, I was going to have to go by way of the water cause some fellers moved in beside of me. I fish my way up stream, hooking a couple and missing completely a couple more. I am real close to the small fish honey hole, so I might as well make a stop.
While I am fishing there and catch about 4, I notice a significantly larger trout swimming around. Well it's getting time to go home and I hook another small one, when I begin to pull it in, the big one comes from no where (somewhere but I didn't know where) after the smaller one. I wasn't sure if it was cannibalism or what, so I did what any good striper fisherman would do and I gave it slack. When the line took off, I set the hook and it was time to battle. The brown jumped and I think it released the hook. Because after it jumped the tension changed. The dropper had settled into the belly and it was foul hooked.
This made the fight go about 5 minutes, did not want to hurt the fish. Did not want to break the line, but battled and battled. Laid the fish on the grass, got phone ready, then boom, it went back in, another 30 second fight, then photo. It was a great time and a great fish. The picture does not show how big it really was, but it was one of my nicer ones.
Lord willing I may head to Boone Lake tomorrow, but not sure yet. Hope you have a great weekend of fishing coming up, and God bless.
  22 March 2012
Yesterday I missed a lot of fish, they just wouldn't take it, so off to the South Holston River I go. I had tied up a few midges and a Griffith's Gnat, hope that is the correct name, and I was ready to roll. The first place I head is to the little fish honey hole. My plan, get a photo, then go after the larger ones. The time to get a bite was not long, my little gnat and midge are on the line. I end up missing quite a few, but got in three. You may not believe it, but they all got off while I was going for the camera. I would have netted them, however, they would have fallen through the net they were so small.
I was missing them at first, so I got quicker with my hook set. I didn't quite go into bass mode, but it wasn't my typical trout hook set either. One of the little rascals, about 10 yards away, bit the gnat, I set the hook, stepped to the left with a slight body turn. This prevented the trout from hitting me when it came flying through the air. Reminded me of the shoe dodge by former President Bush.
I didn't get a pic, but hey no big deal, I should catch plenty. I head up to the metal grates, saw some nice ones there the other day, by the way, they haven't left. I switch baits when this one is showing to be ineffective, but the same results. I go back to the Griffith Gnat, boom first cast big hit by nice trout. Set hook, feel the pull then see him swim away in haste. I get many refusals, some hits.
I end up going through most of my flies, getting a few bites, but not landing a thing, my skills are not that good apparently. I head down stream for a bit. Talked to a gentlemen using salmon eggs, he said he is getting some bites. So I put on an egg pattern, yellow and a pheasant tail. I hook 2 trout, unable to land them and miss a couple more completely.
Decided I would head to the house and see what I can get into before picking up the kids. And all I have accomplished is writing this out. Hope you do better when you go than I did. If you find out what the fish are biting, email us a fishing report, we like pics also. Good fishing and God bless.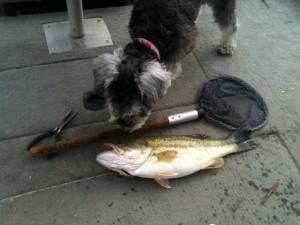 21 March 2012
I have some vacation I must take or lose it. The temperature was to break records today, so it was time to hit the lake. Headed to Boone Lake to try to get into some stripers. Before I get into the days events, let me inform you of something. I figured this would be obvious, however, you may not want to take my adventures as fishing reports. If I catch fish, then most likely anyone can. If I catch nothing, well, that does not mean they are not biting. I have good days and bad, but not gotten good enough to give advice. That being said, let's talk fishing.
I put in at Davis Marina and the lake was bare, hardly a boat came by all day long, love fishing weekdays. I put in and see a shad flip, so when I get back to the boat, get trolling motor ready and throw cast net. First one did not open well, typical. Throw again and must have found the other side of the boat, the net was filled, with what I thought was great size.
I see activity all around so I just start trolling. As I am going down the lake, I get a few swirls around my flat line, but he never takes it. I head over to where my wife had landed a 22 pounder a few years ago. I have out two balloons, a down line about 12′ and I am flipping. As I go across this flat, I go to reel in my flip line and there is one chasing it. He never bites, a few swirls around another balloon, no taker.
I go to make another pass, check the balloons and find that one of the shad conveniently swam around the others line, spent 10 minutes removing knot. I trace back around a few times, and each time I get hits. A few of them are chasing the shad hard, but not taking them. If I were fly fishing, would just assume they recognize that I did a bad job tying, but I was using live bait, not sure what's going on here.
I cast one toward the bank, and finally the above photo. This large mouth was 3.5 lbs, not sure of the weight of the dog. My fishing buddy loves to go, the smell and apparently flavor of slime seems to be appealing to her. She may however get fed up with only one fish a trip.
The stripers were within visual of Davis, they were biting, but I wasn't catching. Tomorrow, Lord willing, I am going after some trout. Tied a few more flies the other night, try to go find some vision impaired fish tomorrow. Good fishing and God bless you.
18 March 2012 
Had the opportunity to go fishing today, decided it was time to head to the South Holston River to try and catch a few trout. Waited for the race to start, to avoid traffic, then head on up. Rolled in about 1:45 pm and the parking lot was not even half full. This is a shocker for the dam area on a Sunday afternoon, happy for the race weekend.
I started off with the zebra midge and go back to the spot with a bunch of little ones. I catch one, the first pic, and get a whole lot of additional hits, but don't stay long, I want to catch one with some size.
I head down a little past the power lines, wade across and start. I switch to a blue wing and get quite a few hit it, hook one for about 0.28 seconds, but nothing. I switch to a Griffith's Gnat and again, quite a few hits, but can't seem to get any. I think some folks call these refusals, but if you saw how wonderful I tie flies, you would know that nothing could refuse these things.
I go back up to what I call my green weenie honey hole and on first catch I catch one. Fish a little while longer then realize I am going to run into race traffic, I head up to the metal grates to attempt my zebra again and only a couple of folks were there and some nice trout were rising. So I venture out and find some of them. The zebra wasn't working too well, switched to a #22 black midge, trailing a pheasant tail. This one got one quickly, you can't tell the size, but it was pretty nice, click the pic to enlarge.
I release the trout, apparently I took a picture of the inside of my pocket after placing back and cast some more. I made a cast and got hit as hard as a trout has hit my line and felt the hook set and lost it. I throw a few more, then gotta go. I pull in the fly and the hook of the midge is broke. Somewhere in the bend there must have been a week spot and when the trout hit it, the hook broke. If you catch a very nice trout that has a small bit of a hook in it, let me know how big it was. Now time to get ready for the work week, but gotta burn 16 hours of vacation by the end of March. So hopefully a few more entries will appear soon. Good fishing and God bless.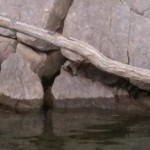 17 March 2012
This weekend has started off great, yesterday was a great day, wife and I went out to eat, watched a movie and I had the best nights sleep I have had in a while. I head downstairs to pull out the boat, it goes smooth, get it set up, and prepare to head to Boone Lake for my first lake fishing trip of 2012. Go into the house to tell wife bye and the schnauzer is having a fit. Open the door and she bolts for the truck, fishing buddy is ready.
I head to the Dam to launch the Sea Ark, expecting something to not work, things have gone so well. Launch boat, engine starts, batteries charged and shad are flipping. Throw the cast net and catch a bunch of shad, most of them small, but one big one, off to the dam. Now here let me explain something I learned last year. If you are going to fish near the dam, when explaining this watch how you say it. When the family was heading there last year and daughter asked where we were going, as we are driving down the lake, I tell her at the Dam Wall. When you are speaking you are not spelling, unless you are talking around smaller children. So I have learned that I now fish at the wall of the Dam.
Anyway, I start out with one flat line, the big one at 15′ and flipping one to the bank. The flat line had the most success, boating 2 largemouth, however, flipping boated one and got one to the boat. Pretty good day for just a couple of hours, except I was striper fishing. There was one that came after the flat line, but never took it.
The racoon that you see above must have been wore out, he just crawled right up to the spot and plopped, we weren't 10 yards away from her. Normally I will have a few humorous things to share, but it was just a real good day. This final photo below will confirm what I have tried to convince other people to believe. They think fishing is just fun, but I have tried to tell them that it will wear you out. They don't understand the work it is, so I thought the Schnauzer showed it well on the way home. First time I have seen her do this in the truck: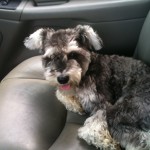 11 March 2012
First I hope you like the new website design, this change over along with other things has limited my journal entries. To the three folks that read this, sorry about that but the anticipation is now over and here is my second entry for the month of March.
Last night was the night we spring forward, I decided not to set the alarm to get up at 2:00 am to move the clock forward, I decided to take care of this the night before. This didn't help, still late for church. Church was out I came home and tied about three flies and headed to the South Holston River. The flies I tied were probably unknown not only to fly fishermen, but also to the trout. I went with a zebra #16 based on the materials I had at hand. The one I used, you should be able to see it if you click the photo above, was with black thread, and a white thread wrap. This one may be typical, but I had used gold wire recently and have had it broken off, about three of them.
So I choose the one above, thinking I have actually seen this one in a fly shop, and began my fishing near the Dam. First real cast, a hit and this pattern continued. I finally am able to set the hook into one of these beast and I have to wonder why I did not break my line on the Sardine can. You can understand this when you see the pic.
I catch about 6 of these in about 20 minutes and decide to after some others. I head downstream and when I reach where I can see a good piece down the way, I notice that it appeared to be opening day trout fishing and thought I would have to walk 2 miles to fish. Well, I am in no physical condition to walk 2 miles without oxygen, so I go back, thinking perhaps there is a nice one in there somewhere.
I get back, catch another small one, then get bit, set hook and it was fairly nice, but the feeling of a nice trout lasted almost an entire second before it was off. I continue my little adventure landing a total of 16 and missing more than I can count. There was one gentlemen that landed a nice, real nice trout. I know this because I hear a kid holler wow, that a big one and the young one was right.
I did have a great day, the weather was amazing, caught a lot of fish, small or not they still were fun. I didn't even lose a fly today. All in all, I would give this  a thumbs up, good fishing to you folks and God bless.
03 march 2012
Yesterday and last night was a doozy. The storms were rolling into the area and other areas got it much worse. Our prayers go out for those that were impacted by the storms.
Today I looked at my TVA app and saw that the generating schedule for South Holston was all day, checked Watauga River and they were not generating. When I was at Davis Marina a striper was swimming around the bank. The boat batteries were charged, but since it had been stored for 2-4 months, I figured it would take me too long to get it ready, so off to Watauga I go.
I have never fished the Watauga, I guess I should have used past tense due to having been there today, but anyway, today was my first trip. So I have no clue where I need to go, but hey, its nice out. I find a place to pull over and notice the murkiness of the river. I didn't even consider this, my mistake, probably would have got the boat ready. Oh well, found a place to park and went to wet a line.
I was having a little difficulty walking, unfamiliar with the water, can't see the bottom of the river, just hoping that I did not fall. I fished a while, got nervous to step further when I kept getting deeper, so I turned the day into an exploration. Ventured downstream seeking a spot to slay the monster trout, but I had some things to do.
I didn't get a bite, but I did take a couple of decent pics of my final fishing spot. The wind was blowing, water murky, sun shining and all and all, a beautiful day. Sorry there are not fish pics, but I tend to go through dry spells, that is another reason I could not be a fishing guide.
There was some positive things that came out of this day besides the obvious of being able to fish. I did some walking and hopefully put the whoop on the 'ol LDL, if you are of age over 40, you know that is dealing with cholesterol. So take that doc, that means I can make another trip to Ridgewood. Hopefully I will be able to spend a little more time fishing next time and provide you with more antics and information. Until then, have a great time fishing and God bless.