We have had a little sickness in the house and it has been blazing hot in East Tennessee, however, I needed to get out of the house this evening and I had tied a few flies earlier and they needed to be tested. So we face the 100+ temperatures and head out to the South Holston River.
I wanted to hang around the bridge so I head on out below the bridge. I try a few with a small sulfur hatch coming off, but the fish don't appear to be cooperating. I go ahead and put on a sulfur and quickly I get bit. I set the hook by lifting the rod and soon realize I may have gotten bit by the rare flying fish of the South Holston River. When the hook was set, the fish flew by me through the air. As I try to bring it back, it flies yet again to my front. I pull it to me and realize this fish weighs slightly more than my fly, but barely. That is the first photo, better than a skunk and the rascal was pretty cute.
I eventually move on to another spot and have tried everything in my box and on my vest. I eventually get to a worm, San Juan but a little darker. I throw it out and finally one bites, that is the second pic above. If I were smart I would have stayed much longer. the rate of size increase is pretty significant and at this rate I would expect a 16″ trout next. However, it was time to start shutting things down.
It was starting to get a little late and I had been out fished by this fine young fisherman about the age of 5. I had missed about 4 fish, but was able to land two. The river is just awesome, the water is cool, the surroundings are just peaceful. There is something about going that has nothing to do with catching fish, just enjoying God's wonderful creation. Lord willing, I will get to fish real early in July, but vacation is coming soon, so look for vacation pics and some saltwater fishing photos. Have a great fourth of July and be careful.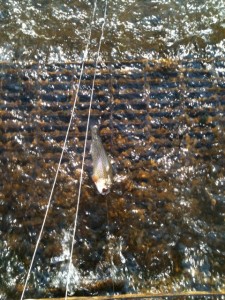 25 June 2012

The son got his learner's permit today and wanted to go for a ride. I told him I would let him drive me to the river, so all the sudden he is excited about fishing. We head up, blood pressure fine, he is doing pretty good.
We get to the Dam and begin to fish. I see a sulfur so I put one on, but not too many were around. I throw it out and get a strike, but did not catch. I put on a midge and first cast, I get the above pic. I had forgotten my net so I handled as best I could, sorry if pic is not too good. I fish this for a while longer, but not even a strike.
I switch to a smaller midge with a gnat and I get a strike that was as big as any trout hit I had ever had. I did not get it in, but mercy that rascal hit pretty hard. We fished just a bit longer and then buckled up and headed home. I got in some bonding time, caught a fish, and did not get a scratch on the truck. My what a great evening.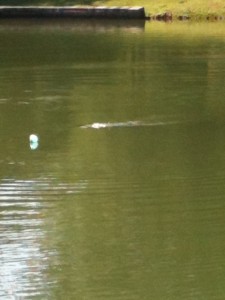 23 June 2012
Saturday morning wife and I get up and head to Bluff City. Since we haven't done too well in the evening, obviously the morning is the time to go. We catch a little bait at the ramp and head up. We get a couple of boils but nothing serious. I see some shad and cast the net. I catch 4 big gizzard shad. We put one on and this thing is huge. As we go up a little further, more shad, I throw and we catch a weeks worth of threadfin shad.
We use the threadfin to flip, I get nailed, let it run a bit and it gets off. I am thinking trout. A little bit later wife gets one, she is pulling it in and I tell her to give it slack. She was using some spider wire on this particular rod and I had put on a leader. When I saw the trout coming in I thought that it was just following the bait. Well it gets away and she said it was on there, I made a mistake and it cost us a nice brown for the photo op.
We are getting hot and it is getting into the morning pretty good and all the sudden the big shad on the back gets very active. This is where I explain the above photo. We have a striper going after it for about 30 seconds, but he never took it. I thought the pic might make some of my story believable. We head on back ending up with a couple of good hits, and about 5 or so boils, but ending up with nothing. May not get up at 5:00 next Saturday. Hope you did better this weekend, God bless  and have a good one.
21 June 2012
Last night shortly before bed, the new forum was up and I wanted to change something. Googled it, found answer, copy and past change, create a syntax error that shut down my site. Hostgator helped me big and within an hour. I took off early today to go watch a ballgame and when I got home, didn't mess with the forum or the site, went to the lake to fish. My thinking, this website was started because I love to fish, if it keeps me from it, well, the purpose would not be served.
Dad, mom, and daughter head to the lake, Bluff City. We catch 9 shad, daughter says that's enough, my thinking, we could get on them and need about 20, but it was hot and I was ready to go. We head up and did I tell you it was hot, anyway, we put out the lines and let me say, we saw a ton of fish.
We put out two balloons trailing and I begin flipping. Each balloon line is getting from a couple of stripers. They swirl around the shad, but that is it. I flip one toward the bank and for 5 minutes it is followed by a large mouth. I get impatient and pitch it in front of the boat. I see a big gray shadow swim under the shad. I tell the ladies to look and this enormous flash from the striper rolling over appears. It is big, like you see in pics, not mine, but others. Anyway, the striper messes with it a while, I think just trying to scare the poor shad. He may have had a heart attack cause next cast he is dead.
We begin trolling and finally I get nailed. I have mine in a rod holder at front of the boat and the fish nailed it. It becomes a battle to get it out of the rod holder, this fish is a beast, I finally get it out and it gets off. Man that was one nice fish! We get more swirls with no takers and we hear some thunder. When it comes to being on the lake during storms, I get out. So we loaded up the boat and left.
Really wanting to get daughter on a nice one real soon, but today wasn't the day. Still had a ball, saw the fish, hooked one, and spent time with most of the family, still miss the son on a mission trip. Keep at it and maybe next time I will have pics. Have a great weekend and God bless.
I think we have created a monster. Today is Father's Day so I asked the daughter what she wanted to do, she said fishing. Just a few days ago she did not want to go any, this is our third day in a row. I was thrilled, so off we go. You may be wondering where the son is during this weekend, he is on a mission trip, if I have mentioned that too bad, I am proud of him, well, both of them.
Anyway we go out and possible storms so I figure we better hurry. We had morning church, but night church is cancelled so that families could spend time together. We catch three gizzard shad and take off. We troll around and finally after a very long time, we get hit pretty hard. It was just a hit, did not take the bait just teasing us a little bit. We head on down and one of the shad is struggling on top of the water, I am hoping this will attract some fish.
Well about that time, daughter says dad look, and it was a blue earring. Now the story behind this, a few years ago when I my daughter asked what is that. I said it is a blue herring, she then began to call it blue earring. I explained to her the name, however, we have decided that blue earring is better.
Back to the story, she says dad look, and I see that the blue earring is gliding toward our balloon. He descends down and grabs our shad with his feet. We give it the proper yell and he releases, heads over to the rock and begins to lurk. We go ahead and put on the good shad and my daughter has enjoyed tossing the would shad into the water. So she launches the shad, and shortly thereafter we see the earring flying. He comes dives down between our balloons, grabs wounded shad in his mouth and perches on a rock for supper.
We then are heading to the buoy and here he comes again. I get the feeling we are being stalked and the thing lands on the buoy and remains there for quite some time. We try to convince him that the school of shad down the lake would be more tasty, but he would have nothing to do with it.
We finally decide to head to the house. We didn't catch any fish, but the memory of the earring and the time on the water with my daughter really made Father's Day a great day. I think the time with the family is what really makes all this special, what a great weekend. I can't wait for the son to come back, that will be icing on the cake. Have a great week and God bless.
Perhaps my fishing buddy has come back, still in transition mode. The yard is mowed and daughter tells mom, we can go fishing, but don't tell dad that I had a pretty good time yesterday. I contain my excitement and off we go. I offer to go out and catch bait alone, but she wants to help. We launch at Bluff City and begin trying to catch bait. I snag three and just a minute or two later, she gets two. Wow I hope she catches a bunch. Then we see the "Sea Chaser" getting closer and he ask, I have some shad (alewives) you want some. We gladly accepted and want to send out a great big thanks.
We head up to the mouth of the river, it is hot and we are getting nothing. We make a few passes by the honey hole and decide to head down toward the bridge. As we go by a boat, they are pulling in two stripers and catch another before we get out of sign. Mentally I mark the spot hoping it will produce for us at another date.
We get down in front of the ramp and talk to a couple of fishermen, about that time we get a big boil on the flat line, but nothing produced. We are getting close to leaving then wife hooks a small jaw. Hand pole to daughter and she battles. This smallmouth was nice, over three pounds and she held it without much fussing.
She gets a little excited but says that wasn't all that big. We make another pass and her balloon goes under. She goes to set the hook but there was way too much slack. The rod goes behind her head, makes a circle, about whacks mom, I laugh with much enthusiasm and she reels in slack, sets hook and the fight begins. She makes a few straining faces and brings the striper to the net.
We try to weigh it, almost 10 lbs, and she says it has teeth and I am not going to hold it. That is why the pic is slightly blurry, I have fish, phone, and try to take pic. We toss it in and end up staying till about 9:30. I think my fishing buddy may have gotten hooked on fishing, we will see today.
In honor of the "Sea Chaser" we holler at some fishermen and give them our remaining shad, load up and launch. Let me say that her catching that striper was the best Father's Day present I could have had. She was so excited and I thank the Lord that He allowed her to pull catch a nice one. Hope all have a great Father's Day.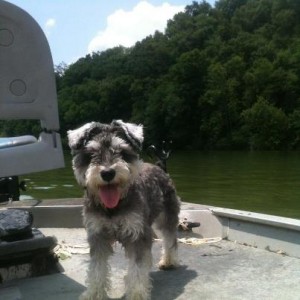 15 June 2012
It's Friday and I get some time to fish. Last week I had quite a day, today, well, read on if you like. Talked the wife and daughter into going, thinking I was going to guide them to success, so we head out a little after 1:00. I spend two hours trying to catch bait, I had caught three. Ended up heading to Beaver Creek quickly caught a enough and we go back to Bluff City.
We get there and the water is coming down, so we are venturing into uncharted waters, at least for us. We just simply start trolling. We leave the 55 degree water to about 61 degrees, we turn to make a pass. At the time, the daughter was letting the pooch above get its feet wet, she puts the schnauzer down, grabs the pole, and sets the hook, doing a great job. She is very excited then says, it got off. Her line had broke. This is the fault of the guide for not checking for weak spots in the line.
We end up fishing till about 6:00 and the hit she got was the only one of the day. We did not catch a fish, however, we had a real good time. There was a lot of laughing, a lot of joking, splashing, and an all around blast. This was probably one of my better outings and we didn't catch a fish. Time with the family, minus the one on a mission trip, is great, fish would have just been icing on the cake.
May try to make another trip, hope to get a pic or two. Anyway, send us in some pics to tfr@tnfishingreport.com, let's build some galleries. Have a great week and God bless you.
Friday comes and reports are needing to be on the site. After work I get the reports on as quick as I can and head to Bluff City around 2:00 pm or so. When I get there I begin the journey of shad finding. This takes me a while, I find three big and one was especially large. Then I head to deeper water where I see one flip. Now deeper at Bluff City is not deep, but nonetheless, I throw and there they are, I get 15 or so of the size I really like.
I head up toward the river, past the swinging bridge and let the fishing begin. I put out a couple of balloons, one big one and one that was the good size. I get one for flipping and off I go. I head to the honey hole and flip on around it, I see this real nice brown trout after it. The trout was every bit of 18″ but he was having trouble. I broke out my camera, they went under, put up camera, they come up, get out camera, they go under, you get the idea. Then there was a pull, I set hook, but trout only removed the skin from back half of my shad. I let it sit, feel it run, set hook again and I ended up just feeding the trout.
I go up a piece turn around and hear a big hit on the water, but nothing resulted from it except I found out I was once again feeding fish. I flip a shad at honey hole and it runs, I set hook, fish gets off. This happens one more time and I am beginning to think I am here to feed the fish, missed 4 at this point. So I flip in another and this one takes off, I wait just about 3 seconds feeding line and then it is on. I catch the first one in the pic above. Scales say it is 9 lbs, felt a little bigger, but fun. I flip in another and there it goes, I catch this one and it went about 15 lbs. Getting nice and I am having a ball.
I am out of bait saver and notice that there has been a shad kill in my livewell. Now my plan is to get some bait saver, but we are in money saver mode right now. Also, in the future there may be a bait tank with my name on it. But I use what I got right now. I miss a couple more, seemed like they were just interested in killing my shad but not eating and I am down to two big ones.
I grab the smallest big one for flipping thinking this will be interesting, it is bigger than some of the smallmouth I catch. I flip it and sure enough it gets nailed, kills the shad, but no catch. So we are in final shad mode and it is the biggest. So I put it on thinking I am not using my time wisely and it begins to run. I give some slack, then set the hook, and the fight is on. This one begins to run and I hit 5 on the trolling motor, here is where two ran all my line off last year. As I get him to the boat I notice that I am going to have a good time netting this one. The pic don't do it justice and the scales said 21 lbs. This was one of the bigger ones I have gotten in the boat.
I was out of bait and the day had been a blast. Decided to head home and call it a day, it was only 4:30 or so. Great day on Boone in June. Can't wait to get back out there. And my shameless plug, if you need any bait saver, Cabela's sales it and you can find it through our links, have a good week and God bless.
02 June 2012
In all honesty I considered not even writing this trip up. For the one person who looks for the new journal entry (happens to be myself), I thought it only fair to include this trip as well. We had a pretty busy day planned, and after piddling around the house in the morning I thought, a couple of hours on the river would be good. I would simply catch a few trout, take a few pics, tweet a little, facebook a little, and add so much more in depth analysis on the feeding habits of the South Holston River Browns and Bows, that I could not deprive everyone in Tennessee the vast knowledge that I would gain on the river today.
I am now putting down my dictionary and will just let you know how the trip went. I headed up to what I have considered a possible honey hole. I arrived and kept going noticing a couple of seasoned anglers had discovered my secret place, probably recognized from my photos. I thought to myself, had I not put on my waders at the house to save time, I probably would have beaten them to the spot, however, I shall venture to a new honey hole.
I arrive at an area I had never waded and two vehicles were there. A few anglers were on the bank and I thought, I would head up the trail. I walk for what felt like a mile, but understand round is a shape, therefor I am not out of shape, but was probably no where near that. I finally arrived at some swifter water. My thinking, the way I tie flies I need some kind of ripple to help the trout not see so clearly. This may not be a good way to think, but if you have read any of the entries, you understand. I look down and an angler was fishing, I head to the private property sign and another was fishing. I could have gone in the river, however, I tend to not get to close to others. I use the excuse of etiquitte, I do like to have a little solitude while whipping that fly around, but also, if I am not getting paid for comic relief then I do not enjoy others laughing at my skill set.
I head back to the truck, head down the river to the spots that were open, past tense, then realize it is upstream I go. I know the generators will be off soon, so here I go. I have been fishing for about an hour and I finally get to wet a line. I fish just a couple of spots and go through just about all of my arsenal when I begin to think, no tweets, no facebook, but wait, some in depth analysis is still here.
Today I did get to enjoy some incredible weather for this time of year. Nice cool breeze, the river was cold, some fish were jumping, and I observed three gentlemen battling some of the beast of the river. I found out exactly what they were not hitting because I did not get one single bite. I met a nice gentleman that was visiting from out of town, great conversation, by the way he was catching fish, and I had a real good time. With great weather, great surroundings, and just enough activity to keep you excited, I did not really want to leave.
Lord willing we will get some pics next trip, but until then, keep your lines wet and God bless.